Pre-reading any of the World War 2 books on this list makes sense due to the subject matter. You know your child (or teen) best. Prepare for some deep discussions on some weighty topics.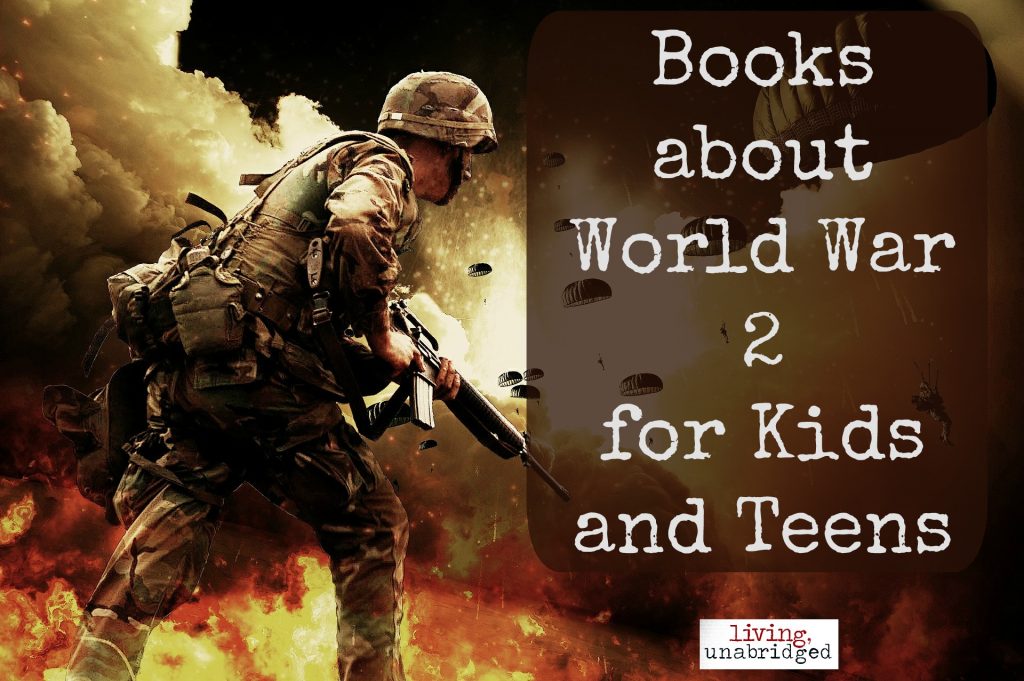 World War 2 Picture Books
War Dogs: Churchill & Rufus is a picture book introduction to Winston Churchill (through his poodle Rufus) with lovely full color illustrations and a helpful timeline and nonfiction notes at the end.
Franklin and Winston: A Christmas that Changed the World by Douglas Wood. Another picture book introduction to Winston Churchill and Franklin D. Roosevelt. Most of the gorgeous paintings illustrating the story would be suitable for framing. (Warning: there is one illustration of Winston Churchill standing outside of a bathtub, half wrapped in a towel.) A great introduction to the basic facts of the war, suitable for children.
Diana's Victory Garden. A girl who lives in the White House (yes, THE White House) during the 2nd World War wants to help the war effort by planting a "Victory Garden."
The Little Ships: The Heroic Rescue at Dunkirk in World War II by Louise Borden introduces children to the Dunkirk evacuation with water color illustrations and an informative note from the author at the end.
Across the Blue Pacific by Louise Borden. Gives a picture of the war from the perspective of a girl growing up in Cincinnati. Includes an author's note at the end. Spoiler: this story does include the loss of an American sailor but the tone of the book is hopeful and reflective. Thanks to the Cincinnati connection, this is one of our favorite picture books about the war.
Baseball Saved Us partially takes place during the Japanese internment in the U.S. Full color illustrations but no author or historical notes to help explain the setting. (Remember: prepare for questions!)
Barbed Wire Baseball written by Marissa Moss is the true story of Kenichi Zenimura. This book is lavishly illustrated and includes a helpful afterward about Zeni's story. Read this along with the above title to see how important baseball was to the Japanese Americans interned during the war.
The Bracelet by Yoshiko Uchida is another picture book story about the Japanese internment. An afterword explains the story. The author, along with her family, lived through internment in the United States.
The Unbreakable Code is an introduction to Navajo Code talkers. Features charts of the original code and some highlights that will help your own young code talkers. (Does mention a medicine man and Navajo beliefs.)
Voices of Pearl Harbor by Sherry Garland. Pearl Harbor and the wider war from many different perspectives with extensive historical note at the end. Note: a few of the illustrations may disturb some children as explosions and wounded soldiers and sailors are depicted.
Tucky Jo and Little Heart by Patricia Polacco. Ably demonstrates that sometimes truth can be more magical than fiction. A bit too wordy for young listeners, but they may appreciate the illustrations.
The Whispering Town by Jennifer Elvgren. This stylish, newer picture book is based on the true story of Jews smuggled out of Denmark into neutral Sweden. The author's note at the end explains more about the story's setting. This book isn't too scary for young readers, despite the subject matter. Children will be inspired by Anett's bravery and creativity.
The Yellow Star: The Legend of King Christian X of Denmark by Carmen Agra Deedy. Denmark rescued the majority of its Jewish citizens. This picture book is a gorgeous way to suggest one reason that happened. (The events are legend, but the result is fact.) An author's note at the end explains fact from fiction when discussing Denmark's reaction to the Nazi threat. Suitable for young listeners.
The Greatest Skating Race: A World War II Story from the Netherlands by Louise Borden. An author's note helps explain the context of the Netherlands and Belgium in the 1940s. Rather too wordy for young listeners and there are several frightening moments, though younger listeners may enjoy looking at the illustrations.
Passage to Freedom: The Sugihara Story by Ken Mochizuki. It's one of the great ironies of the Second World War that the Japanese consul to Lithuania saved thousands of Jewish refugees from the Nazis. Includes an afterword from Hiroki Sugihara about the rest of his father's life. Suitable for young listeners, although there are a lot of words on each page.
Shanghai Sukkah by Heidi Smith Hyde is a wonderful picture book about Jewish refugees making their new home in Shanghai. There is nothing frightening in this story and it serves as an introduction to at least two fascinating cultures. The historical note at the end explains how the refugees ended up in China. The historical note specially mentions Chiune Sugihara, which helps tie this story to the above book. Suitable even for young listeners.
Star of Fear, Star of Hope by Jo Hoestlandt. An older woman reflects on an event in her childhood in Nazi occupied France that separated her. A sense of regret and melancholy pervade this story although neither the text nor the illustrations are too explicit.
The Harmonica by Tony Johnston is not suitable for young readers or listeners. Henryk Rosmaryn, a real life Holocaust survivor, inspired this book. The illustrations are lavish but the text and pictures will frighten young children.
World War 2 Fiction
The Molly series by Valerie Tripp. This look at the American Home Front in 1944 serves as a very gentle introduction to the subject matter.
Escape to the Hiding Place (An Adventures in Odyssey Imagination Station Book). The Imagination Station series can inspire reluctant readers. This book is aimed at first through third graders, but I would probably aim it at the higher end of that range.
Danger in the Darkest Hour by Mary Pope Osborne is The Magic Tree House take on WW2 history. See also the companion book: World War II Fact Tracker.
Books in the Dear America Series:
There are similar books called Dear Canada:
Books from the My Name is America series:
(Please note that I did not preview all of the above series books, but they are well known and readily available options for tweens and teens.)
The Winged Watchman by Hilda Van Stockum. A delightful, but adventure packed book suitable for reading aloud. Children will be fascinated by Dutch life, with the German occupation as the story's background. HIGHLY recommended classic! (Note: there are a few sad parts, but they are gently handled.)
The Mitchells: Five for Victory is another Hilda Van Stockum title. Written in 1945, it's full of period charm, some light handling of tension and danger, and childhood antics. Highly recommended as a read aloud. (First of a series, but the other books deal with post-war events.)
Number the Stars by Lois Lowry. A modern classic. Highly recommended!
When Hitler Stole Pink Rabbit by Judith Kerr is one of the first novels about the Second World War that I remember reading as a child.
The Doll with the Yellow Star by Yona Zeldis McDonough. Would make a good read aloud or independent read for third or fourth grade. The story of Claudine, a young French girl, is sad but not hopeless.
The Children of the King by Sonya Hartnett compares and contrasts the Second World War with the princes in the tower (think Richard III). The beginning of this story may remind some children of The Lion, The Witch, and the Wardrobe since it concerns children being evacuated from London into the safer countryside. I found the character of Cecily to be mostly unlikeable and tiresome, but mileage may vary on that point. One thing to consider: this book contains ghosts or paranormal type occurrences.
The Midnight Zoo is another book by Sonya Hartnett. This particular story is more allegory or fantasy than straight fiction. Despite the cover, I do not recommend the book for younger readers or listeners. I would give this book to older teens for discussion on deeper issues (the human cost of war, the value of animal life, the Nazi treatment of the Romani people, and the symbolism in this story). The characters of Andrej and Tomas are well crafted and even as an adult I found this story fairly devastating to read, although the full impact may not be discerned by children.
An Elephant in the Garden by Michael Morpurgo. Fiction based on several true stories pieced together. Suitable for tweens. Several tense scenes but all comes right in the end. Especially recommended for animal loving readers (because these type children have probably already fantasized about owning an elephant of their own!).
Shanghai Shadows by Lois Ruby is a fictional story of a Jewish refugee family in Shanghai, China. This YA novel is exciting and includes a few implausible plot twists, but I think teen readers will find it engaging. Bonus because it's an introduction to at least two different cultures.
The Zion Covenant series by Bodie Thoene really helped kickstart my interest in this period. There are six books in this series (although it is related to several of her other books and series). Suitable for older teens. First book: Vienna Prelude.
Recommended with reservations: The Book Thief by Markus Zusak. My reservations: the narrator is "Death", there is a lot of swearing, and the storytelling is fragmented and non-linear. I hate to leave it out, though, because it is interesting to see the war through the eyes of children living in Germany and the author is excellent at building tension.
The House of Sixty Fathers by Meindert DeJong is a modern classic. This story is not cozy and warm, but it presents the war in China to tween or teen readers. I personally do not feel like the trials endured by young Tien Pao would make a good read aloud, especially if there are younger siblings listening in, but I would assign this to an independent reader.
Two novels were recommended to me by my library, that I did not have time to preview myself:

Born to Fly by Michael Ferrari. An 11 year old girl dreams of becoming a fighter pilot AND a Japanese American boy comes to her school. Other reviews of this book tell me that it deals with discrimination.
Chinese Cinderella and the Secret Dragon Society by Adeline Yen Mah blends martial arts adventure with WW2 era fiction. An extensive author's note at the end helps explain the setting. I include this title, even though I haven't read it myself, because books about the Chinese experience in WW2 are harder to come by.
I do not personally recommend the novel The War that Saved My Life by Kimberly Brubaker Bradley. This 2015 release won a lot of acclaim and awards, but I find significant portions of it problematic. The book depicts terrible abuse by a parent and the author's own explanation of her agenda in writing the story gives me pause. That would be something I have to discuss with my tween / teen readers and I find the subject of WW2 itself enough to discuss without throwing another controversial topic in. Your mileage may vary, of course.
World War 2 Nonfiction
Welcome to Molly's World is a nonfiction look at the American Home Front during WW2. This is a companion book to the Molly series. You can also find Molly's cookbook, craft book, theater kit, cooking studio, and paper dolls. These titles would make good additions to a WW2 Molly themed unit study.
World War II for Kids: A History with 21 Activities These activity guides can be a good supplement for a unit study.
DK Eyewitness Books are usually one of the first things we look for when studying a new subject.
Usborne books are another first impulse when studying an era or subject. See Inside the Second World War is a lift the flap book.
The Usborne Second World War sticker book was published in association with the Imperial War Museums. (If you have a chance to visit London, be sure to visit the Imperial War Museum. It is unforgettable.)
Some children really appreciate the "You Wouldn't Want" series. Some titles covering WW2 in this series include:
The Good Fight by Stephen Ambrose. Ambrose has written extensively on the Second World War. This is a fairly comprehensive overview (although somewhat Americocentric) of the entire war suitable for tweens or teens.
The emphasis in See American History: World War II 1939-1945 is on Mort Kunstler's well known full color paintings. Paragraphs explain the artwork, serving as brief introductions to many facets of the war despite being a fairly short book (roughly 40 pages, mostly paintings).
Remember World War II: Kids Who Survived Tell Their Stories by Dorinda Nicholson. Aimed at 5th-8th graders. (language warning for at least one page) A bit drier than some of the other options listed.
The Journey that Saved Curious George: The True Wartime Escape of Margret and H.A. Rey by Louise Borden. This is a fascinating scrapbook style nonfiction story. Suitable for children but will also interest teens (especially if they remember loving Curious George).
The Cat with the Yellow Star: Coming of Age in Terezin by Susan Goldman Rubin. This is the true story of Ela Stein. This scrapbook of her life will inspire readers. This would be a suitable introduction to the Holocaust for young readers if a parent reads with them since the book is similar to a picture book size. The tone is hopeful.
The School the Aztec Eagles Built: A Tribute to Mexico's World War II Air Fighters by Dorinda Makanaonalani Nicholson. I know a lot about the Second World War but I hadn't heard this story before I started researching books for this post. The truly global conflict of WWII drew in Mexico along with the U.S. and Canada. Lots of pictures and maps help bring this true story to life.
Faithful Elephants: A True Story of Animals, People, and War by Yukio Tsuchiya. I could not bring myself to list this under picture books above because I cannot imagine ever reading this to a child. I would give this to a teen to read for deeper discussion. The deaths of the animals is likely to devastate young listeners. Use this to discuss the concept of what wars truly cost, what it means to be "the enemy", and how to honor the lost.
Jars of Hope: How One Woman Helped Save 2,500 Children During the Holocaust by Jennifer Roy. Almost a picture book, with evocative illustrations. Includes informative afterword, author's note, and glossary. Suitable for older children and teens. Expect this one to inspire a lot of questions and discussion.
Another picture book take on Irena Sendler's story: Irena's Jar of Secrets. The illustrations take center stage here, but the content is probably too frightening for younger readers or listeners. (I'm not sure how two similar books came out at the same time. I don't really recommend one over the other, but "Jars of Hope" is slightly more information and background.)
Irena's Children by Tilar Mazzeo, adapted by Mary Cronk Farrell is a longer telling of Irena Sendler's story. This "young reader's' edition" would probably work best for a strong tween or teen reader. The moving but honest true story may overwhelm sensitive children.
Destination Unknown: Adventures of a WWII American Red Cross Girl by LeOna Cox & Kathleen Cox. This is a collection of letters, pictures, and stories that one daughter (Kathleen) compiled about her mother's WWII experience. Nothing too frightening in here, though there are a few scattered swear words. I would give this to a teenage reader. Teen girls might find it especially interesting. (I found LeOna's stories and letters about her time in Africa – an often neglected area of the war – noteworthy.)
Leaving China is a memoir in paintings and stories. James McMullan experienced many different aspects of the war in his young childhood. Here he shares his perspective. Nothing in here is too blatantly frightening but the text is suited to tween or teen readers. Of special note because there are few books for young adults about the war in China.
Shanghai Escape by Kathy Kacer tells the story of the Jews that escaped to China in the late 1930s / early 1940s. Lots of pictures and maps help illustrate the true story. Kacer has written other books for children about World War 2 in the "Holocaust Remembrance Series for Young Readers," but I was unable to preview all of the titles.
Ghosts in the Fog: The Untold Story of Alaska's WWII Invasion by Samantha Seiple. Suitable for teens. I have not had time to read the entire books, but I include it here because this is a neglected facet of most WW2 coverage.
Unbroken by Laura Hillenbrand, abridged for young adults. Recommended for teens. For older teens I would simply pick up the original.
Symphony for the City of the Dead is a more recent release. It is quite bleak at times (as expected for a book about the siege of Leningrad), but Shostakovich is an interesting subject. Recommended for older teens.
Night by Elie Wiesel is often assigned in high school. This moving memoir is definitely one to pre-read before simply handing it to your teen.
The Diary of Anne Frank is often assigned for high school reading and has been the introduction to the Holocaust for many people.
The Upstairs Room by Johanna Reiss tells the author's story of survival in Holland during the Second World War. It is honest, funny at times, and poignant. Note: there is a moderate amount of cursing. Otherwise, I recommend this one as a read aloud or chapter book introduction for children who aren't ready for "The Diary of Anne Frank". This story is lighter and hopeful.
The Bonhoeffer biography by Eric Metaxas is one of my favorite books of the last few years. I recommend this student edition, if the original is too intimidating (it is quite lengthy, but if your teen is a strong reader, go for the original edition).
The Hiding Place by Corrie Ten Boom is another moving personal story of life during WW2. There is much to think about in this important book. (There is also a young reader's edition.) We also highly recommend:

The Hiding Place radio theatre, if your family enjoys listening to radio dramas.
Related radio theatre options:

Bonhoeffer: The Cost of Freedom
Have you taught your children about the Second World War? What books do you recommend?
(I hope to have another post up soon with some thoughts about how to teach this sensitive subject to children.)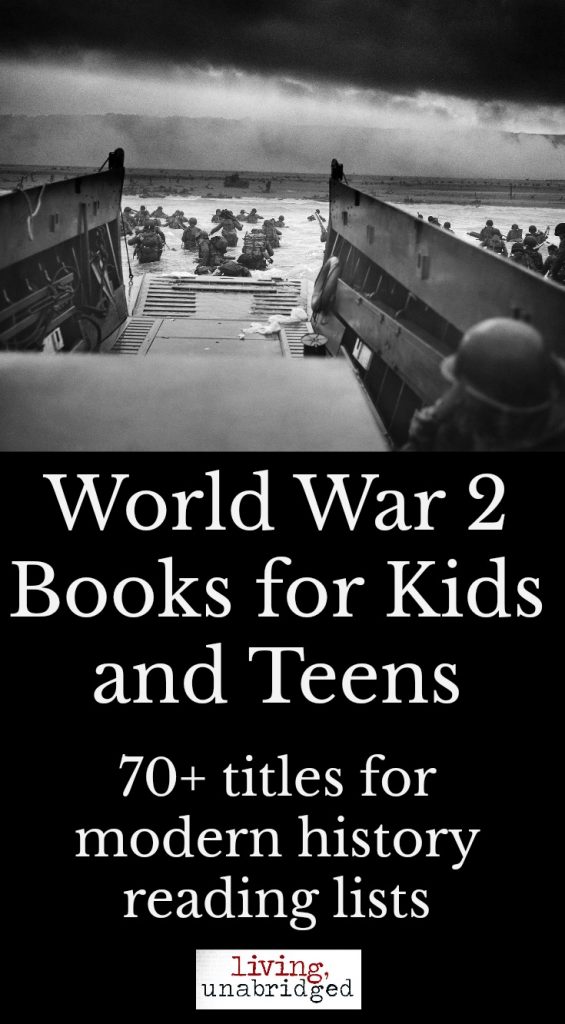 Posts may contain affiliate links. See my disclosure policy if you have questions about this. If no images appear on this post, you may need to disable an ad blocker on your browser. If you enjoyed this post, please consider sharing it on your favorite social media sites.