I received access to Sparketh's online art courses for the purpose of this review and was compensated for my time. Opinions are my own. See Disclosure page for more about this.
OK, so here's the thing: my artistic abilities are not in the form of drawing or painting ability. My artistic ability has manifested as some degree of musical talent and inclination and some ability with writing (if I'm allowed to say so).
But I have children who thrive on expressing themselves artistically whether with crayons and paper or paint and canvas. And it has not always been in my ability or comfort zone to meet these artistic needs.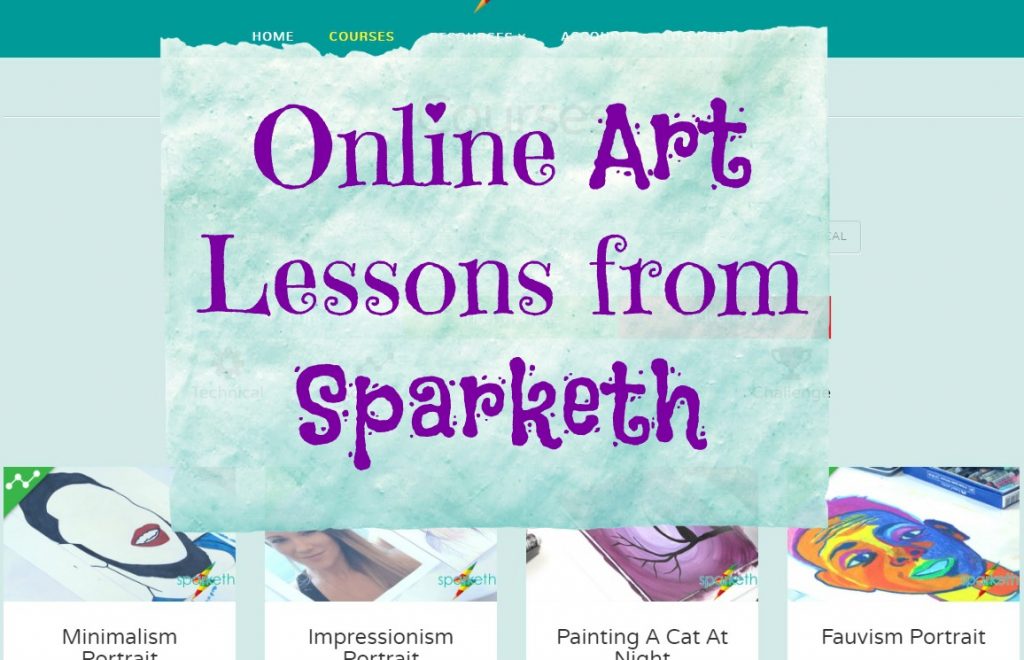 Enter Sparketh: Online Art Lessons for Kids, Teens, and Adults
When I first heard about Sparketh I knew I wanted my resident artists to give it a try. I'm always looking for ways to encourage their artistic expression but I generally feel inadequate to consistently helping them develop their innate talents.
Sparketh is a subscription based site. They offer three levels of courses: Beginner, Intermediate, and Advanced. These three levels are divided by categories such as Technical, Activity, or Challenge.
Honestly? My faithful guinea pig didn't really care about what the courses were called. She chose based on what looked interesting to her at the time. (There's the artistic temperament for you, I guess.)
Sparketh's Courses are Easy to Navigate
Like I said, it's easy for the art student to choose an interesting course. Then, in the right sidebar, Sparketh clearly lists what materials your artist will need and what files they might need to download in order to complete the task (and yes, artists may be able to make substitutions).
The course videos are easy to navigate, and you can repeat a video or pause as necessary.
Sparketh has courses in drawing, colored pencil, water color and acrylic painting, and more.
Sparketh is a Safe Way to Learn Art Techniques and Find Inspiration
My children enjoy video tutorials but one issue we've had is that most of the tutorials they find on their own are on YouTube. Now, I love YouTube as much as the next blogger chick, but I really don't want my children browsing or searching around YouTube unless I'm sitting with them to help them navigate.
Sparketh takes away those worries. This is a safe, protected site. The videos are easy to play, but your art student isn't going to find themselves watching something they shouldn't and there's no "Suggested for You" worries either.
What My Children Loved About These Art Lessons
They enjoyed young, dynamic art teachers in the videos
The variety of art styles, techniques, and difficulty levels
Getting to "do art" more often
Giving the techniques and styles their own twists
My nine year old (our primary tester for this resource) says that she loves how simple the steps are to follow, while still creating art that she's proud to show off.
What I didn't like: their artist supply wish lists grew ridiculously long.
OK, I'm kidding. I didn't actually mind that. We have a lot of art supplies (thanks to my artistically inclined husband) on hand already, and I'm always glad to add more to our stash. Art supplies are an investment in my children and their lives, both now and for their futures.
The same can be said for art lessons.
Art is Not Optional
Everyone ought to know something about art. And if you have an artistic child, you have to consider how best to help them develop those talents and abilities. Private art lessons can become pricey. If you don't have a homeschool co-op with an art option (we personally are blessed to have several art classes in our co-op), Sparketh could be an even greater resource.
Yes, it has a fee. But with that fee, you're getting more than just cut and dry instruction. You're getting inspiration. Validation. Encouragement.
And yes, probably a few more art supplies on your kids' wish lists.
But hey, art supplies will always beat this year's trendiest battery operated toy that will be tossed aside after approximately seven minutes of playtime, right?
Kurt Vonnegut wrote the following advice to high school students:
Practice any art–music, singing, dancing, acting, drawing, painting, sculpting, poetry, fiction, essays, reportage–no matter how well or badly, not to get money and fame, but to experience becoming, to find out what's inside you, to make your own soul grow.
Help our children grow their souls? That is a worthy goal and it's has priceless rewards.
A Chance to Try Sparketh for Yourself:
Sparketh is giving away a free month of access to all their courses to 20 Living Unabridged readers:
Find out More About Sparketh's Art Lessons and Online Community of Artists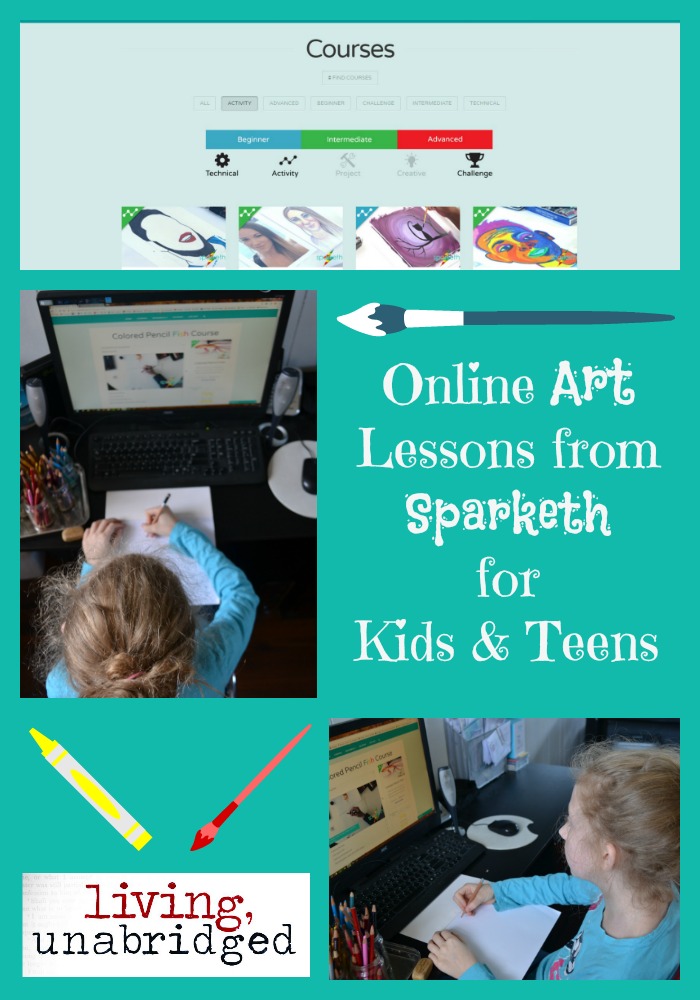 Posts may contain affiliate links. See my disclosure policy if you have questions about this. If no images appear on this post, you may need to disable an ad blocker on your browser. If you enjoyed this post, please consider sharing it on your favorite social media sites.