Happy New Year, everyone!
Today's quote is inspiration for a new year (and a generally good reminder):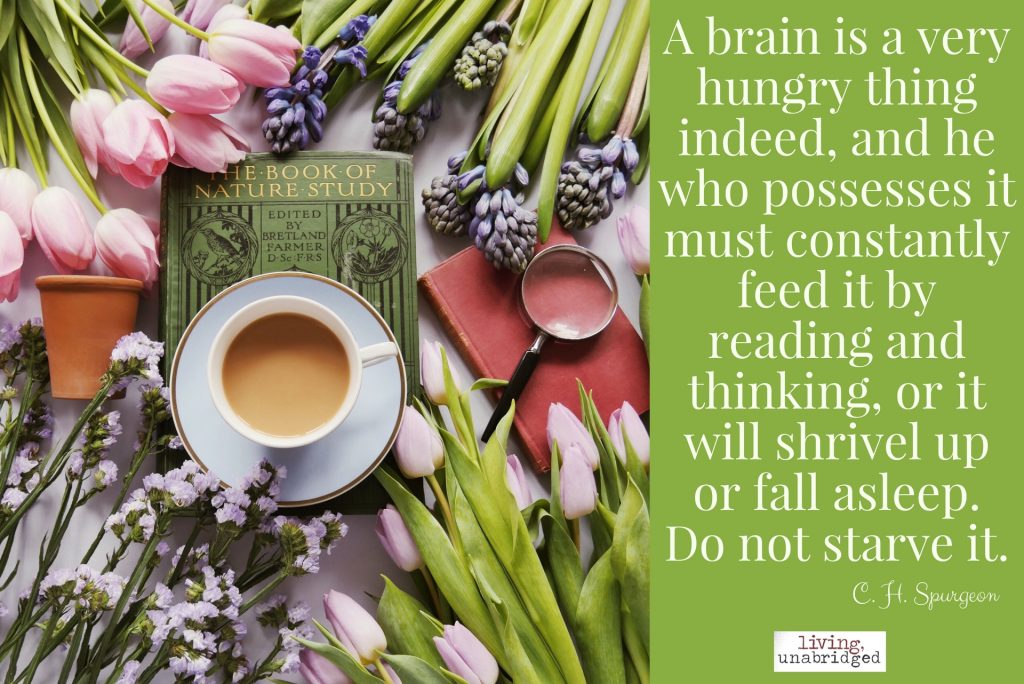 A brain is a hungry thing.
So, what are you doing to feed your brain in 2018? And what about your children's brains?
What books are you reading? And what thoughts are you thinking?
Feel free to share some book suggestions in the comments. My "must read" list for 2018 is already started.
(Side note: this quote is taken from Spurgeon's All Round Ministry, one my current "slow reads".)
Recently Finished
At the end of 2017 I indulged in my usual comfort reading: mysteries.
In December I finished:

A Strange Scottish Shore by Juliana Gray (my verdict: managed to completely surprise me and that's not common. Not sure how I feel about the time travel element, but I'll reserve judgment until I see what the author does next)
Murder at the Mikado by Julianna Deering (my verdict: cool cover, meh story and construction)
Christine Falls by Benjamin Black and

The Silver Swan by Benjamin Black (ugh, my least favorite in the series so far)

Elegy for April by Benjamin Black and

A Death in Summer by Benjamin Black (my verdict: Black describes sin and sinners a little too well sometimes. But these are compelling and crafted well. I'm not sure I actually like Quirke, but liking him may not be the point. Also, my husband and I watched the TV series based on these books first, which is totally backwards to how I normally operate.)
The Victoria Vanishes by Christopher Fowler (my verdict: Bryant and May are still not my favorite detective team but these have grown on me anyway).
Ok, so murder mysteries are not exactly brain food. But, they're not nothing, either.
(And thanks to this last minute surge, I finished 70 books in 2017, not counting read alouds.)
Review Title: Gospel Centered Mom
Gospel Centered Mom by Brooke McGlothlin is another entry in the "Christian blogging mom writes books for other moms" category. This book is full of earnest exhortation to focus on what truly changes our children: the gospel.
I found the author hard to relate to because of her personality. Right in the first chapter her own mother asks, "Brooke, what did we do to make you feel like the scum of the earth?"
And then McGlothlin tells her mother that it wasn't her parents' fault, it was her children that pushed her into full blown insecurity.
There may be other moms that deal with similar insecurity, in which case this would be a great book for them. But I can't see blaming my children what would be my own issues even if I did.
There is much practical advice here and the book is written and edited well, but those personality differences colored my experience.
So, this one wasn't a homerun for me (and that has caused me to procrastinate writing a review), but it may be just the ticket for another mom out there.
Current Read Aloud
I read aloud The Family Under the Bridge to three of our girls just before Christmas. Somehow this slim title had escaped my notice until this year. Charming story and perfect to read around Christmas time.
Current Kindle Deals
Finding Truth by Nancy Pearcy is $1.99 this month.
Out of the Silent Planet by C.S. Lewis is $2.99. (First book in his Space trilogy.)
Amazon Prime has some great books free this month so it's a great time to have a free trial of Prime:

DaySpring has their Warehouse Sale going on right now too:

Posts may contain affiliate links. See my disclosure policy if you have questions about this. If no images appear on this post, you may need to disable an ad blocker on your browser. If you enjoyed this post, please consider sharing it on your favorite social media sites.