January is the month for new beginnings. This is no less true in homeschool.
You don't have to follow a calendar year homeschool schedule in order to feel the need to start with a clean slate in January. Most homeschoolers take some sort of break in December, which means we come back to school in January refreshed and ready to go again. Or, that's the theory.
Maybe you're coming back weary and overwhelmed. If so, here are four diagnostic questions you can ask yourself about your homeschool.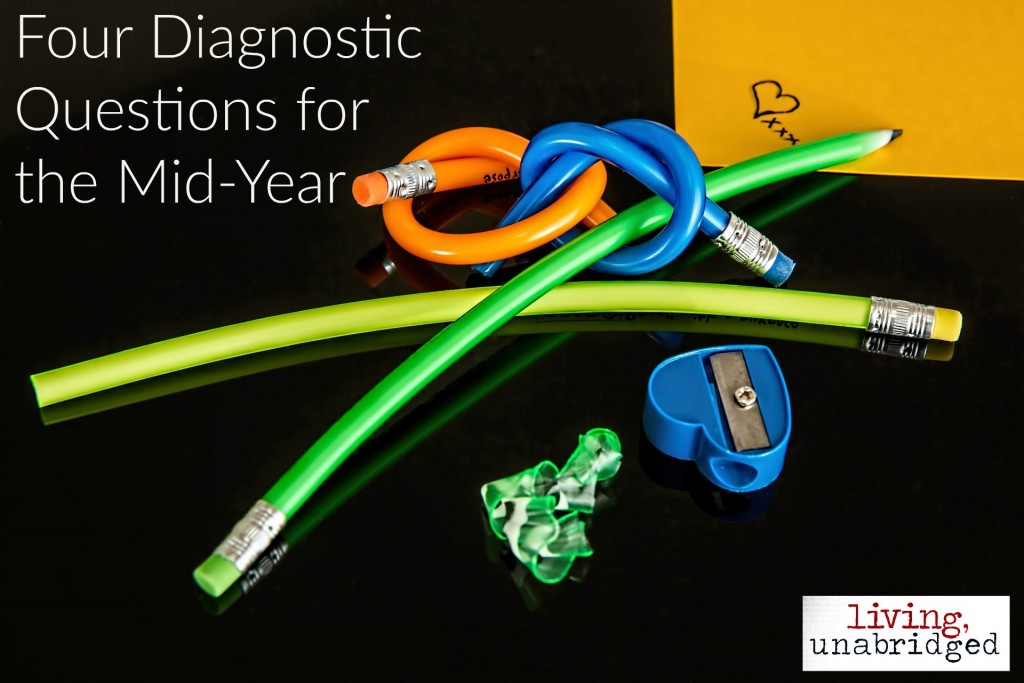 How to Evaluate Your Year, Half Way Through
Do you know your "Why"?
I have three big, overarching goals for our homeschool:
That we will grow to love, glorify, and obey God.
That we will grow closer to each other and love each other more and better.
That we will continually increase our love of learning.
So, you know, no biggie, right?
Seriously, though, knowing these three big things helps me evaluate what's working and what isn't.
If we're not putting our relationship to God first, then it doesn't really matter if one child is flying through her Saxon book and another can reel off 500 Latin vocabulary words. Those things are great, but they're not my Why.
And if they're doing those things at the expense of our relationship or in a way that makes them absolutely "hate school", well, that's no bueno either.
Do you know your "What"?
This is where it gets a little grittier. Things like: finish a level of Math before my child turns 20. Conquer those tricky cursive connections before moving on to a new copybook. Finishing studying Egypt before we move on to Greece.
Or whatever.
If you only have one student it may be OK to just have your books and instinctively know what you should be covering. I can tell you that doesn't work so well when you have six children (four of them school age).
There are a lot of fantastic subjects (the "What") and only a limited amount of time in your day. And if you have a high-school age student you need to know, specifically, what she'll be studying for credit, how many credit, and what amount of work will be acceptable.
Now I'm going to say something controversial: even if you are an unschooling family, you should have some plan for your days / weeks/ months / terms / years.
I know, an INTJ proposing that everyone plan everything, shocker, right? (And yes, I do have a Pinterest board for that. Because, of course.)
But here's the great thing about homeschooling: YOU MAKE THE PLAN. Which brings me to my next question:
Do you know your "When"?
You choose a planner, which can be as simple as notebook paper or a calendar you print off Microsoft Publisher. Or you can buy a fancy planner. Or you can use one of the online-mobile integrated options.
The pertinent point is: does it work for you and will you actually use it?
So, if you started September full of hope and a fancy-shmancy planner that you wrote in for precisely 17 days before you forgot about it, well, it's time to deep-six that particular planner (yes, even if you paid real money for it) and get something that works for you.
Now, I've talked before about how I like routines, not schedules.
If I wrote out an hour by hour schedule for my days I would break out in hives.
But I do keep a notebook with my plans for the year, month, and sometimes for a particular week. I rarely write out a plan for a day, but sometimes I do. Maybe we'd be more productive if I did, but like I said, hives and all of that.
Our days follow a basic routine that my children and I are familiar with but also able to change if necessary.
Another thing to consider with the "When" question is "When is my child at her best for this subject?"
We have a "no Math before breakfast" rule because my brain needs time to ease into the day and some of my children are the same. We do certain subjects in the afternoon when the baby and toddler are napping (at least, that's how it works in theory…) Things that require Dad's assistance will, obviously, have to wait until a time when Dad is home.
If you are facing a battle every day over a certain subject consider whether you might be trying that subject at the wrong time.
Are you doing dictation and copywork after the child just spent twenty minutes on penmanship? (Too. Much. Writing.)
Are you expecting an active child to sit still for hours on end? (WHY?)
And did you know that you don't necessarily have to follow a September-June school schedule? If you are intrigued by the idea of your school year following the calendar check out this post from my friend Dawn: Aligning Your Academic Year with the Calendar Year.
Do you know your "How"?
Here's a newsflash: you don't have to teach every subject.
It's true. Some subjects can be covered in a co-op. For some you could use an online option, or a video lecturer. (We love the DVDs from Memoria Press and Classical Academic Press.) You can hire a tutor. If your child is in high school, he might be able to earn dual credit at a local community college.
These decisions have to be made family by family and subject by subject. And, it gets trickier, because no child is the same as his / her siblings.
Two of your children might thrive on the same Math textbook and the third flounders. Or maybe you love the curriculum you've chosen but you just don't have the time at this stage of your life that you had in previous years (or months).
This is life, fellow homeschoolers.
Obviously, before you throw out that text and DVDs that came so highly recommended and that you were so excited to buy at the last homeschool convention, you should ask yourself a few more questions.
Things like: is it really a discipline or character issue? Am I the one that likes this but my child does not or is it the other way around? (Sad news: if the curriculum is acceptable, though not your favorite, and your child likes it and you don't, the child probably wins. I said PROBABLY, not always.)
Are we using this correctly? Is there a resource that would help us use this product better? Am I just tired and need to take a nap?
These aren't difficult diagnostic questions, obviously. They're almost painfully simple.
But simple questions can lead to deep answers.
In our homeschool our core subjects are: Math, Latin, Grammar or Writing, and Music (at this stage this generally means piano practice). If we do something related to those subjects every school day, in addition to our reading (we don't cover Reading as a subject since we read for fun and other subjects like History), I feel like we were successful.
Yes, we love History and Science and Greek. We still teach cursive and manuscript penmanship skills. We have French. We have Geography, Poetry, Nature Study notebooks, and Shakespeare. Everyone loves Art. We have to cover Health, First Aid, and Phys. Ed as state requirements. There are so many fantastic subjects to cover and really, we pretty much love them all.
But not every day is a "We're going to learn ALL THE THINGS" day. Some days are "Do your Math, finish the Latin page, fill in the diagram, get your 30 minutes of piano and then GO OUTSIDE" days.
Mid-year is a good time to reflect on how often those core subject days are or aren't happening.
How often are we brushing off the other, wonderful, stuff? And how can we fix that? Are we living up to our why? Are we covering what we need to cover at the time we need to cover it? Are we taking the time to learn to love a subject or are we rushing through it just because?
It's so much better to ask those questions in January than to regret in June, what did or did not happen this school year.
Welcome to 2016, fellow homeschoolers. Let's make it a great one.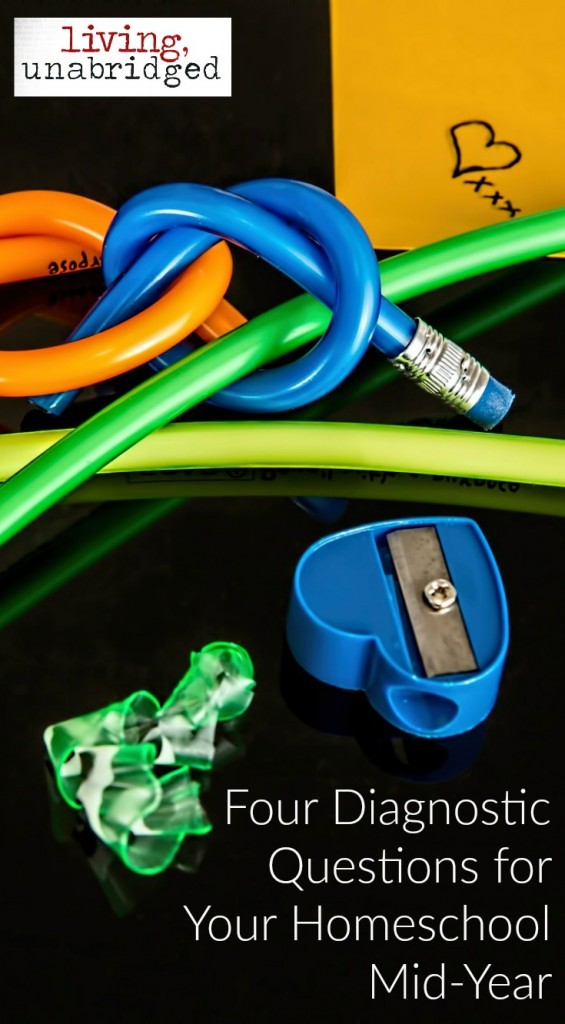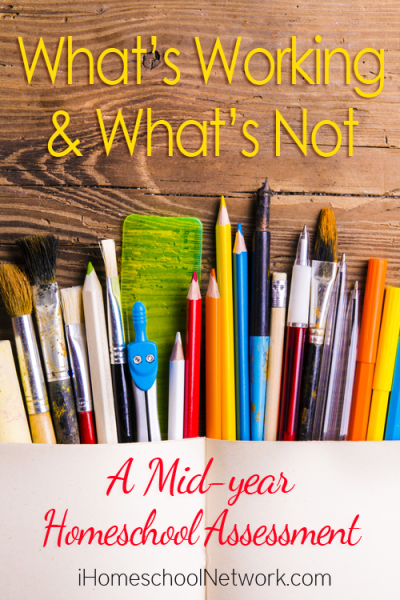 Need help with the planning and organizing part? I have some fantastic resources for you to check out:

Posts may contain affiliate links. See my disclosure policy if you have questions about this. If no images appear on this post, you may need to disable an ad blocker on your browser. If you enjoyed this post, please consider sharing it on your favorite social media sites.