Hi! Welcome to Living Unabridged.
My name is Karen and here I am with my six favorite people. These are the people I live with, learn with, and love with all my heart: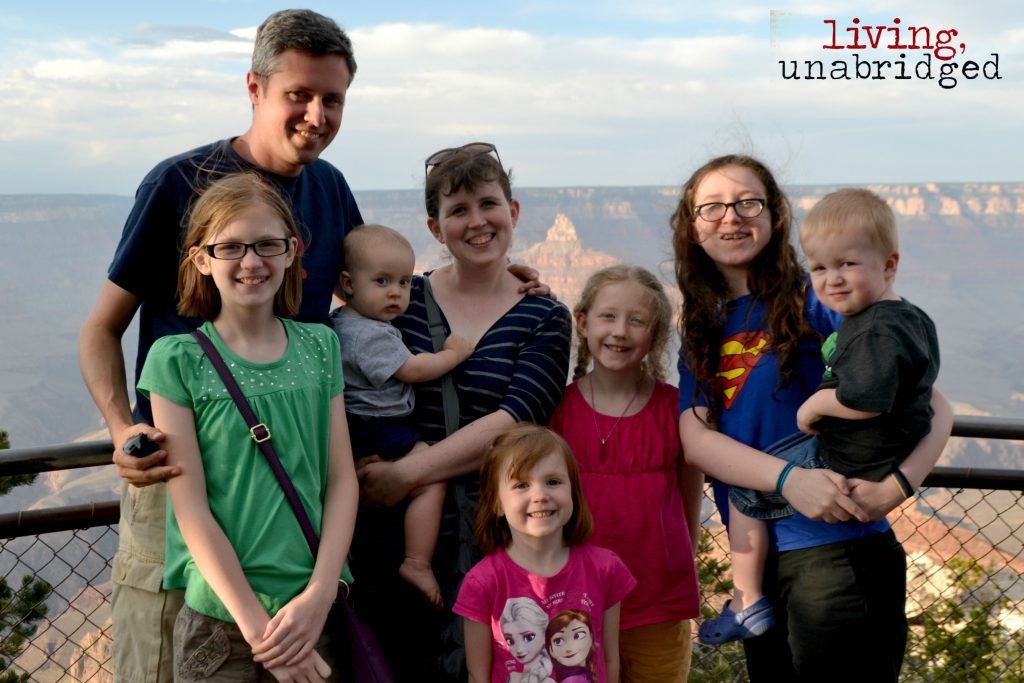 Here's what you can find on Living Unabridged:
Living
Marriage – we've been married since 1999. We married young, but I can honestly say it was the best decision I ever made. (After my relationship with God, of course.)
Parenting (we've had 6 children from 2001 – 2015)
Personality insights (I love Myers-Briggs)
Learning
Homeschooling – I'm a homeschool grad and a homeschool mom. I think this gives me a little different perspective on the issues surrounding education and homeschooling.
Spiritual growth – I'm a Christian. This will flavor all of my posts. If you're not a Christian, that's OK. We can still be friends.
Book reviews and suggestions – reading is oxygen to me. I don't know what I'd do without my stack of books by my bed.
Loving
Inspirational quotes from good books – like I said, reading = oxygen.
Favorite homeschool resources – when I find something that works, I want to tell everyone I know!
Favorite links from around the web – my love of reading extends to blogs and other online writing. Each week I share my favorite finds from the previous week. They might be inspirational, funny, or poignant, but I love sharing these posts with other people.
I'm passionate about learning and reading, whether we're talking about children or adults. I'd love to help you find a new book to love, new strategies for making life work well, and inspiration for loving the life you're living.
Why Living Unabridged?
Because life is a beautiful, messy, exquisite chaotic thing. I believe each story deserves to be told, as authentically as possible. This is the real thing: messy parts included.
Other places you can find Living Unabridged around the interwebs:
So, let's talk life, love and literature. I'll be sharing my thoughts and inspirations and I hope you'll share yours with me.