I received these products for free from Rainbow Resource.com and was compensated for my time. Opinions are my own. See disclosure page for more about this.
Everyone has heard the expression, "It's Greek to me", right? Somehow learning Greek has become standard shorthand for "That's too hard or incomprehensible for me to understand". As a family who follows classical education principles, I had thought at different times that we needed to add some Greek study to our homeschool (after we added Latin) but honestly: I was intimidated.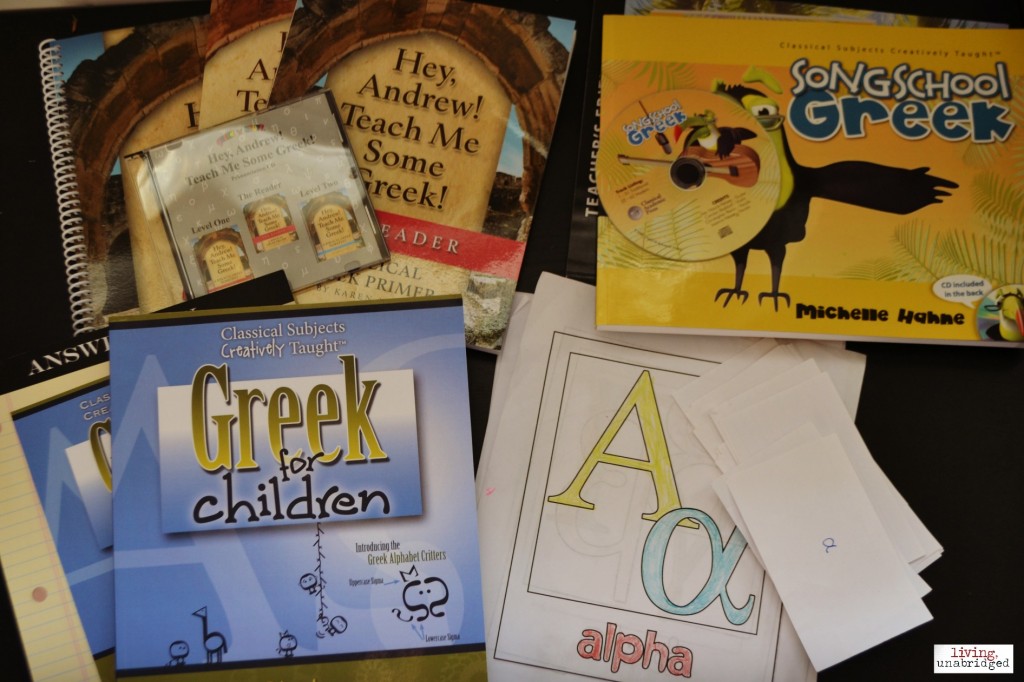 Latin didn't seem like a stretch: the letters are basically the same. The sounds are not unfamiliar. Many English words come from Latin roots, which helps when memorizing vocabulary.
But Greek?
That's a whole 'nother ball game. The alphabet looks like doodles. There are accent marks I don't recognize. Some of the letters make sounds we don't really have in English. And if you can't read the letters, you can't even begin to learn the vocabulary.
But after reading Tracy Lee Simmons' Climbing Parnassus: A New Apologia for Greek and Latin
, I became more convicted about needing to somehow attempt to add Greek to our studies.
Why study Greek in our Homeschool?
For some of the same reasons we study Latin.
Simmons said:
If people have family trees, so have words…
Learning Greek is learning part of the family tree of the English language.
Another reason: knowing Greek and Latin is what education used to mean. All truly educated people (often men, but women too!) studied the classics. And by classics, they meant Greek and Latin.
Another Simmons quote:
We drift without classics…We need not a revolution, but a restoration.
I don't want to revolutionize education, I want to restore something that's been lost. I want this for my children, yes, but I also want it for me.
The only question then was:
How can we study Greek in our Homeschool?
My first thought was to use some things my husband already had from his New Testament Greek studies in seminary. (And my kids had already memorized the names of all the Greek letters thanks to a CD my pastor dad had given them. So they knew the letter names but not what they looked like.) I ordered a few Greek texts from the library.
And I floundered immediately because it was all overwhelming. My husband doesn't have time to teach us right now. There were no tips for making this engaging for the kids. The adult texts just jump right in to accents and declining and…well, it wasn't going to work for us.
So when Rainbow Resource offered a group of bloggers (including me) the chance to solve a homeschool problem, I knew that Greek was the problem I wanted to solve.
There are four basic Greek curriculums available in the Rainbow Resource catalog. For this review (and for our own studies) I was able to choose three. These are the three I was most familiar with anyway.

Products I received from Rainbow Resource.com for this review of Homeschool Greek resources:
Hey Andrew! Teach Me Some Greek!
Song School Greek
Greek for Children
Learning the Greek alphabet seemed intimidating at first. The real strength of Hey Andrew! Teach Me Some Greek Level 1 is that it thoroughly teaches the alphabet. Lots of tracing, little games, and repetition make this task much less intimidating. The Reader serves the same purpose.
Contrast that with Song School Greek. Song School Greek has a catchy alphabet song, but it does not spend more than one lesson on the alphabet before jumping right in to vocabulary.
Greek for Children suggests using a separate program called Greek Code Cracker to become more familiar with the Greek alphabet but otherwise spends very little time on teaching the alphabet.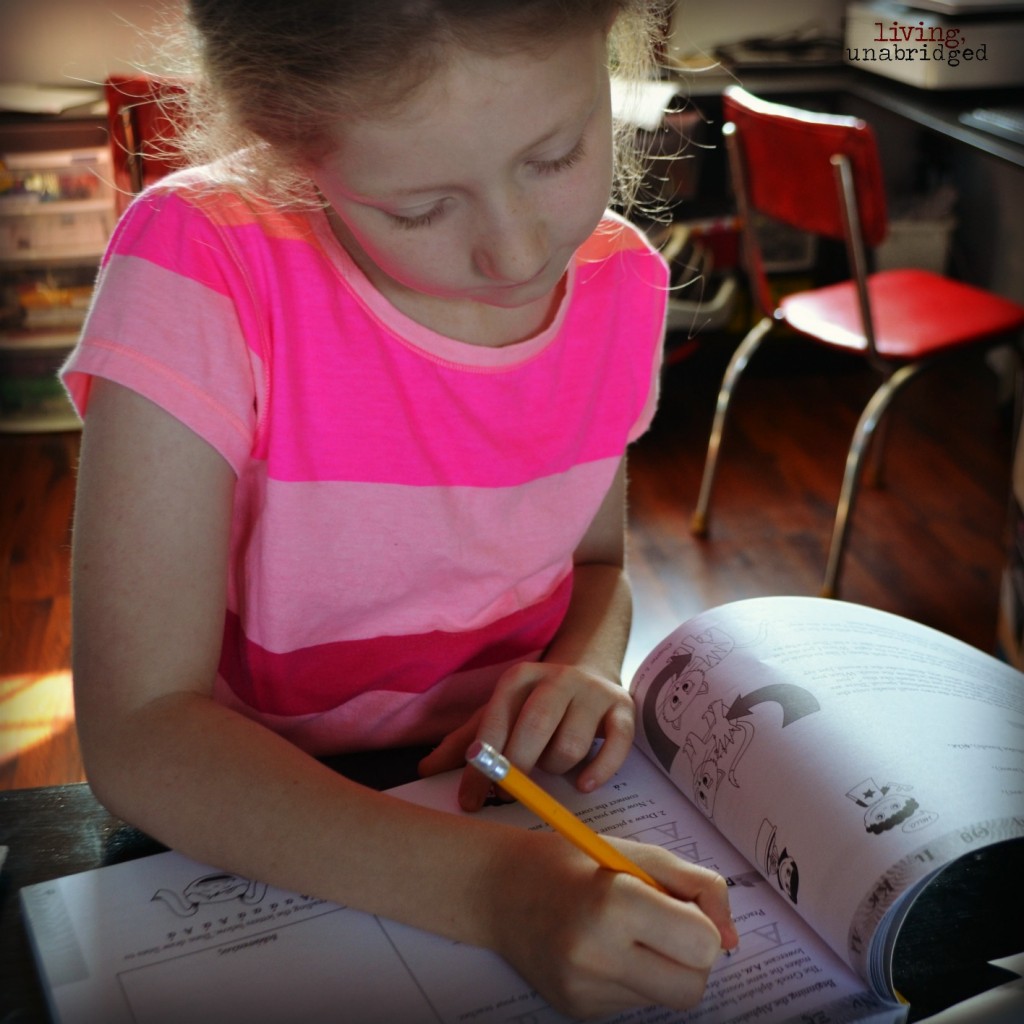 My family used all three programs together. We used Hey Andrew! to really learn the alphabet, including how to form those tricky letters, and to give the younger students more practice. We listen to the Song School Greek songs in our van and we watch the DVD provided with the teacher's edition for suggestions from Dr. Christopher Perrin. This is NOT a DVD to teach the children, but a teacher's aide for the parent. That said, my older daughters have watched it along with me.
My older daughters and I are working through the Greek for Children lessons. The answer key is helpful for those times I get stuck. It hasn't happened often but I'm glad to have it and the teaching DVD.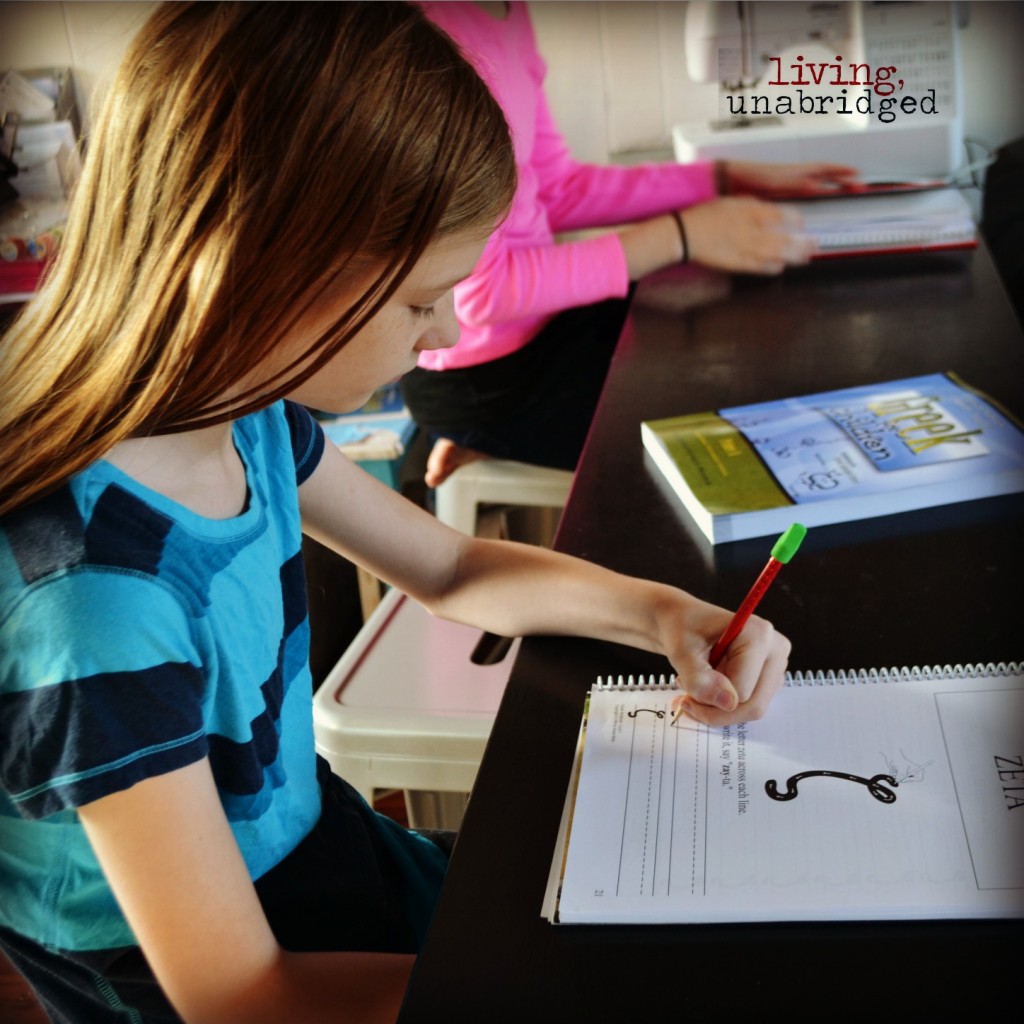 Hey Andrew! Teach Me Some Greek! was the first Greek curriculum for homeschoolers that I remember seeing. It's an incremental approach. The production values are high but not quite as polished as the Classical Academic Press offerings. The Reader is fun and the CD is helpful. For Level 1 you may not even need the answers only answer key since most of the workbook is about learning the alphabet. An older student would progress quickly through the levels (at least through level 1) so I'm guessing you might need more than one level per school year.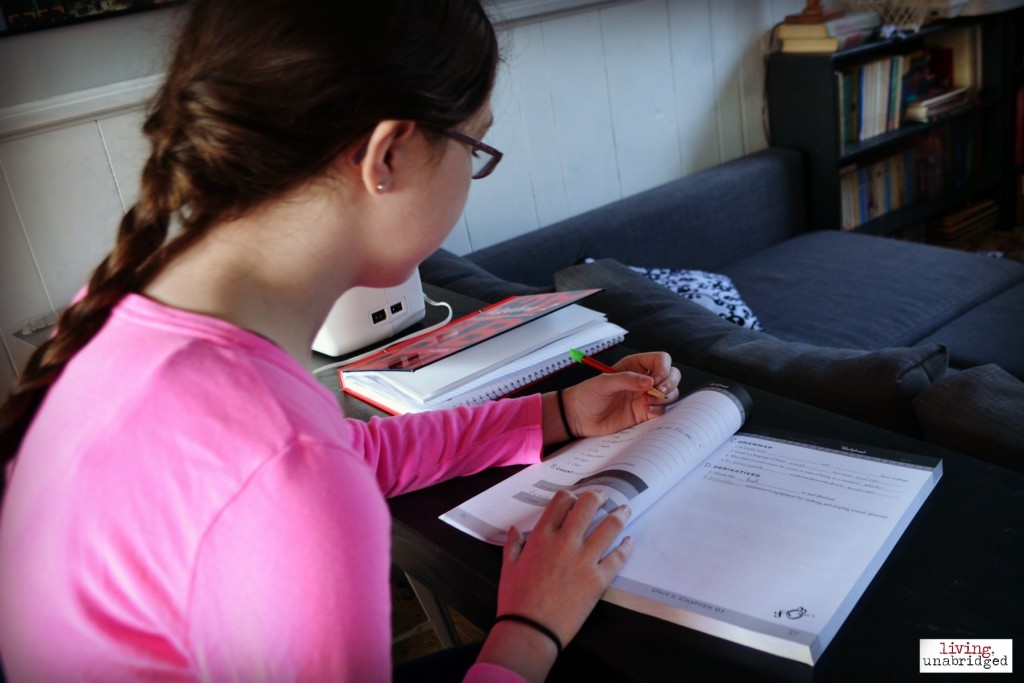 As far as price goes, I think Greek for Children would work out to be the frugal option, especially if you could figure out the alphabet on your own, with your own flashcards or resources from the internet (you can see our handmade flashcards in the first picture in this post). It's pricier to begin with, but it will be longer before you need to buy another book.
The DVDs for Greek for Children are pricier than other options and not in my homeschool budget right now. We're managing without them, but I'm sure they are a fantastic resource as well. Would it be nice to have them? Yes. Was it necessary for beginning our Greek studies? No.
The activities are fun, too. My children enjoyed using the Greek alphabet sounds to write English words. ("It's like a secret code, Mom!")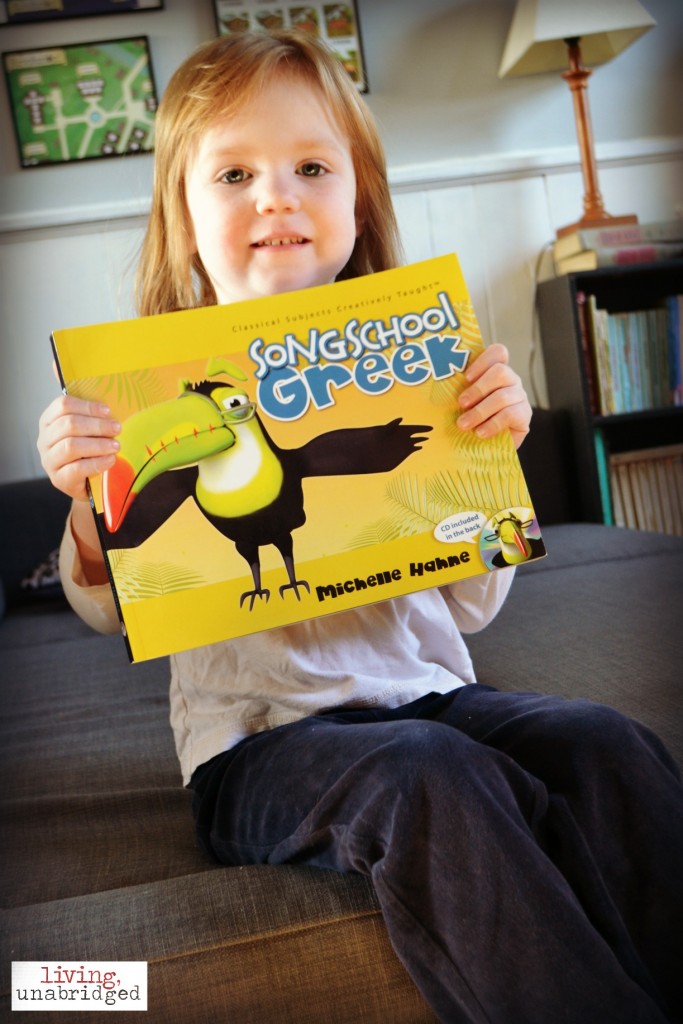 Song School Greek also includes two pronunciation options: classical and modern. We are more interested in the classical option but another family may appreciate learning modern Greek. And, as often as Greece has been in the news in recent years, it may be fun for a Greek student to listen to news reports or decipher a newspaper article sprinkled with modern Greek.
This is also the fun option for younger students. The songs are catchy and you may just hear your two year old singing along. The songs help make the language familiar and part of a routine. (We listen to ours when we're driving to co-op on Mondays.)
If you forced me to choose only one (which would be difficult because we've enjoyed each one!) I think this is what I would do:
If I could only choose one of these, I would choose Greek for Children. It doesn't focus on alphabet but it does have the student quickly reading actual Greek.
If I were starting with only younger children, I would choose Hey Andrew! Level 1 and work our way through the levels.
This does not mean that we don't love Song School Greek – quite the contrary! But the workbook is somewhat overwhelming for a young student, even a student who loves the song CD, so if you're starting with young children, Hey Andrew! is less intimidating.
Do I think that every homeschool family MUST study Greek (or Latin)?
No, I don't. Each family and even each child is different. I do think that, if you want to call yourself a classical education advocate, you need to at least consider adding Greek and Latin to your curriculum. I think these resources have convinced me that it need not be intimidating.
Here's a secret: I think this is fun. I'm enjoying it. Guess what my kids think about it? They think it's fun too.
Now, I realize that as we get deeper into the grammar, it may be, at times, less fun. It may be harder work. We may not ever be truly proficient. But, then again, maybe some of my children will be. Maybe one of them will write Bible studies and be able to read the original Greek in preparation for that. Maybe knowing at least some Greek will help protect them from preachers who would misuse and misquote the Bible to their own ends. One of the things I appreciate in all of the resources I've mentioned is that they quickly jump into Bible verses and biblical vocabulary.
Here's another Simmons (yes, him again) quote that inspires me:
When aims are pitched high, even a partial failure may lead to ultimate success
We're seeking a restoration of lost things. We are making connections. We are diving deep into what things MEAN.
I'm so thankful that homeschooling gives us the chance to do so. And I'm truly thankful to Rainbow Resource.com for helping this dream become reality in this school year.
Have you considered adding Greek to your homeschool curriculum? Have any tips for teaching Greek? Do share in the comments!
Want other ways to connect with RainbowResource.com?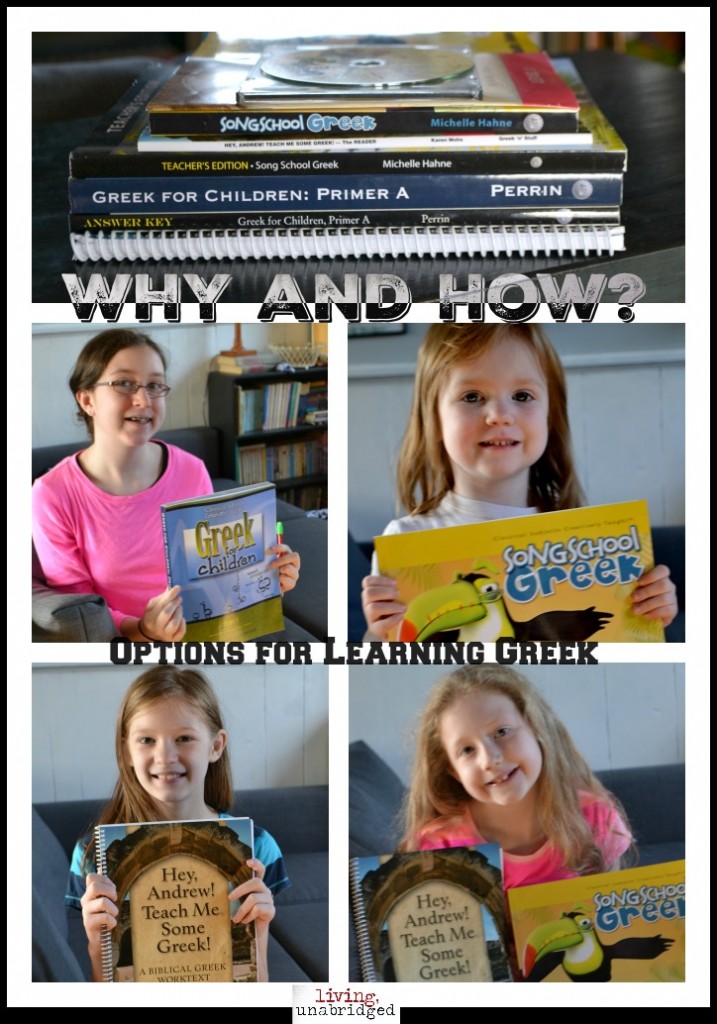 Looking for more ideas in teaching Greek or Latin? I have some Pinterest boards for you:
Follow Karen (Living Unabridged)'s board Homeschooling – Greek on Pinterest. Follow Karen (Living Unabridged)'s board Homeschooling – Latin on Pinterest.
Or are you looking for some Latin specific resources? Click here to visit Family Style Schooling.
Linking up with these great blog hops: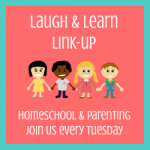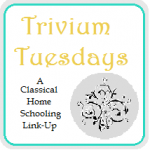 Posts may contain affiliate links. See my disclosure policy if you have questions about this. If no images appear on this post, you may need to disable an ad blocker on your browser. If you enjoyed this post, please consider sharing it on your favorite social media sites.