It's been a full week. The weather has been lovely…until today. Since we have outside plans for this evening – an activity rescheduled after a rain out earlier this month – I'm hoping the rain will hold off until late tonight. But, it's not looking good. Which means this mom is yet again trying to come up with a Plan B that will redeem the day. (And can I just say right here: I do not like this responsibility of mom life.)
Anyway, on with the links: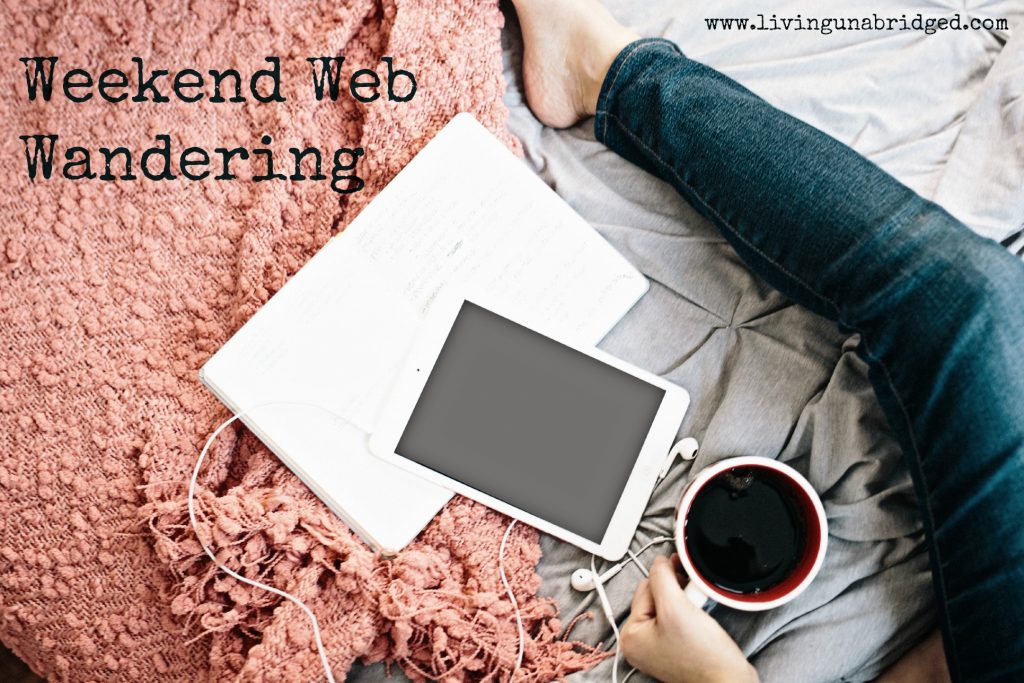 Learning
Living
To My Friends Who Aren't Famous by Shawn Smucker. Encouraging words like these:


So today, let's you and me, in our relative anonymity, follow our calling "with great patience, perseverance, and love." Let's be okay with our current platform, no matter how simple. Let's encourage each other, help each other. Let's keep creating.

The Tolerance Jesus Will Not Tolerate by Kevin DeYoung at TGC. Sobering.
6 Marks of Healthy Sexuality by Gary Thomas. This is a frank, but necessary article.
The reminders from Gary Thomas (see above link) are important for a lot of reasons, not least because it is now necessary to write posts like this: Your Husband's Infidelity is Not Your Fault by Julie Roys for CT. I particularly appreciated this reminder from Richard Exley (the author gives this quote more context but this is the central point):


But the more we attempt to appease our lust, the more demanding it becomes.

Two posts about teenagers or parenting teens this week. The first is from Sarah at Clover Lane: To Teenage Girls, With Love.
The second is from Tressays: No, Your Teens Do Not Want to Hang Out With You. (Well, maybe sometimes they do, but this is a good reminder about what is normal teen behavior.)
If you liked my post 4 Things Children Don't Need you will probably like Mary's post Twelve Toys My Children Don't Need at Better Than Eden.
4 Simple Steps to Overcoming the Overwhelming by Rachel Wojo at The Better Mom.
My husband sent me this one: How Friendships Change in Adulthood by Julie Beck in The Atlantic. As someone who much prefers messaging and texting, and as someone who is drained by too much "in person" interaction, I might be inclined to argue against some of her points, but it's definitely thought provoking reading.
Transforming Your Online Persona Into the Real You by Nicole Russell at The Federalist.
Loving
From Living Unabridged:
Last year I was still sharing 31 Authors Children Love:
What caught your eye this week?
Posts may contain affiliate links. See my disclosure policy if you have questions about this. If no images appear on this post, you may need to disable an ad blocker on your browser. If you enjoyed this post, please consider sharing it on your favorite social media sites.