Our school year is winding down. Honestly, it's kind of sputtering out. We have days where we get a lot of work done and days where…well, we don't. Co-op is over. Our newest baby could join the family any day now (read: Mom is tired and moving pretty slow these days).
We tend to follow a modified year round schedule anyway, since we like the flexibility of taking off when we need (or want) to. This usually means starting at the beginning of August, working through early June, taking off all of July, taking a long break in December – January, and then taking days or weeks as needed. This year we'll probably relax through all of June and July (the new baby thing, again).
What this means is some books are not finished. Some of my plans from last year have not come to fruition yet.
So, how do we "finish" the work we have left without too much frustration?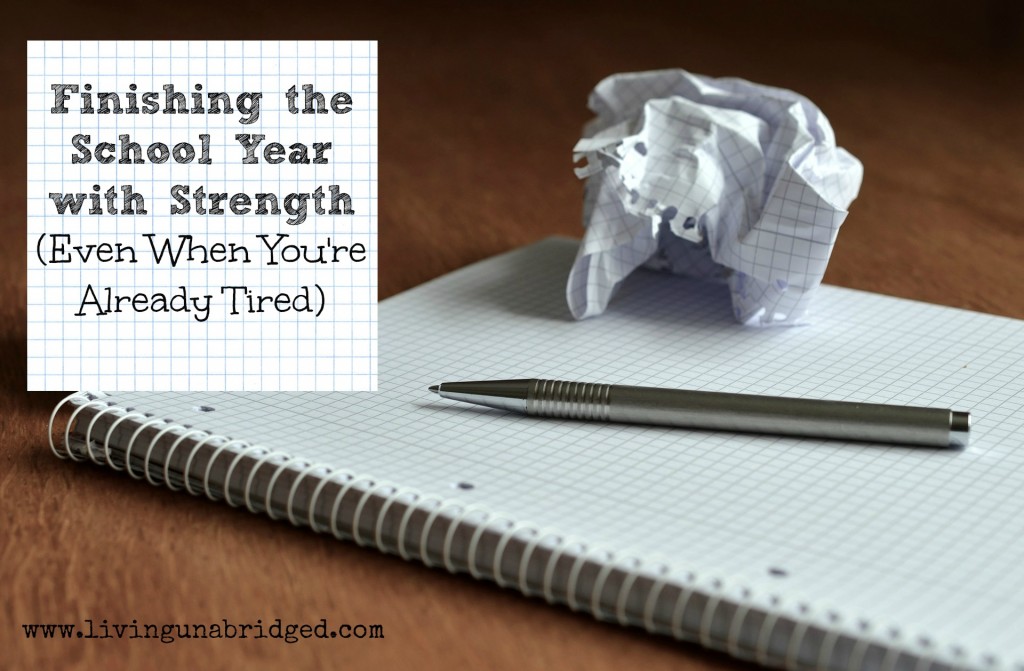 1. Focus on top priorities.
For us this means: Math, Latin, and good books. If those three things happen, I feel like we've had a good day.
2. Add in second tier priorities as possible.
The subjects that fall under this heading are: Grammar, Writing, and Science. (We've already finished our History studies for this year or it would be here too.)
3. Break up the academics with other activities.
Some days are so warm I send the kids out to play in the morning and then "do school" with the older children in the afternoon. For my easily distracted child, I have her work on a set amount of Math problems and then switch subjects. This allows her to finish more in less time, but for another one of my daughters it wouldn't work. That daughter needs a list of tasks and she plows through them at her own pace.
4. Change the scenery.
Take advantage of warm weather to go outside. Do Math sheets at the picnic table. Review Math facts while jumping on the trampoline or jumping rope. Break out the nature journals that were hibernating during the dreariest months. Spread a quilt and read outside.
So, you didn't finish a textbook. You didn't read all the books on your list or finish all the enrichment activities. Is that the only way to measure progress? Have you seen any new interests awakened in your child(ren) this year? Have you had discussions about at least a few of the books you've read? Have you tried something new? Have you persevered through something difficult? Have you dealt with a character issue and come out stronger?
Leave the stressful quantifying and measuring to the other methods of education, as much as you can. Homeschooling is a life, not a contest. I guess that means the title of this post is actually misleading. I don't think we ever really "finish". One year leads into another, even if you don't follow a year-round schedule. And even if you take three months "off" in the warmest months, your kids are still learning constantly.
Do you take a summer break or homeschool year-round? What's your best advice for finishing strong?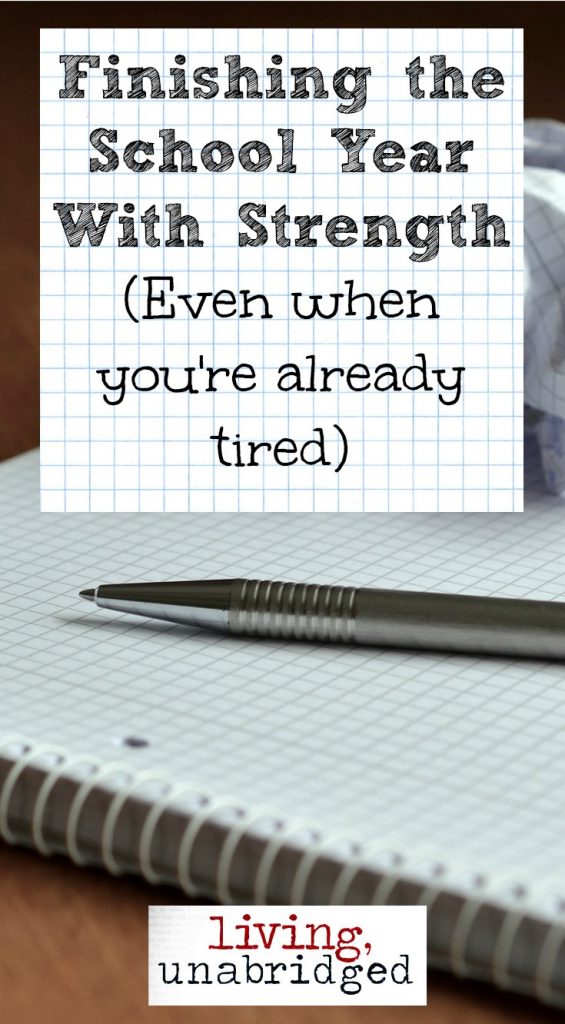 Posts may contain affiliate links. See my disclosure policy if you have questions about this. If no images appear on this post, you may need to disable an ad blocker on your browser. If you enjoyed this post, please consider sharing it on your favorite social media sites.