Last year was the first full year for Living Unabridged. I thought it would be fun to look back at the posts that got the most hits and shares. Next week I'll share my favorite posts from 2015 (whether they were popular or not). Maybe you'll see a post that you missed the first time.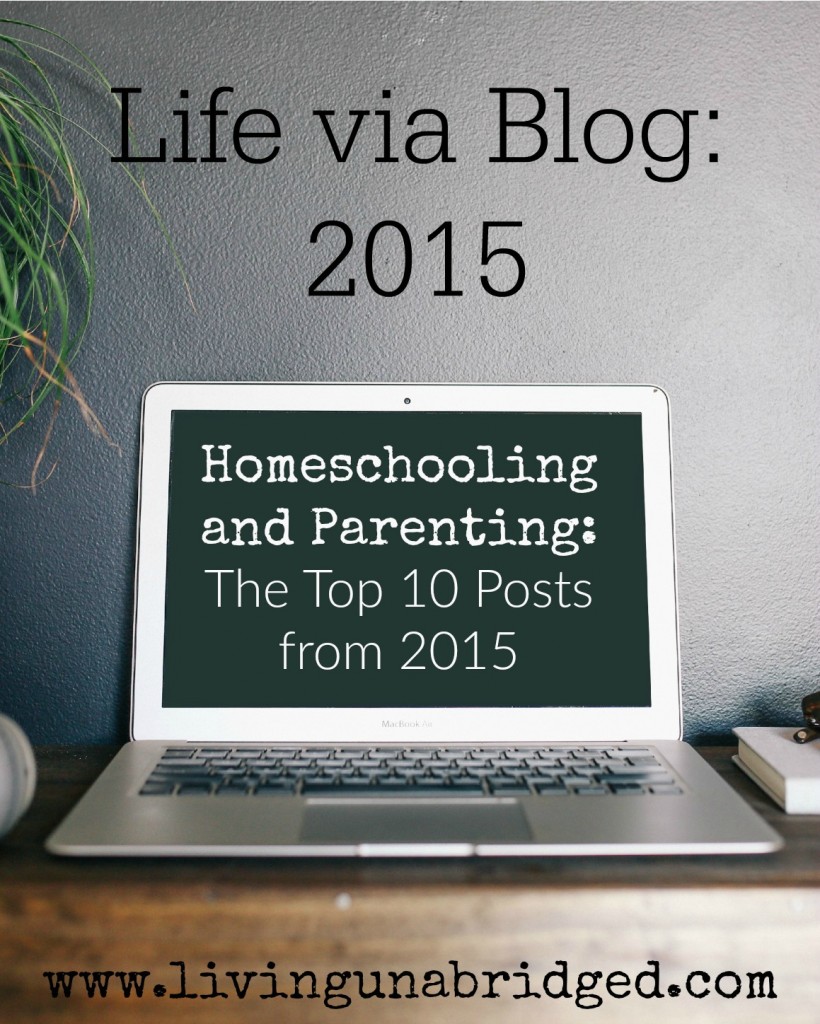 The top posts from 2015 seem to have two themes: Homeschooling and Parenting.
And that's great because those are two subjects I will definitely be blogging about in 2016 too.
Here they are in reverse order:
10. Likes and Dislikes: A Homeschool Mom Confession
9. Not Back to School: Homeschool Curriculum Plans
8. 23 Reasons This Introvert Mom Loves Homeschool Co-Op
7. Home By Choice: 37 Silly and Serious Reasons We Homeschool
6. Book Lovers' Gift Guide 2015
5. Two Things This Mom of Boys is Learning
4. 4 Music Playlists for Labor and Delivery
3. 25+Must Read Homeschool Blogs
2. 3 Things I Don't Want My Daughters to Be
And the number 1 post written in 2015 was: Introvert Mom Surrounded By Children. Which basically sums up my life.
The top post not written in 2015? The most popular thing I've ever written (by far!), and it had over 650,000 (yes, that's THOUSANDS) hits this year:
What was your favorite post in 2015 from Living Unabridged? What would you like to see here in 2016?
Is one of your New Year's Resolutions to "Get Organized?" If you're a homeschool mom, I have a great new resource to share with you:


And, whether you're a homeschool mom or not, I highly recommend Mystie's Simplified Organization Course. Start now and let 2016 be the year you take control of your time, your home, and, well, your life.

Posts may contain affiliate links. See my disclosure policy if you have questions about this. If no images appear on this post, you may need to disable an ad blocker on your browser. If you enjoyed this post, please consider sharing it on your favorite social media sites.