Today's quote is from Collecting the World: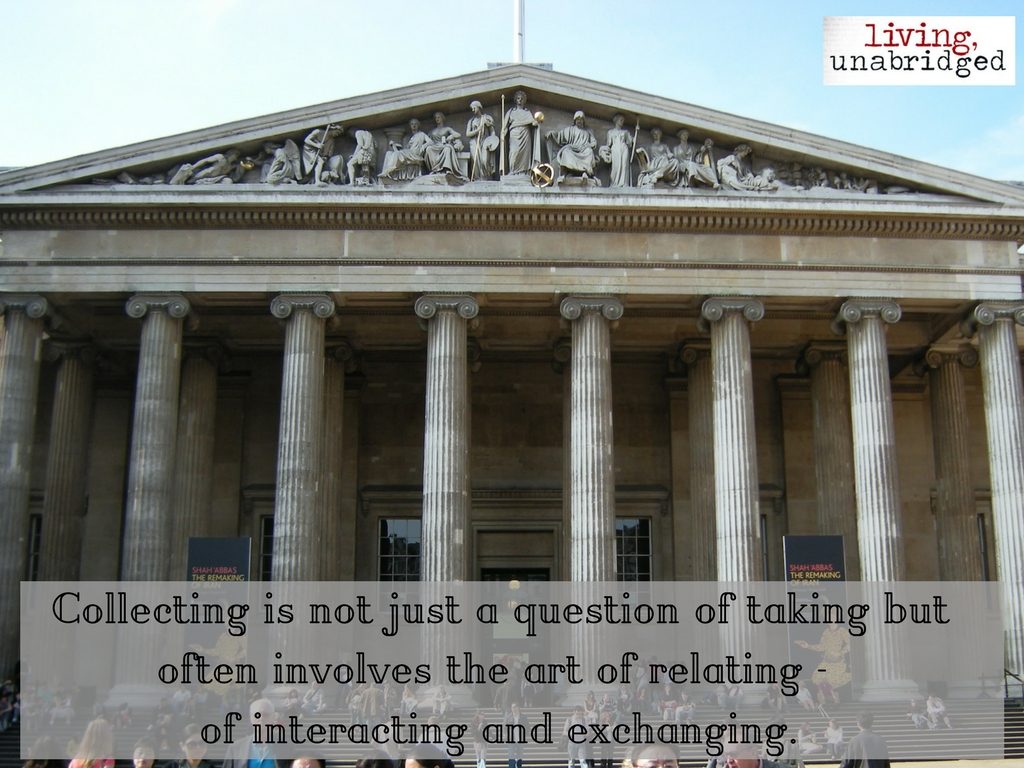 Collecting the World: Hans Sloane and the Origins of the British Museum is a dense book and I'm only about half way through it. Sadly, it has to go back to the library today.
So, I'll have to re-order it, I guess.
The quote is from the author, James Delbourgo. And the picture is one either my husband or I took while we were in London (and it's crooked because I didn't take the time to straighten it…).
The British Museum is a definite "must see". It's one of the first places we went on our trip to the UK in 2009. (True story.)
Anyway, I liked this because I like the distinction between collecting (relating, interacting with things or ideas) and hoarding (amassing stuff for no good reason).
What I'm Reading Now
I hope you saw my stack on instagram. I haven't added anything else this week, but I have a few more holds (!) waiting for me at the library…
Recently Finished
I've knocked out three from that stack:

A Mathematician's Lament by Paul Lockhart. (Quotes from which may end up here as early as next week.)
Dark Dawn Over Steep House by M R C Kasasian. Short review: well written (as usual), but gruesome, dark, and ultimately sad. Mr. Kasasian is a charming man (you can find him on Twitter, he follows back) and talented writer but I think he may be done writing these Gower Street mysteries. This one had the air of finality about it. Which makes me sad in a way, but I'll be interested to see what he comes up with next. (I've heard it's a WW2 novel so you can bet I'm up for that.)
Queen Victoria's Matchmaking by Deborah Cadbury. I enjoyed Cadbury's Princes at War. This title is good, readable, and better than a novel in some ways. But it's also kind of rehashing already covered territory. (Particularly Born to Rule by Julia Gelardi.) Not a lot of new insight and it's a bit meandering. (I'm not sure you can say that Victoria did any matchmaking for Ena.)
Current Read Aloud
We have one chapter left of Amos Fortune, Free Man by Elizabeth Yates. Highly recommended.
Current Kindle Deals
Today is Anne Bronte's birthday. Amazon has Kindle editions of her books for $0.99 each:

Agnes Grey
I also found a $0.49 Kindle edition with 8 novels by the Bronte sisters:

The Bronte Sisters: The Complete Novels.
What are you reading now?


This post may be linked here.
Resources:


Take DaySpring's #LiveYourFaith Quiz to find your 2018 Word of Truth – one word that will help you focus on what God is calling you to accomplish in the year ahead.

Posts may contain affiliate links. See my disclosure policy if you have questions about this. If no images appear on this post, you may need to disable an ad blocker on your browser. If you enjoyed this post, please consider sharing it on your favorite social media sites.