This weekend is one of the highlights of my homeschool year: the Great Homeschool Convention in Cincinnati. Here are three reasons why I look forward to the GHC every year: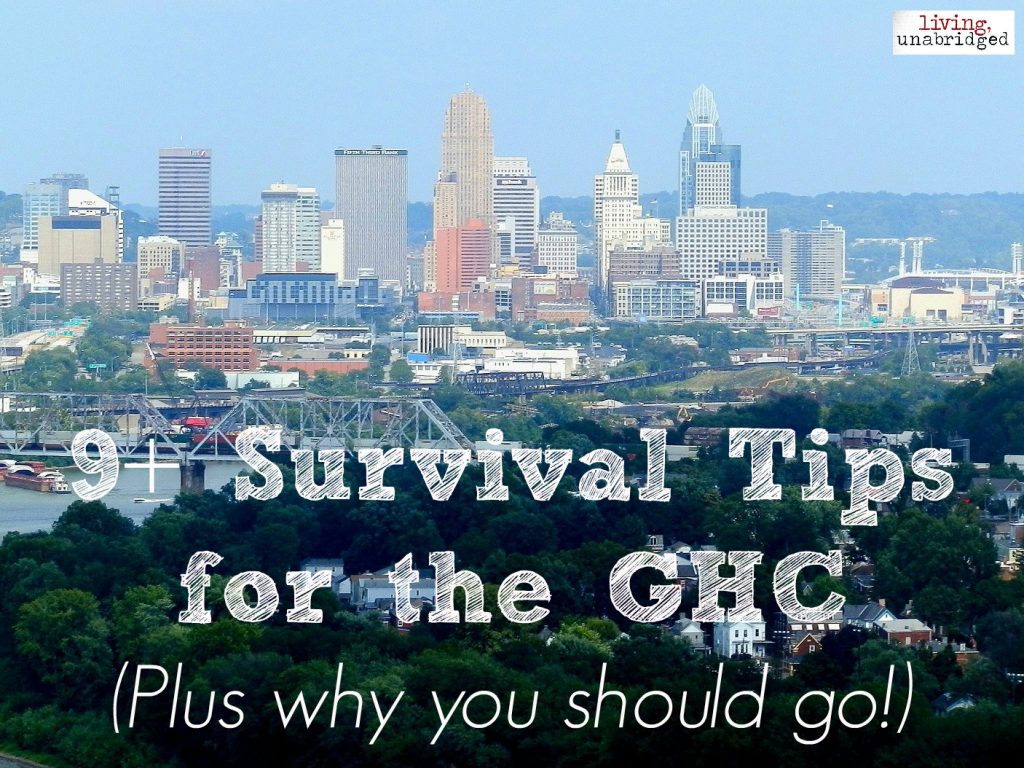 1. Inspiration.
Have you noticed that my blog has been rather quiet of late? Part of the reason is that my creative well is dry. I don't really hit a homeschooling "wall" in February, but by March and April, I'm worn out with the oh so daily nature of teaching all my children at home.
The thought that maybe my kids would be better off somewhere else with someone else flits across my thoughts.
And then I go to the GHC and listen to my academic inspirations (Andrew Kern and Christopher Perrin are the first two that come to mind) and I'm inspired again. I remember why I'm doing this.
My own education is inspired again as I hear about books I want to read and thoughts I want to consider.
2. Fellowship.
OK, you know that I'm an introvert. People in general drain my tank. But there's something magical that happens at the homeschool convention because I am surrounded by people who have similar goals, interests, and visions.
Sometimes we sing the Doxology and it is profound. I sometimes get to meet blog friends in person. (Like Dawn and Anna). People that I know in real life from all over the Midwest tend to show up here, at least for one day.
The chance to share ideas and inspiration with other moms and dads who are also trying to educate themselves and their children? Sign me up!
And remember that many of the people giving the sessions are also homeschool parents. They may be further down the path or have a bit more experience in some area (that would be why they were invited to speak) but they're people just like us. (With a few possible exceptions…*wink* You may be able to tell I'm not a fan girl type but there are a few folks I think I might get a little tongue-tied around.)
3. Preparation.
The Cincinnati GHC is usually held as our school year is winding down. What worked and what didn't are very fresh in my mind. I have to plan for another year, and that usually means purchasing a few things.
The Rainbow Resource booth alone would be reason to visit the vendor hall. Wonder if a curriculum or book you've seen online would work for your child? There's your chance to examine it up close.
I try to sketch a plan for each child before I go, but I also try to keep an open mind in case I see something that will help a particular child.
There are bargains and books to fill every homeschool need. But it all can be overwhelming. So keep reading for my best GHC survival tips:
1. Wear comfortable shoes.
The Duke convention center is huge. You will be walking (and walking and walking…). Some sessions are held in the hotels nearby, so make sure you check your schedule carefully.
2. Bring in food and water.
There are a few food options in the hall but the lines will be long at mealtimes. If you can bring in your lunch or supper, you'll save time and money. Don't forget a refillable water bottle. (Side note: Duke Energy Center policy is supposedly no food can be brought in. I have NEVER seen this enforced at the GHC. You could eat a picnic outside or at Fountain Square – one block away – if you want to obey the rules. At any rate, water bottles are not going to be confiscated and every good mom has a snack in the bottom of her bag, right?)
If you want a more substantial meal, downtown Cincinnati offers lots of options, just a few blocks away. But there are no meal times on the schedule, so you'll have to decide when that fits into your day. (You can get a really good cupcake at Abby Girl Sweets…)
3. Get a feel for the vendor hall before you buy.
It's big, y'all. REAL big.
You will be overwhelmed the first time you walk inside. This is one reason why I do not recommend only coming on Thursday night when the vendor hall is free. If you only come Thursday night you will feel pressured to make quick decisions unless you know EXACTLY what you need to buy and EXACTLY who you intend to buy from. If not: take your time.
Before you hit the vendor hall you might want to re-read my post You Don't Need That.
4. Bring something to carry your purchases.
A rolling cart. Maybe a good backpack. Even a suitcase on wheels. (You will see all these options in use.)
Most vendors have bags, but trust me: they get heavy. You don't want to lug $200 of Math curriculum around all day. (Ask me how I know!)
5. Bring your notetaking device of choice.
Whether you're a pen and paper gal or a "I've got an app on my phone" type homeschool mom, you're going to want to take notes.
6. Divide and conquer.
There are more interesting session options than one person can hear. Highlight your first and second choices on your schedule.
If you have a spouse or friend attending with you, divide up and share your notes later.
Even if you're alone, all the sessions are recorded and can be ordered at the convention. So, if you really need to, you can order those to fill in the gaps you had to miss.
7. Leave the kids at home.
OK, I know this advice rubs against the grain for homeschool moms. But you will be able to move more quickly without your kids.
Strollers are not allowed inside the session rooms (sometimes they are in the ballrooms, but it varies). A stroller is handy for holding all your stuff, but that's about it.
(Note: there is a separate program available for kids, but I do not have personal experience with it. My teens do the teen track but if we take our younger kids they just stay with us.)
8. Bring stuff for the kids.
If you ignore my advice in #7, make sure your kids are supplied with snacks, drinks, and quiet activities. (Think about it like surviving a very long church service.) And try to have them carry their own stuff in a backpack.
Remember the overwhelming vendor hall? All the cool games and toys attract children like hummingbirds to nectar. Your child will definitely find something she "needs" to buy. So let them bring some of their own spending money. You can comfort yourself with the "at least it's educational" line.
9. Know your limits.
Have a budget so you don't overspend. Plan meal times and break times in your schedule. Don't stay up too late every night. Take a nap if you need one.
Limits are a good thing.
So, will I see you at the GHC? 


P.S. If you're looking for other great things to do in Cincinnati: Cincinnati Field Trips.
P.P.S. I am not an affiliate for Great Homeschool Conventions and this is NOT a paid post.
P.P.P.S You can find more about products we use on this page: Consider.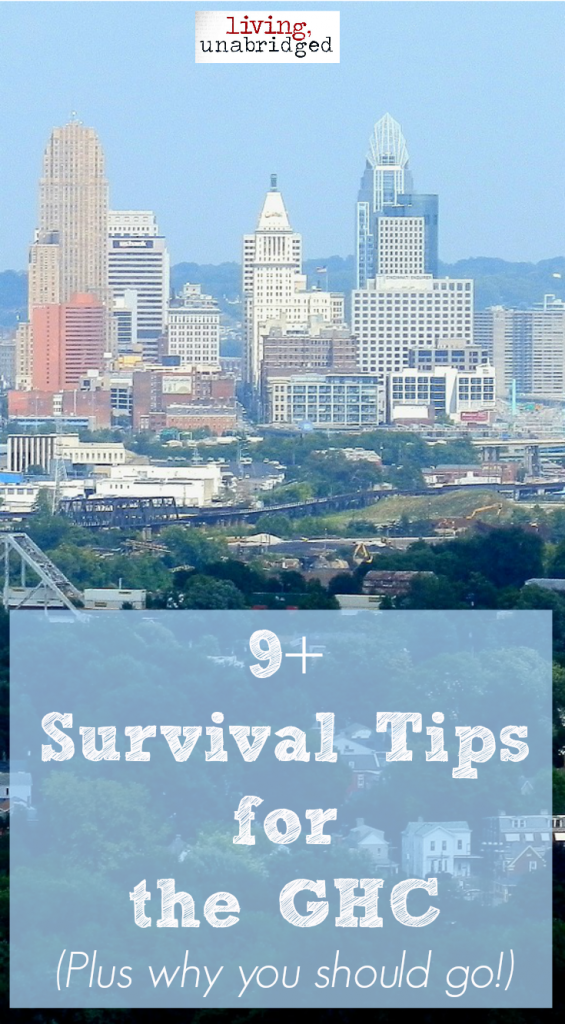 Posts may contain affiliate links. See my disclosure policy if you have questions about this. If no images appear on this post, you may need to disable an ad blocker on your browser. If you enjoyed this post, please consider sharing it on your favorite social media sites.