Every year since 2003 my husband has directed a week of camp sponsored by our church. I am his (hopefully able) assistant. There are always challenges to this ministry. And there's always so much to learn.
I think I learn more than the kids. Maybe.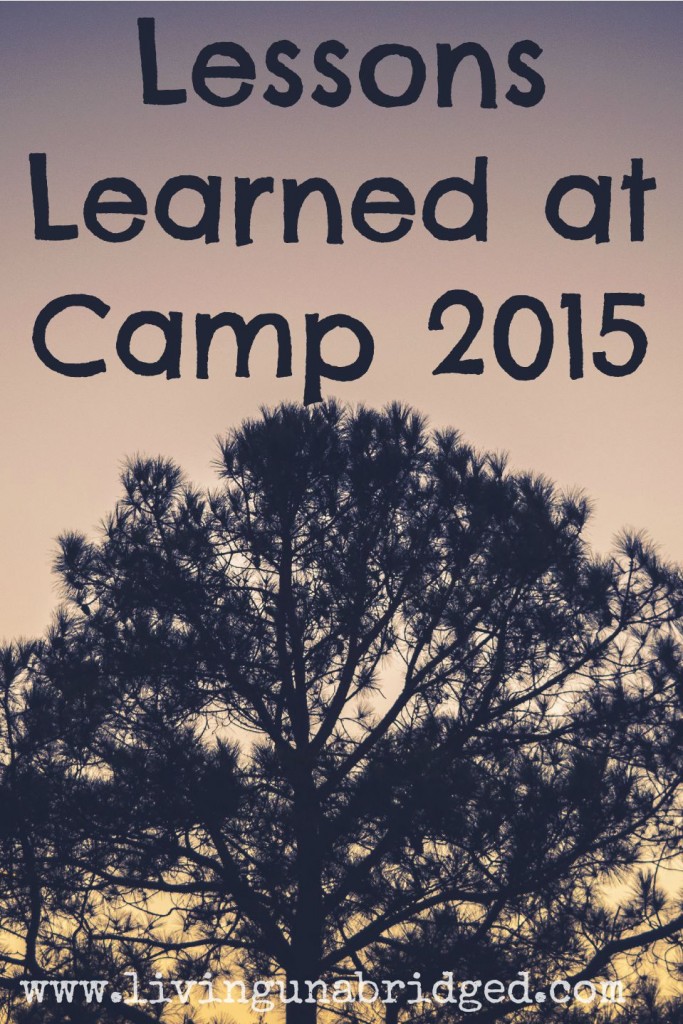 Here are my lessons learned at camp this year:
1. An automatic towel dispenser can make a 4 year old feel like a Jedi knight. Every time our four year old needed a paper towel she would triumphantly wave her hand in front of the machine, pull off the resultant sheet, and announce, "Didn't even touch it!"
Lesson learned: see the magic in every day life.
2. Wise counsel can come from unexpected sources.
My husband and I had a policy of not allowing our children to earn a specific prize at camp, lest anyone think our children hadn't really earned it.
My brother – fourteen years younger than me – persuaded me that we could relax that rule. He had reasons and evidence. Our child ended up earning that prize and her joy was worth any uncomfortable feelings.
Lesson learned: listen to your brother (when he's right), even though he's younger than you.
3. The scariest words at camp this year: "Another kid just threw up."
Lesson learned: there are worse things than a kid who pukes at camp (things like: multiple kids losing their dinners).
4. Children expect the schedule to be followed, especially as regards things like swim time. Weather related interruptions to these schedules are not considered an acceptable excuse. Children react like adults are just not. trying. hard. enough. to change the weather to better circumstances.
Lesson learned: you can never really "make it up" to a kid whose swim time has been cancelled.
5. The aforementioned weather can do more than interrupt swim time. When the campground managers come to you and explain the possibility and specifics of where your campers and staff need to shelter in the event of tornados is when stuff gets real.
Lesson learned: the concept of sheltering with 59 8-14 year olds in the basement of a barn will be nightmare fodder for weeks (possibly months) to come.
6. You and your husband run a pretty good week of camp (if you do say so yourself), but it couldn't be done without all the volunteers. Of these, the teens and young adults are worth their weight in gold, because, seriously, who else has enough energy to keep up with a group of seven or so under 10 year olds?
Lesson learned: never take young help for granted. Their stamina will beat yours every time.
7. There are always a few campers that get on your nerves. They may be a discipline problem. Or maybe they have difficult personalities. Or maybe something else. But when one of these "trouble" campers runs up to you on the last morning and hugs you while saying, "Thanks for a great camp!" You will melt every time.
Lesson learned: even the Trouble Kid is precious. (Although you will shudder a bit when he adds to his thanks, "See you next year!")
8. Watching your husband do something he's great at – in this case, leading kids and adults in a great week of church camp, will make you love him more, even when you barely get to say three non-camp related sentences to each other all week.
Lesson learned: love grows when you're working together.
9. Good luck getting a certain camper when you call them. Why? Out of 37 girls in our dorm we had:
2 Emmas (plus an Immy)
2 Emilys (plus one counselor also named Emily)
1 Elianna plus one of our own daughters, Iliana (too young to be a camper but on the scene anyway).
1 Abigail and two counselor Abbys
2 Laurens
1 Ella / 1 Ellie (plus an Allie and an Aliyah)
2 Maddies
Lesson learned: study those baby name lists and never choose something in the top 100, unless you want your child to be known as "Emma C" for her entire childhood.
Have you experienced any lessons learned at camp? Do share.
Posts may contain affiliate links. See my disclosure policy if you have questions about this. If no images appear on this post, you may need to disable an ad blocker on your browser. If you enjoyed this post, please consider sharing it on your favorite social media sites.