One thing I love about reading (and there is so, so much I love) is that even when I'm reading something fun or light profound things can still jump out at me.
Things like this quote: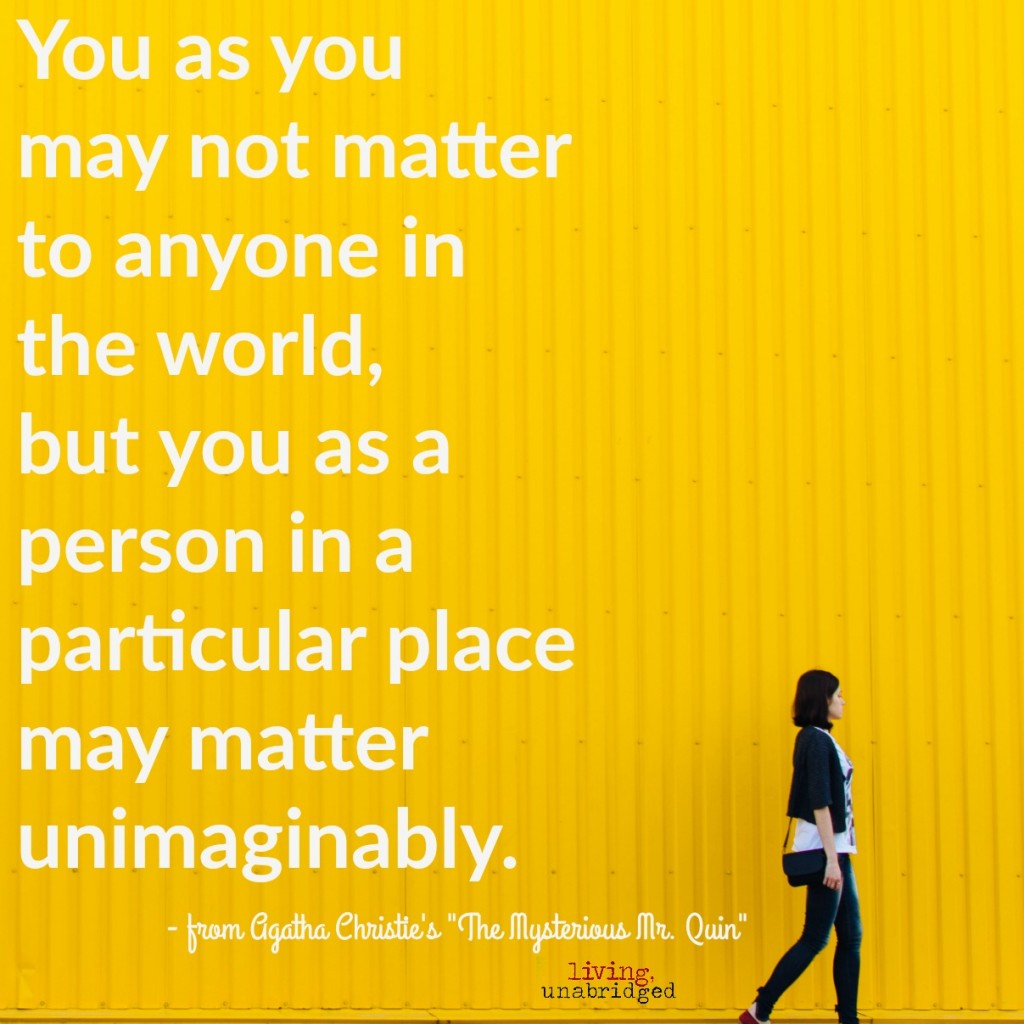 from Agatha Christie's The Mysterious Mr. Quin: A Harley Quin Collection
.
The Harley Quin collections are short stories. They can be absurd, but they can also be unsettling. This line is spoken by Mr. Satterthwaite (the other main character in these stories) to someone who thinks he has no reason to live.
And, spoiler alert, his presence does matter. His life at a certain time and place matters unimaginably to someone else.
Recently Finished
A City of Bells
by Elizabeth Goudge. I love British fiction, so it is rather surprising that this is the first Goudge I recall reading. Several passages from this ended up in my commonplace book too. (You can see one in last week's post: When People Begin to Read.)

Onward: Engaging the Culture without Losing the Gospel
by Russell Moore. If I could buy a copy of this and give it to all my Christian friends, I would. So. Good. He almost singlehandedly filled my current commonplace book. (Slight exaggeration there, but only slight.)
Recently Added
I didn't make it to the library this week, and I'm still working on the stack I have.
Current Read Aloud
We're in the final chapters of The Secret Garden
. We have all thoroughly loved revisiting "The Secret Garden".
Current Book to Review
My girls helped me review Air Is Not Oxygen: Essential Science You Should Have Learned … But Probably Didn't!
. Check out our review and a bonus list of 101 homeschool co-op science class ideas.
Current Kindle Deals
A Hobbit, a Wardrobe, and a Great War: How J.R.R. Tolkien and C.S. Lewis Rediscovered Faith, Friendship, and Heroism in the Cataclysm of 1914-18
looks interesting. I haven't read it yet but at $3.99 this month I may decide to try it.

I know some of my friends will be interested in this one: Say Goodbye to Survival Mode: 9 Simple Strategies to Stress Less, Sleep More, and Restore Your Passion for Life
. $2.99 this month.

I highly recommend Honey for a Child's Heart: The Imaginative Use of Books in Family Life
to all parents and grandparents. I love my hard copy but it's $2.99 for Kindle this month and that would be better than not owning it at all.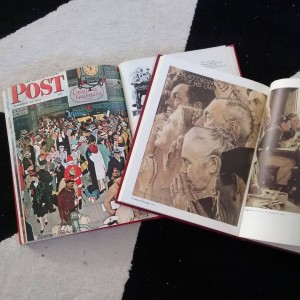 We broke out our Norman Rockwell books this morning in honor of his 122nd birthday.
What are you reading now?
Linking up with: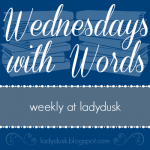 Looking for more inspiring or thought provoking quotes? I have a Pinterest board for that:
Follow Karen (Living Unabridged)'s board For Inspiration – Words on Pinterest.
Posts may contain affiliate links. See my disclosure policy if you have questions about this. If no images appear on this post, you may need to disable an ad blocker on your browser. If you enjoyed this post, please consider sharing it on your favorite social media sites.