One challenge for anyone who decides to homeschool all the way through high school is making sure the student has the credits they need to graduate. Each state has requirements and colleges have their own lists of "must haves". One common course suggestion for credit is an Economics course. My husband and I both wanted our daughter to have this credit, but we weren't sure what we'd use to fulfill it.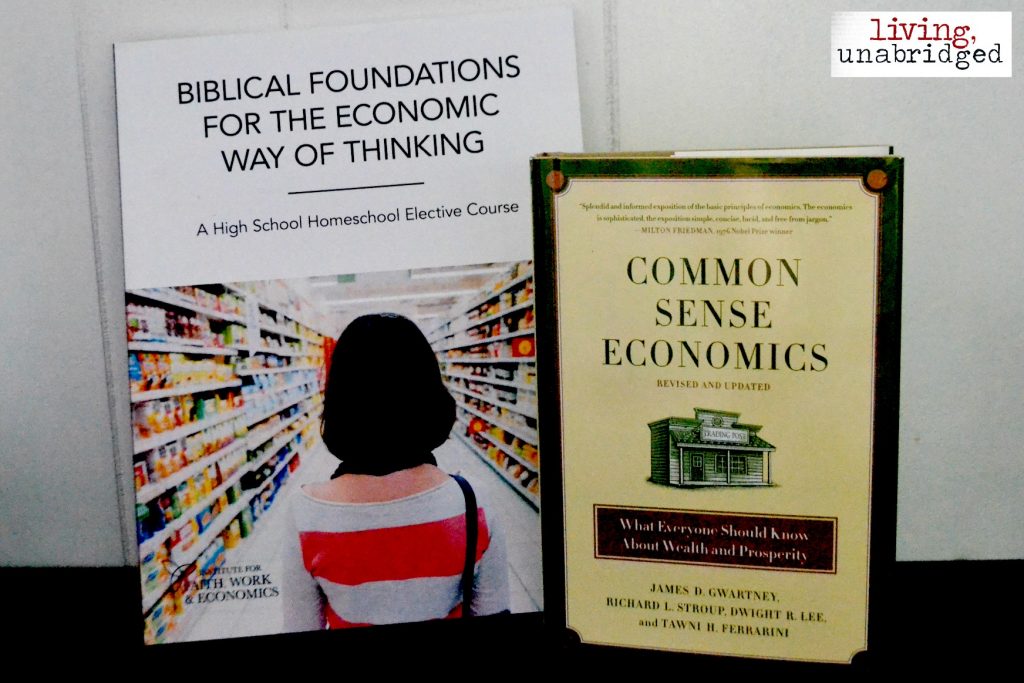 I received this product for a free and honest review. I was compensated for my time. See disclosure policy for more about this.
The Institute for Faith, Work, and Economics had exactly what we were looking for in an Economics course: It's literature based. It's practical. And it is based on a Christian Worldview.
A Literature Based Economics Course
The course spine is Common Sense Economics: What Everyone Should Know About Wealth and Prosperity by James Gwartney, Richard Stroup, Dwight Lee, and Tawni Ferrarini. I hadn't heard of this particular book before, but recommendations from Milton Friedman and Walter Williams reassured me that this would be a quality book.
But this book isn't the only thing the student will be reading. Each module (there are 17 in all) has recommended articles for reading and, in some cases, videos to watch.
A Practical Resource for Homeschool Families
This resource is thorough, but simple (two things I look for in any curriculum!). The student will need the book, the course from IFWE, a Bible, and internet access for the recommended article reading or videos. A notebook for keeping answers will also come in handy. My daughter is using a simple composition book to record her responses.
The 17 modules are meant to be finished in seventeen weeks, roughly 1/2 of a school year. It could easily be stretched out to two weeks for each module if your student is already carrying a heavy academic load and needs to take more time. One module is a midterm and the last module is a final exam, which will be useful in assigning a grade for the entire course. (IFWE also offers a suggested grading rubric on their website.)
Each module has one Key Idea. Each module also has a list of assigned reading, some optional resources for further study, several study questions, and a group or family activity.
A Christian Worldview for Economics
This is not an economics course with some Christian gloss applied over it. Biblical Foundations for the Economic Way of Thinking is an "in-depth, biblical exploration of the economic way of thinking" as the authors say in the introduction. The stated aim of the course:
…[S]tudents who take this course will see how living out biblical economic principles empowers them to live faithfully as Christians, to flourish and contribute to the flourishing of their families, their communities, their nation, and ultimately, the world.
Our daughter has grown up listening to us talk about these issues. She's listened to Dave Ramsey. She's read a few economics articles. This course has already inspired some great discussions, which is one way I judge whether something is worthwhile or not.
I prefer to keep our purchased curriculum simple (and, in several cases, I prefer not to use one), but I also want to feel confident when I award credit to my potentially college-bound student. This resource meets those requirements.
Find Out More About Institute for Faith, Economics, and Work Courses
If you are intrigued by this course and would like to know more, IFWE is offering a free download of lessons from this course and also from another high school elective course they offer: Understanding God's Calling. The free samples also include a 30% off coupon code.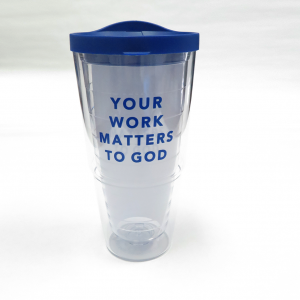 That's not the only special they're offering right now. You can get 50% OFF all IFWE homeschool curriculum through June 15, 2016 with code HSBLOG50 .
PLUS, if you purchase by June 15th, IFWE will throw in a 24 oz. Your Work Matters to God tumbler (one per order, while supplies last).
If you're interested in finding out more about IFWE and the resources they have for homeschoolers you can find them on Facebook, Twitter, Instagram, and YouTube.
If you're homeschooling a high school age child, what are your favorite resources? What courses do you think are "must haves"?
Posts may contain affiliate links. See my disclosure policy if you have questions about this. If no images appear on this post, you may need to disable an ad blocker on your browser. If you enjoyed this post, please consider sharing it on your favorite social media sites.