I'm guessing anyone who is intrigued by the title "The Entitlement Cure
" has someone in mind who meets their definition of entitled. In our current culture it's impossible to go a full week without running into someone who fits the description or, at the very least, it's impossible to avoid another story or article about the millennials and how entitled they are as a generation.
But what does "entitlement" even mean?

The Definition of Entitlement
Dr. John Townsend takes on this epidemic first by defining "entitlement". He gives this definition on page 19:
Entitlement is the belief that I am exempt from responsibility and I am owed special treatment.
Now before you start buying this book and handing it out to anyone who has ever annoyed you, let me caution you: this book will hit you, the reader, between the eyes. It is not necessarily about fixing the entitlement we see in others (although it does deal with that too) but Dr. Townsend will challenge you to examine your own "pocket entitlements".
We all have areas where a sense of entitlement shows itself. On page 21 he lists these four possibilities:
an attitude of being special
an attitude of being owed, of deserving something
a refusal to accept responsibility
a denial of one's impact on others
Obviously, very few people display all of those attributes at all times. But what is so easy to see in other people is less obvious in ourselves.
This book is going to change that.
The Entitlement Cure
Dr. Townsend calls this cure "The Hard Way".
The Hard Way is:
The habit of doing what is best, rather than what is comfortable, to achieve a worthwhile outcome. (p. 26)
Thinking you don't want to live life "The Hard Way"?
Bad news:
…there is no Easy Way…There is only The Hard Way — and the Hardest Way.
Be Inspired By The Entitlement Cure
Now, if you're starting to feel discouraged, don't. Dr. Townsend is practical and he's willing to step on toes (figuratively speaking) when necessary, but he's also inspirational.
Does entitlement seem to ingrained in our culture, too overwhelming a problem? Dr. Townsend has the answer:
Help change the entitlement attitudes in the individuals around you, and you change the entire culture. (p. 33).
He makes the case for compassion and hope. The plight of entitled people is that they are not living in reality (p. 51)
He cautions:
…if you aren't acting primarily out of love an concern for the one you're trying to help, then your reasons are suspect. (p. 74)
In other words, this book isn't giving you permission to go around telling people to knock that entitlement chip off their shoulders. (Or, worse, telling people to "Check your privilege". Has anyone noticed how obnoxious that is? Irony abounds.)
Be Equipped By The Entitlement Cure
Each chapter is a lesson in living "The Hard Way". Each chapter is full of practical wisdom. I took pages of notes while reading this book because I don't want to forget lines like this one:
Gratitude and entitlement cannot coexist in the same brain. (p. 150)
As the pastor might say, "That'll preach." (Especially right now when most Americans are at least giving lip service to being thankful.) In fact, I loved that so much I made this graphic: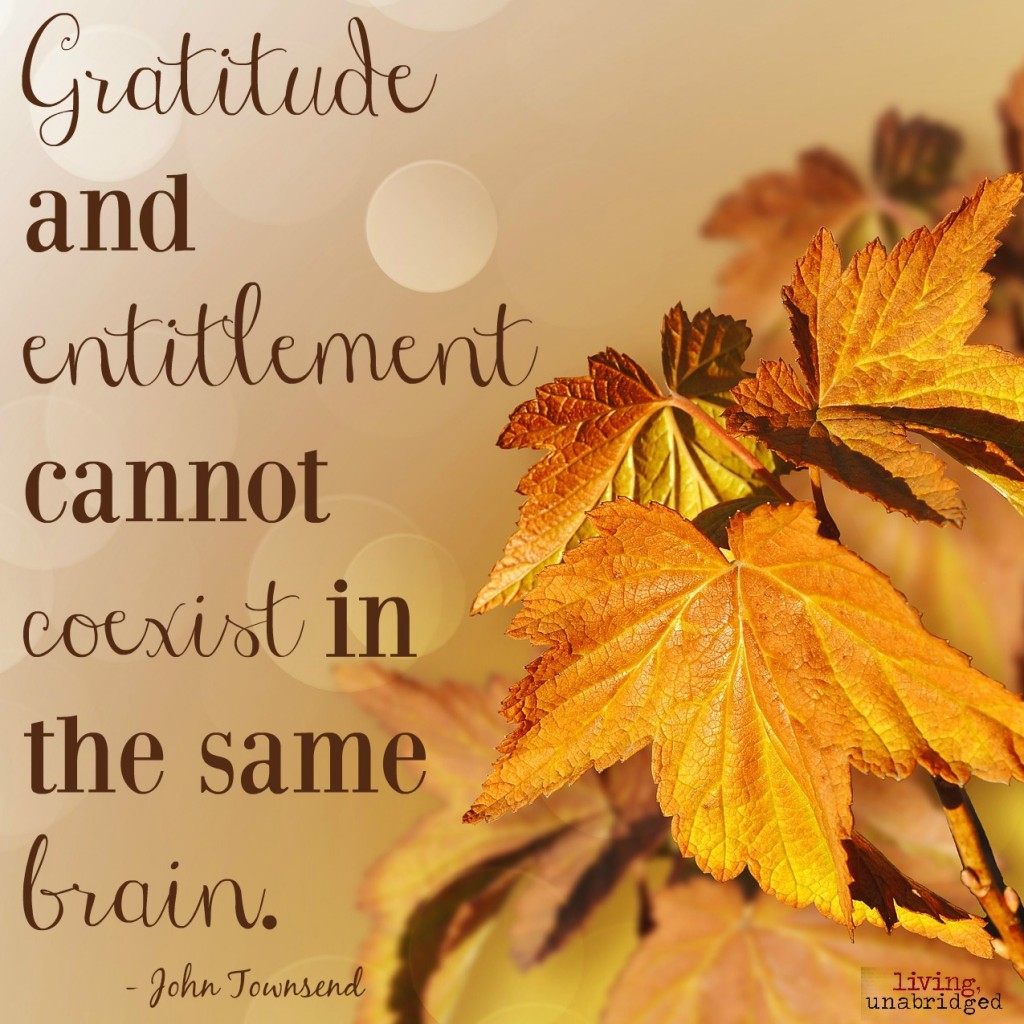 What about this quote from page 202:
People who try to avoid anxiety at all costs tend to become anxious about feeling anxious.
I clearly saw myself in this one:
Disappointment problems often stem from dependency on a certain desired outcome, and the sense that this must happen in the right way or it will be devastating.
Ouch. How well do I know that feeling? Too well.
Confronting entitlement in ourselves and others will not be easy. It will not be pain-free. Dr. Townsend knows that too.
Life has no pain-free option. (p.238)
Entitlement tells us that all pain is bad and we should avoid it at all costs. But this is not true. There is positive pain that leads to growth.
Reading The Entitlement Cure
isn't painful. It's well written and engaging. But it may inspire some painful realizations.
This is a good thing.
So, if you haven't guessed it yet, I HIGHLY recommend this book. Not so you can fix the people who annoy you, but so you can live your life to the fullest as the individual God designed you to be. If we end up able to help people who matter to us, and therefore help our culture, that will just be a bonus. Change starts with an individual and I'm ready to be that person.
Dr. John Townsend co-wroteBoundaries: When To Say Yes, How to Say No
with Dr. Henry Cloud. That book is a bestseller for good reason. It's my hope that The Entitlement Cure will be just as widely read. It's that important.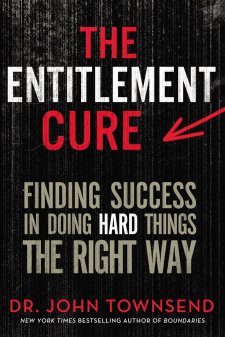 Linking up with: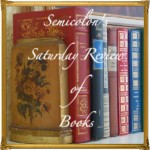 I received a copy of this book from Book Look Bloggers. I was not required to write a positive review and opinions are my own.
Posts may contain affiliate links. See my disclosure policy if you have questions about this. If no images appear on this post, you may need to disable an ad blocker on your browser. If you enjoyed this post, please consider sharing it on your favorite social media sites.