At Christmas there are a few songs that get played over and over (and over) again. Radio stations seem to be competing to see who can play "Rudolph the Red-Nosed Reindeer" or "Frosty the Snowman" the most times.
Sometimes our own personal playlists get in a rut too. And sometimes you just have bad music on your playlist. Sorry to be blunt.(I have some on my playlists too. The Little Drummer Boy is one example. I know it's dumb but I still love it.)
But honestly, there is so much music out there and it's probably better than what you're used to. It would certainly improve the radio playlists if they'd broaden their horizons. And just because you're used to Andy Williams singing about The Most Wonderful Time of the Year, doesn't mean that's the only song of that type.

So, in the spirit of giving, here are some Christmas playlist substitutions:
Instead of Santa Claus is Coming to Town (covered by everyone)
Try:Santa Will Find You
by Mindy Smith.
Relation to replaced song: Still about Santa, still about him coming to give gifts (if you're OK with that sort of thing) but much less NSA like.
Instead of Baby, It's Cold Outside (covered by Dean Martin, among others)
Try:Hibernation Day
by Jars of Clay
Relation: all the charm of being snowed in and cozy together with none of the yucky connotations ("Say, what's in this drink?" being one of the creepiest lines in Christmas music history)
Instead of Let It Snow, Let It Snow, Let It Snow (covered by EVERY SINGER IN THE WESTERN WORLD)
Try:Winter Weather
by Peggy Lee with Benny Goodman.
Relation: rejoices in cold and snow, but more fun and less known. (Although that may change now that Michael W. Smith has covered it.)
Instead of I'll Be Home For Christmas (covered by everyone)
Try:Christmas Eve In My Home Town
by Kate Smith (a singer that deserves to be remembered)
Relation: feeling homesick at the holidays.
Instead of There's No Place Like Home for the Holidays (everyone)
Try:To Be With You
by Sara Groves
Relation: Christmas together, strong sense of nostalgia.
Instead of It's The Most Wonderful Time of the Year (Andy Williams and everyone else)
Try:Round And Round The Christmas Tree
by Bing Crosby
Relation: That nostalgia factor again.
Instead of All I Want for Christmas is You (shudder – too many and some by people who ought to know better)
Try:I'd Like You For Christmas
by Julie London
Relation: lovesick but the retro appeal of the second covers some of the desperation.
Instead of Blue Christmas (Elvis and many imitators)
Try: Song For A Winter's Night
by Sarah McLachlan
Or Winter Song
by Sara Bareilles and Ingrid Michaelson.
Relation: more lovesickness and melancholy.
Instead of Grown Up Christmas List (sigh – too many)
Try:Let There Be Peace On Earth
by Vince Gill, although there are other versions
Relation: improving the world, but more practical because it starts with YOURSELF. Instead of asking Santa for no more war or lives torn apart, this second song is about asking God to help you make the world better by BEING BETTER. Amen. (stepping off soapbox)
Instead of Same Old Lang Syne (Dan Fogelberg)
Try: Christmas Lights
by Coldplay.
Relation: OK, "Same Old Lang Syne" isn't actually a Christmas song. And even if it is, I consider it one of the ABSOLUTE WORST. So, if you're looking for a song about a possibly broken relationship and searching for happiness at the holidays, give this Coldplay song a listen.
Instead of Jingle Bell Rock (everyone and their aunt)
Try:Ring Those Christmas Bells
by Fred Waring.
Relation: bells, duh.
Instead of Jingle Bells (everyone)
Try:Jingle Bells
by Frank Sinatra
Relation: OK, yes, it's the same song. But it's my favorite version so it made the list. My list, my rules.
Instead of Merry Christmas, Darling (The Carpenters)
Try:Love Is a Christmas Rose
by Perry Como
Relation: the word "darling", love at Christmas time. Also, I love Perry Como and he's not as well known today and that's a shame.
Another option: Love Is Christmas
by Sara Bareilles. I love this song and I love Christmas, so it's a perfect fit.
Instead of Feliz Navidad (Jose Feliciano, among others)
Try:Riu Riu Chiu
by Sixpence None the Richer
Relation: Christmas with a Spanish flavor (although, caveat for non-Catholics like myself: this replacement may be talking about the immaculate conception of Mary. If so, that's unfortunate because the song is otherwise lovely.)
Instead of Christmas Time Is Here (too many people and they're all depressing)
Try: Christmas Don't Be Late
by Rosie Thomas
Relation: cartoon based Christmas songs but you will not believe how good the Rosie Thomas version of Alvin & The Chipmunks "classic" is. (yes, I use the word classic advisedly. And another confession: I have the Chipmunk version on my playlist too. Nostalgia is a powerful force.)
Instead of Where Are You Christmas? (Faith Hill)
Try:When My Heart Finds Christmas
by Harry Connick, Jr
Relation: Christmas lost, Christmas found…and much less whiny.
Instead of Away in the Manger (a perfectly fine song, but overdone)
Try:A Cradle In Bethlehem
by Sara Groves or Nat 'King' Cole
Or, option 2:A Cradle Prayer
by Rebecca St. James
Relation: cradle songs.
Instead of Do You Hear What I Hear? (ubiquitous)
Try:A Star In The East
by Harry Belafonte.
Relation: Shepherds, but none of that weird "sheep actually talk to the shepherd" business. (And anyway, I'm not exactly sure what Do You Hear What I Hear is singing about. Silver and gold for the child shivering in the cold? Um, OK.)
Instead of Mary, Did You Know? (Ray Boltz and a few others)
Try:Mary, Mary
by Harry Belafonte (an old spiritual, also covered by Sarah McLachlan)
Or, option 2: Mary Had a Baby
by Kathleen Battle (this is another old spiritual)
Or, option 3:Breath Of Heaven (Mary's Song)
by Amy Grant
Relation: songs about Mary.
Instead of We Three Kings (I don't know, but it's an old one)
Try: How Many Kings
by Downhere.
Relation: kings and The King. "We Three Kings" might not be all over the radio but I had to share this song with you because it is one of my all-time favorites.
Instead of Silent Night (which I still love, honestly)
Try: Labor of Love
by Andrew Peterson
Relation: Thinking about the night (silent or otherwise) when Christ was born.
Instead of Believe (Josh Groban)
Try:Son Of God
by Michael W. Smith
Relation: both ballads but Smith's song is actually telling us Why we believe (and who we believe in).
If you can only buy one CD this Christmas, buy The Ultimate Christmas Collection
by Michael W. Smith.
OK, yes, I cheated. That's actually three albums in one. I love them all and I've never gotten tired of them. I love classic Christmas music from Andy Williams, Nat 'King' Cole, Perry Como and others but I think Michael W. Smith's work is classic too. (And I'm not just saying that because I saw him in concert this December.)
What Christmas playlist substitutions would you make?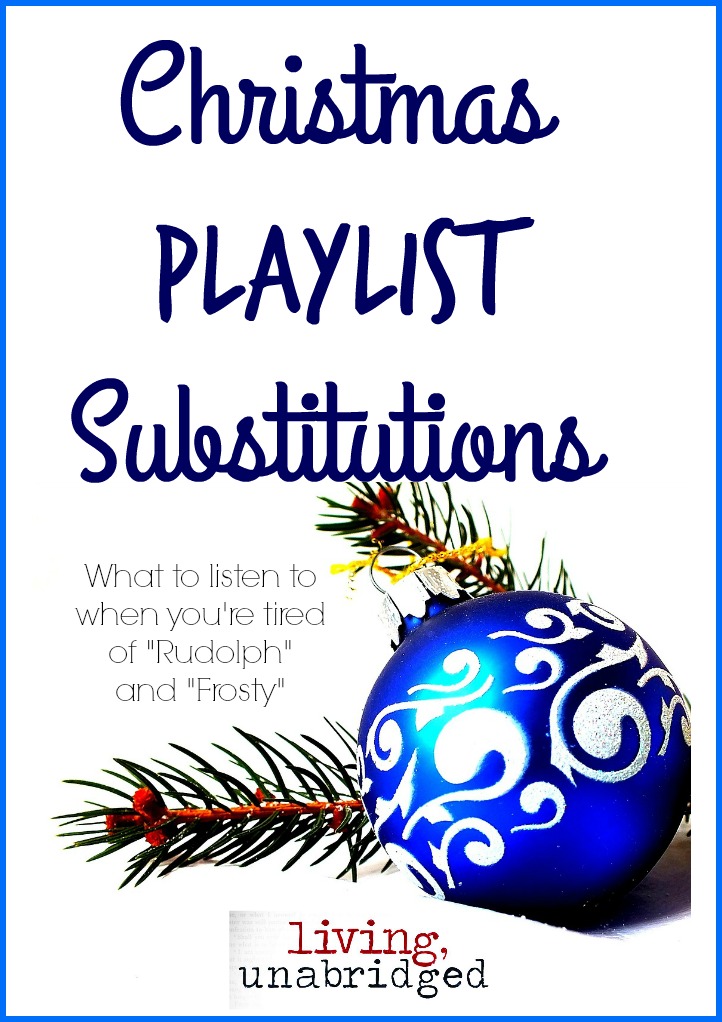 Posts may contain affiliate links. See my disclosure policy if you have questions about this. If no images appear on this post, you may need to disable an ad blocker on your browser. If you enjoyed this post, please consider sharing it on your favorite social media sites.