I received this product for free from Heirloom Audio and was compensated for my time. All opinions are my own. See Disclosure page for more.
Long time readers of Living Unabridged know that 2016 has been the year of the road trip for our family. In June we took a cross-country round trip to California and the Pacific Ocean. In August we headed to South Carolina and the Atlantic Ocean.
That adds up to a lot of hours in a mini-van. We had 30+ driving hours to fill (just one way) but we had a secret weapon for filling some of those hours: a new audio theater drama from Heirloom Audio.
2+ Hours of Exciting Radio Drama
Now, our family also had some books on CD (yeah, we're old school sometimes) and lots of music to make the hours pass quickly. But audio theater (sometimes called radio theater) is an immersive way to pass the time on a road trip.
The story we had a chance to listen to was The Dragon and the Raven, from The Extraordinary Adventures of G.A. Henty. Henty books have been delighting readers for generations, but these audio dramas are bringing his stories to life in new ways for new audiences.
An Audio Drama with a Quality Cast
If you've listened to any audio dramas at all you're going to recognize one big name on The Dragon and the Raven: John Rhys- Davies. Yes, Gimli (and Treebeard) himself helps to bring Henty's historical story to life.
Rhys-Davies leads a fantastic cast. Some of you might recognize Helen George, from the BBC's Call the Midwife or Brian Blessed, another great British character actor (and if you have young children you might know that he also voices Grampy Rabbit on Peppa Pig. Peppa Pig is BIG at our house).
An Audio Drama with a Quality Story
Henty's adventures bring historical events to life and The Dragon and the Raven is no exception. This is the story of King Alfred of Wessex. You'll enjoy the familiar anecdotes (King Alfred burning the cakes is always a popular tale around here) and the unfamiliar (defending a former enemy because it's the right thing to do).
A Quality Product from Heirloom Audio
From the story to the cast to the sound effects and the original score, you will find the minutes (and miles) flying by as you listen to The Dragon and the Raven. You may even find yourself taking "the long way", so you'll have a chance to finish.  Your kids won't want to leave our heroes in peril!
Teaching History with Audio Dramas
One reason I was thrilled to review this product is because our homeschool is covering the Middle Ages for History this year. The absolute best way to teach History is through stories. (Which is one reason why we remain loyal to The Story of the World as our History spine.) Audio dramas like The Dragon and the Raven truly help bring History to life.
King Alfred and his friends aren't just story characters, they're real people. They really made choices and they really lived, loved, and learned no matter how long ago they lived. Henty may not be strictly 100% accurate in his depictions of History, but stories give us a place to start. This year, when we get to the story of King Alfred, even my younger children will already know who we're talking about. (All thanks to a long road trip!)
My children have loved audio dramas from Adventures in Odyssey and Lamplighter Theater for years. They've listened to so many that we joke that all their dialogue when they play (Playmobil, Legos, etc.) is British. Heirloom Audio is a great new addition to the family of audio dramas we already love. (I've definitely got my eye on Beric the Briton and Under Drake's Flag as future Christmas gifts for my kids!)
Ready to find out more about Heirloom Audio?
You can find them on Facebook, Twitter, Google+, Pinterest, and Instagram, as well as their website. (Don't miss the "Kid's Corner" section: they have a great word search that goes along with The Dragon and the Raven.)
Heirloom Audio is also giving away two copies of The Dragon and the Raven. If you have a road trip coming up, you're definitely going to want to get in on this:
Do you listen to audio dramas in your family? Have any favorite titles to share? I'd love to hear about them.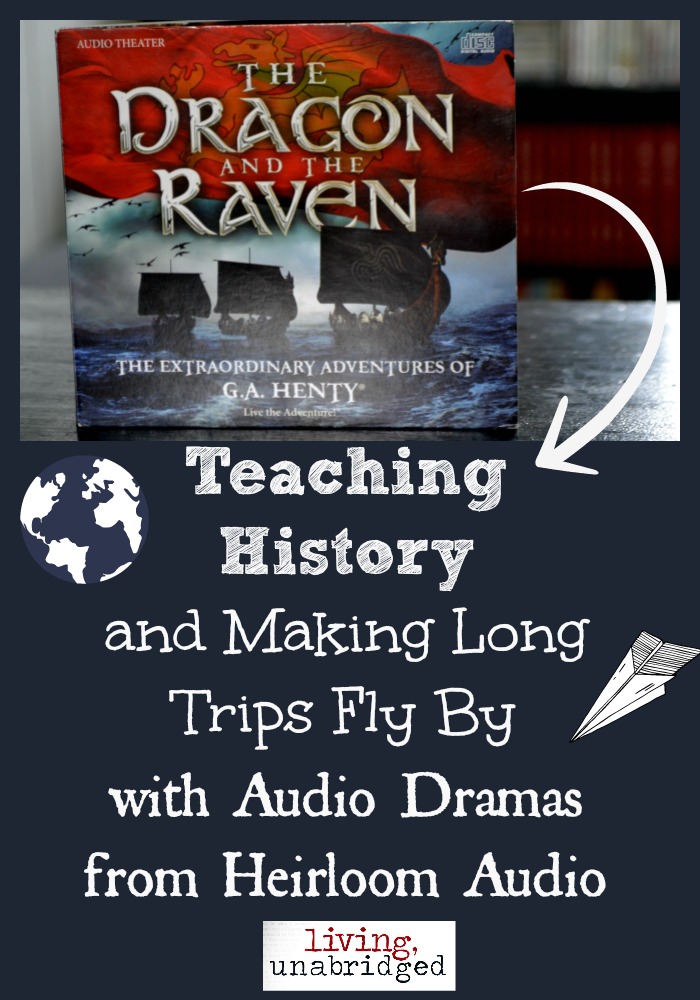 Posts may contain affiliate links. See my disclosure policy if you have questions about this. If no images appear on this post, you may need to disable an ad blocker on your browser. If you enjoyed this post, please consider sharing it on your favorite social media sites.