I received this product for free and was compensated for my time. All opinions are my own and I was not required to write a positive review.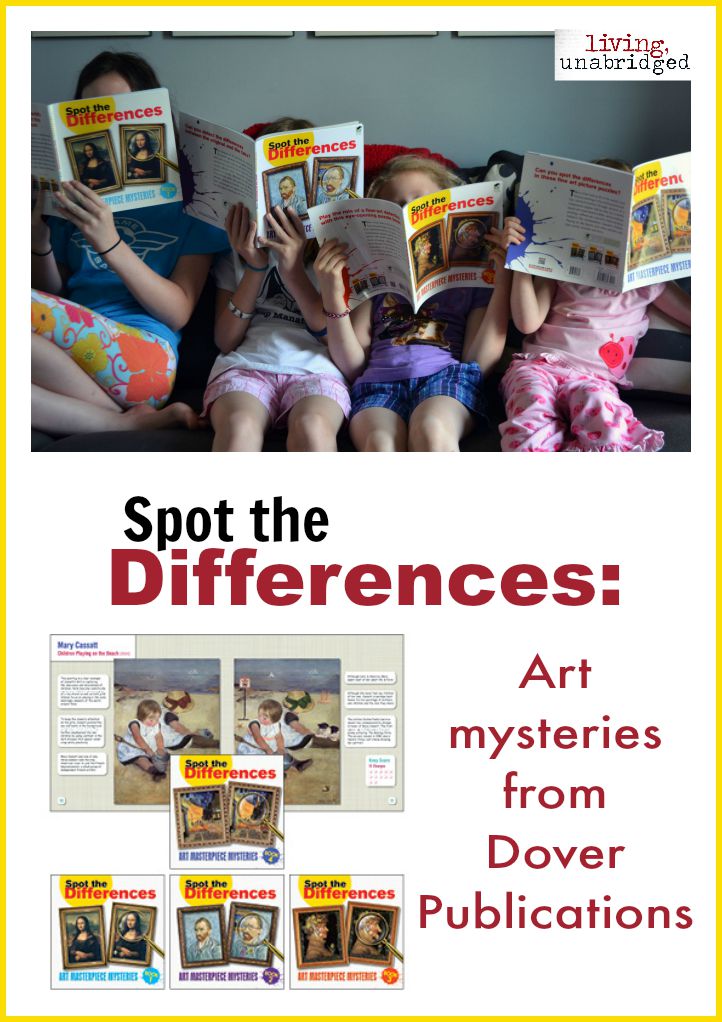 Our family is familiar with Dover Publications and we have many of their products in our home already. So when I had the chance to review these new art mysteries, I thought my kids would enjoy these books.
As expected, they did: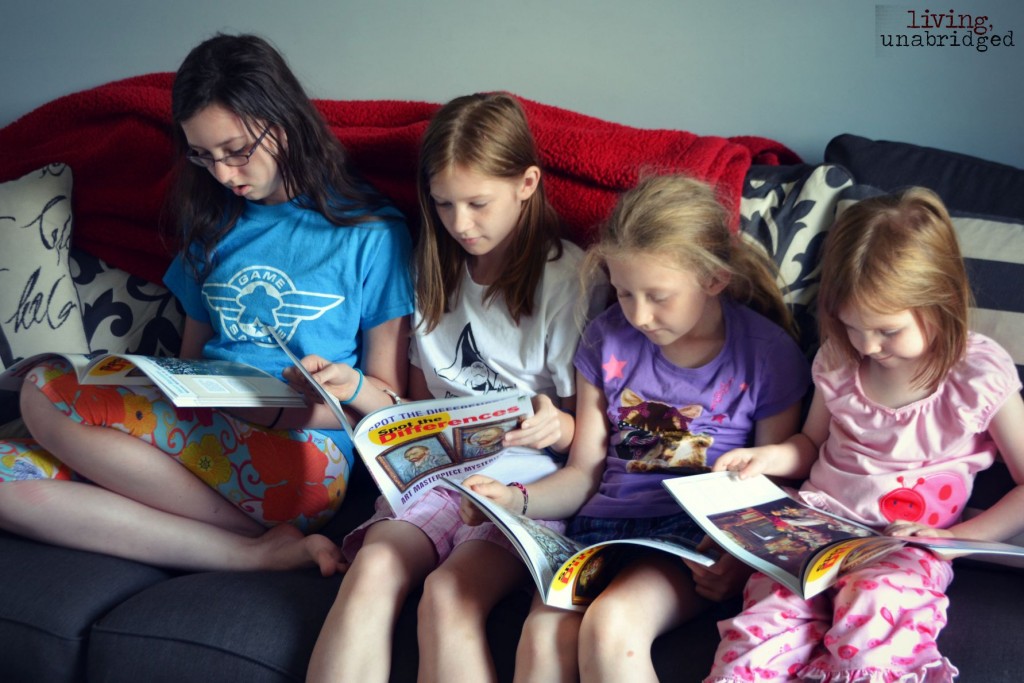 No Worries Art Education
Art is one of those subjects that I see a lot of homeschool parents worrying about how to teach. Dover Publications has several products to help ease those worries (their art cards come to mind), and these new Spot the Difference books will inspire your kids to study masterpieces in a fun way. Your kids probably won't even realize they're "doing school".
Easy Introduction to Fine Art
Each of the four titles in this series contains 25 great works of art. The original art is on the left of the page and the altered version is on the right. The child's mission is to find what has changed between the two.
One goal when teaching our children about great works of art is teaching them to look closely and notice the details. These books help accomplish this in a painless, fun way.
My children, from toddler through teen, spent many happy minutes (or hours in some cases, when one daughter decided to spend an afternoon going through all of them) examining these books. Even the youngest kids could find the obvious, funny changes (like a hat where there shouldn't be one) and the oldest children enjoyed the harder, more subtle changes. These changes led to discussions on why artists may have made particular choices about color or props for their subjects. The inclusion of many different artists and types of artwork sparked discussions on why artists choose different styles or techniques for their works.
Another benefit? The kids remembered what they had seen. Charlotte Mason inspired a love for great art by having children examine paintings and then narrating back what they had seen. Using these books inspired some spontaneous narrations at our house.
These books are high quality: bright images printed on glossy, sturdy paper. They fit well into little hands (see above picture for proof) and they're sturdy enough to withstand a curious toddler brother trying to see what all the fuss is about.
My daughters told me a few of their favorite things about these books:
Oldest Daughter (13, almost 14): the variety of artists included.
2nd Daughter (almost 11): all the facts scattered around the pages. (These do not interfere with the art on the page.)
3rd Daughter (8): trying to figure out how the artists did the pictures. (Around here many imitations have been inspired.)
4th Daughter (almost 5): couldn't come up with a favorite thing, but I've often found her looking through them.
Each book includes an index at the back that lists the important information, including where the original art is displayed. Depending on your kids, you might want to prepare for some, "Can we go see it sometime?" kind of questions. (One of my daughters was quite disappointed that we don't have a trip to the Musee d'Orsay in Paris scheduled for any time soon. Or ever.)
If we do ever get to visit some of these works in person, I think we'll take these books along. Because spotting the differences in person would be fun, too.
Have you seen these art mysteries? What are your favorite books for teaching art appreciation?
You can enter to win these spot the difference books or other new resources from Dover Publications here:

Posts may contain affiliate links. See my disclosure policy if you have questions about this. If no images appear on this post, you may need to disable an ad blocker on your browser. If you enjoyed this post, please consider sharing it on your favorite social media sites.