For this week's Family Game Night idea I'm sharing a card game. Only it's not like most card games: there are no turns. There's no math required. No reading required, either. The official rules say up to 20 people can play, or you could play by yourself.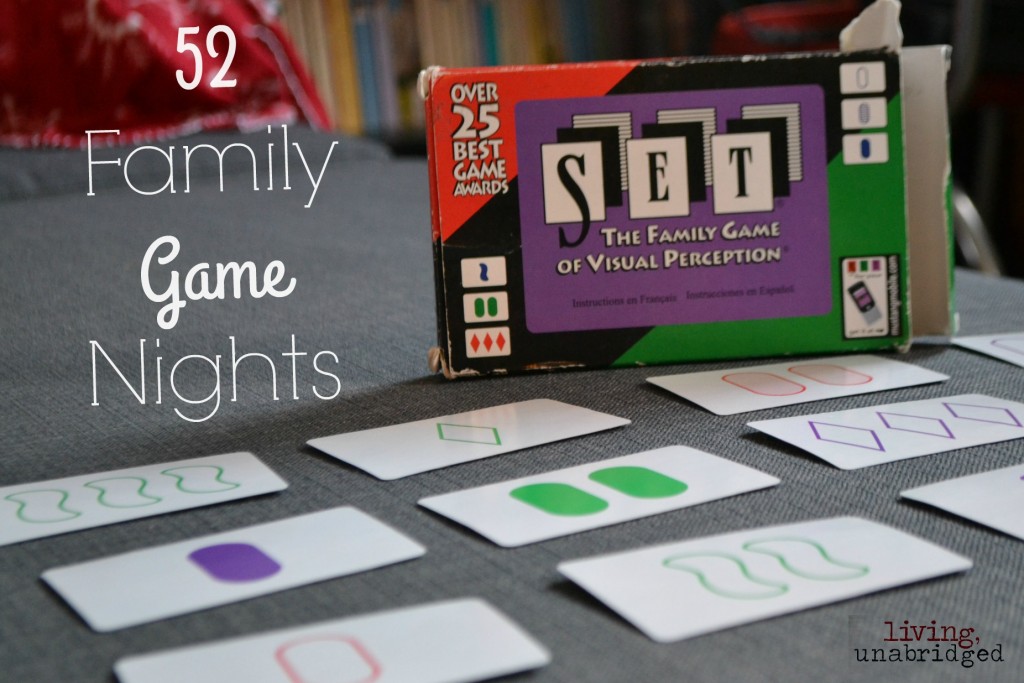 How to play Set:
You deal out twelve cards. You're looking for sets: three cards that are all alike or all different for each feature. Each card has four features (color, shape, number and shading) so there are lots of possibilities. (Do you see any sets  in the picture above? I think I see three different sets.)
You're not racing against a clock, you're racing against each other. If no one finds a set in the cards you've dealt, you lay out three more.
This game can get pretty competitive and there are some people who seem to catch on more quickly, but the whole family can play and the youngest players might surprise you with their "Set skills".
The makers of this game say that it uses both left brain and right brain. I don't know about that (and I'm skeptical of the whole left brain / right brain construct), but I do know that playing this game feels like it stretches a thinking muscle that doesn't get used very often.
Logic, spatial awareness, and visual perception skills all in one little card game that the entire family can play and a price tag of less than $15 – what more could a mom ask?
Alternate rules we use: sometimes we only deal nine cards to begin (see above picture). Sometimes we spot a younger or less experienced player a few sets in the beginning. (No, we don't believe in letting children win, but we also don't believe in frustrating someone unnecessarily.) And yes, there is aSET Junior
but we haven't found that necessary.

Summary of Set:
Number of Players: 1+ (playing yourself isn't as fun, of course, but the makers have come up with some variations)
Recommended Ages: 6 and up (but we've played with younger children)
Reading Required: No.
Do you have plans for a family game night tonight? We're getting together with friends and I'm sure there will be several games played. My husband ordered a few games for his birthday that we haven't tried yet. Maybe one of those might end up in a future Family Game Night post!
Follow Karen (Living Unabridged)'s board Family Game Nights on Pinterest.

Posts may contain affiliate links. See my disclosure policy if you have questions about this. If no images appear on this post, you may need to disable an ad blocker on your browser. If you enjoyed this post, please consider sharing it on your favorite social media sites.