Hello friends! Hope this latest entry finds you well and safe.
We are hanging in there. We've had a good week, overall. Some of the kids are struggling with the stay at home orders more than others. And honestly, it wasn't the kids I expected it to be. (Parenting is funny like that.)
We've been:
cooking a lot (OK, my husband and oldest girls have. I rarely cook. I do the grocery shopping and help with meal planning but actual cooking…notsomuch.)
going on a walk around our neighborhood every evening (we've only missed once or twice when it was cold & rainy)
playing board games, card games, and working puzzles
doing the minimum on schoolwork (math, history, some writing)
reading a lot. Sometimes together, often apart.  The nine year old (a late reader) has particularly taken off.
singing together (especially on Sundays)
What we haven't been doing:
watching many movies. I honestly thought we'd end up watching a lot of movies during this but we mostly haven't. I have rarely even watched much TV on my computer. Can't settle down to it. The kids still have limited screen time in the afternoon which they mostly use on the Switch or the Wii. (They have more on Saturdays which is when they watch more movies.)
taking part in all the opportunities online. It seems like every zoo, every museum, every symphony, every library, every author, every singer, etc. has something for people to watch online. And we're mostly skipping all of it. (We've watched a few zoo things from our local zoo and the kids are watching Andrew Peterson read his Wingfeather books each night but that's it.) Overwhelm is real, even when you don't leave your house.
major home improvements. My husband built a shelf in the kitchen that he's been meaning to do for a while. And a shelf for the boys' room (ditto). But no walls have been painted, no deck built (even though we need a new one), and yard work is usually our most neglected chore and that hasn't changed.
I'm telling you these things for two reasons:
To remind myself later. And,
To ease any notion that there's a "right" way to live through quarantine. (Obviously ignoring it completely is not the right call.)
There are good days and bad days; good moments and bad moments. If the virus teaches us anything, it ought to be gratitude for the breath in our lungs that enables us laugh or cry as needed.
OK, end soapbox for today. On to the links!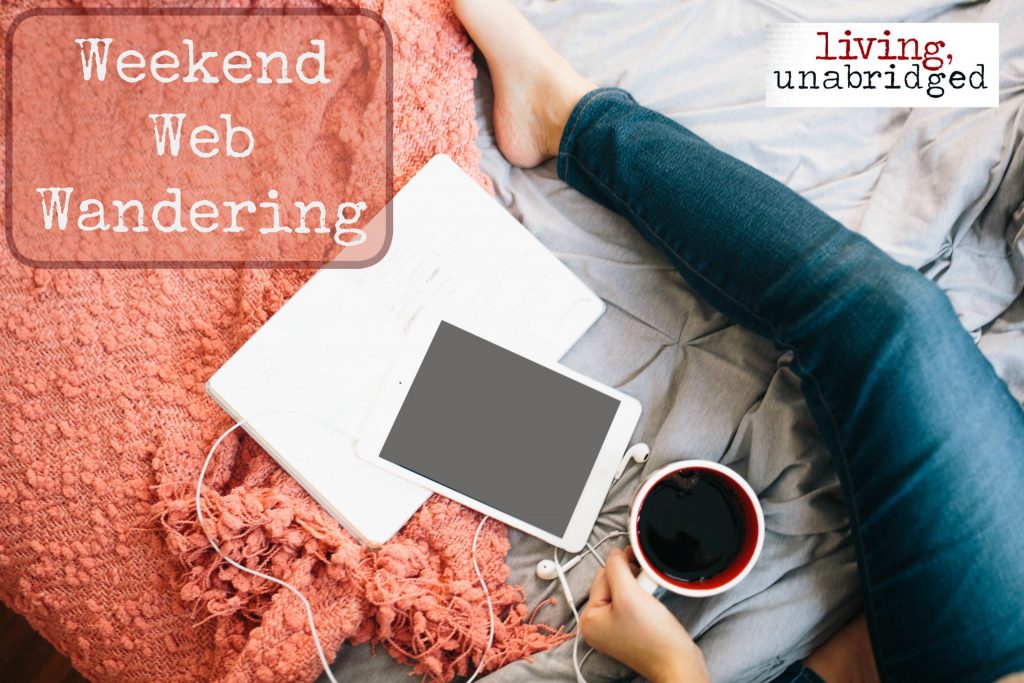 Coronavirus / Covid-19 Links:
Non-corona:
Two more things before this post is done:
1. If you read my post about Prayer Books you know I love Every Moment Holy. Right now you can download several of these beautiful prayers for free. So definitely go and do that right now.
2. I've been updating my Goodreads account lately. If you're on Goodreads, look me up so we can be friends there and I can see your booklists! And if you're not on there, maybe it's time to join. Because you need some more reading ideas right now, don't you?
Posts may contain affiliate links. See my disclosure policy if you have questions about this. If no images appear on this post, you may need to disable an ad blocker on your browser. If you enjoyed this post, please consider sharing it on your favorite social media sites.