As the holiday season gathers steam, it's easy to feel overwhelmed when you look at your to-do list. I had a little of that feeling last night as my husband and I compared calendars and started to feel like we were behind before the month even started.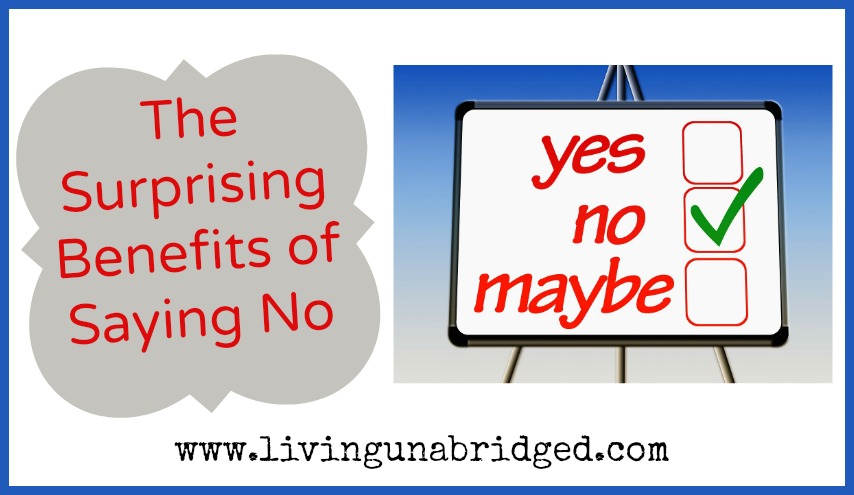 Then today we had this funny reminder about the unexpected benefits of saying "no":
Our internet / phone provider called us about adding a few basic TV channels.
Philip brought the phone upstairs and asked me if I wanted to add these basic channels for $13.
Easy: no, I do not. We keep a tight budget and $13 for channels we don't watch (and when we already have an antenna which can get a few local stations if we "need" them), is $13 I do not want to spend.
He walked away, telling the salesperson our answer.
A few seconds later he came back, a smile on his face. "Do you want them for $3 a month?"
I had to think a little longer, but, no, I didn't.
Like I said, we can already get a few stations with our antenna. We don't watch any of them on a regular basis. We watch most anything we want by borrowing from the library or finding it online. (And we're using a free Hulu Plus thing right now too.)
He walked away again, once again saying no.
A few minutes later he came back, without the phone, and he's laughing.
"Well, they're not going to charge us for them, but they'll knock $2 off our bill every month if we try this for a year, so I said OK."
Saying No Gets Surprising Results
So, there you go.
I wasn't bargaining. It wasn't a strategy. They're still channels we don't need and probably won't use very often (probably the same ones we can get via antenna). But we're not paying for them and I can use those $2 a month on something else in the budget.
"No," in addition to setting boundaries and freeing up resources, can also be fun.
Our December calendar is still packed, but this was a nice reminder that saying "No" can sometimes have surprisingly positive side effects.
Have you recently seen a benefit in saying "No"?


Recommended Resources for Organizing Or Managing Your Time:

Posts may contain affiliate links. See my disclosure policy if you have questions about this. If no images appear on this post, you may need to disable an ad blocker on your browser. If you enjoyed this post, please consider sharing it on your favorite social media sites.