One thing I love about living in Cincinnati is all the great field trips and opportunities for homeschoolers. This is a big (-ish) city and I know there are many more options than what I'll share here, but these are my all time favorites. If you are local, or know of some other great Cincinnati field trips or resources, please share them in the comments! (And you don't have to be a homeschooler to enjoy most of these. This list has something for any family!)
Our Favorite Cincinnati Field Trips
1. The Children's Theatre of Cincinnati.
Our family buys educator season tickets every year. For just $5 a person we see four original shows throughout the school year. These are high quality performances with top notch acting, set design, and music in the beautiful, historic Taft Theatre. The shows set aside for schools and homeschoolers also have a sign language interpreter and babies are welcome so the entire family can go.
Find out more: The Children's Theatre. Click on the "For Educators" tab to find out more about school shows. There are other resources on the site as well, including summer camps and classes that Art oriented kids may want to try.
Edit August 2017: TCT has changed their homeschool policies for the 2017-18 and not for the better. (Some of the changes this year include changing the homeschool specified date & time, and not allowing homeschoolers to attend on another school performance day.) I believe this is a push toward making homeschoolers unable to attend during school performances, thereby pressuring homeschool families to buy the regular price tickets for weekend shows. We've talked with them by phone and online and we're disappointed, to say the least. Homeschool families tend to be larger than average and, generally speaking, on tighter budgets. It's disappointing that this arts resource seems to be pushing out homeschoolers. We'll continue advocating for TCT to find a way to include more homeschool friendly accommodations.
2. Cincinnati Symphony Orchestra
Our family also buys passes for the Young People's Concerts at the CSO every year. These tickets are just $4 a person – a steal to see the CSO at beautiful Music Hall! These come with informative and colorful information sheets for the kids (these make great additions to a school portfolio) and the concerts usually have some degree of interaction.
Find out more: Cincinnati Symphony. (click on Community+Learning – For Educators -Young People's Concerts)
3. Cincinnati Shakespeare Company
The Cincinnati Shakespeare Company puts on several plays each year. They also have summer camps and other resources for educators. But our favorite resource is Free Shakespeare in the Park. Each summer the company puts on plays at parks all over the city (they usually do two different plays, but not on the same nights). We grab an old quilt, some snacks, and make a night of it.
Shakespeare is meant to be heard and seen, not just read, so this is a great way to introduce children to the Bard.
Find out more: Cincinnati Shakespeare Company
4. Cincinnati Museum Center at Union Terminal
This is one of my favorite buildings of all time. (Is it strange to have a favorite building? I don't care if it is.) It's home to three fantastic museums plus an IMAX theater. The Duke Energy Children's Museum is a favorite for my kids.
We've also enjoyed the special exhibits hosted at the center. Right now the special exhibit is "The Art of the Brick" which is a large display of Lego Art. Could that be any more perfect for homeschool families?
Please note that this fantastic landmark will be undergoing renovations from June 2016 – sometime in 2018. The Children's Museum will remain open during renovations.
Find out more: Cincinnati Museum Center.
5. Cincinnati Art Museum
This is another beautiful museum set and admission is always free. Yes, FREE (although special exhibits may be extra and there's a small fee for parking). From old masters to modern, with objects spanning history from ancient times to modern day, and including a special collection from Cincinnati artists and craftsmen, visiting this museum is one of my favorite ways to spend a rainy day.
Find out more: Cincinnati Art Museum.
6. Taft Museum of Art.
Cincinnati is lucky enough to have two fabulous art museums. This collection is also amazing (including a gorgeous Rembrandt). There are art camps and tours available. I do feel like this museum is slightly less kid-friendly, so maybe only take older children unless you want to be constantly removing your toddler from the glare of a docent. (Not that I would know anything about that. *cough*)
There is a charge for admission but Sundays are free.
Find out more: Taft Museum of Art.
7. Cincinnati Zoo and Botanical Gardens
This zoo is one of my favorite things about living in Cincinnati. This is a world class zoo. The exhibits are gorgeous and shows and animal encounters are great. Our don't miss (as in, we HAVE to see these things every time) exhibits: Manatee Springs (our second daughter would live here if she could), Giraffe Ridge, Elephant Reserve, Lords of the Arctic (polar bears), and the train ride or carousel. They are always working on new things too: we can't wait until the hippo moves in!
Family memberships are probably the best way to go since it will end up paying for itself in two visits. And once you go, you will want to visit again.
Find out more: Cincinnati Zoo and Botanical Garden. The website has some great resources too. (And if you have a budding naturalist, you may want to look into their summer camp options.)
8. Newport Aquarium
OK, this is not, strictly speaking, in Cincinnati. But it is just a bridge away and we're going to count it. This is a fantastic aquarium and if you have a young shark enthusiast, you don't want to miss this. We love the sharks, rays, otters, and penguins.
Admission is pricey, but there are membership options and they do offer special homeschool days.
Find out more: Newport Aquarium.
9. Creation Museum
This is another "not strictly in Cincinnati" location. The Creation Museum is also in Northern Kentucky. Obviously, this is going to appeal more to Christians but the museum is well done and the gardens are lovely. The planetarium has some breathtaking shows. My kids love the special events, particularly anything to do with Buddy Davis. And don't miss the petting zoo. The petting zoo is free and there are camel rides (for a small fee) from two of the nicest camels you'll ever see. And for your adventurous types, there's a zip line, too (also not free).
One caveat: I do find some sections of the museum unsuitable for young children due to frightening content. We know where these are and push through them quickly, but your mileage may vary.
Plan to spend the day. And if you see an employee that looks a lot like me, it might be my mom. So say "Hi" and tell her I sent you. (Yes, my mother and several of my friends work for AIG or the museum.)
Find out more: Creation Museum.
10. Great Parks of Hamilton County
There are many great parks around Cincinnati but the Hamilton County parks system is fantastic. These are great for adventure or athletics, but they also serve homeschoolers well with various educational programs and camps.
I think parks need to be on the top of a homeschool resource list, whether you need a nature trail, a place for your kids to burn some energy (P.E., anyone?), or a place to learn about native wildlife. And, other than a parking pass, many of these fantastic resources are free.
Find out more: Great Parks of Hamilton County. Or find out more about Cincinnati Parks (Sawyer Point is one of my favorites.)
Other favorite things to do in Cincinnati:
watch a Reds game or visit the Cincinnati Reds Hall of Fame (we also have NFL football and ECHL hockey in addition to college sports)
visit the Coney Island or Kings Island amusement parks
see butterflies at Krohn Conservatory (part of the Cincinnati Parks system)
walk across the "Purple People Bridge" (or drive the historic Roebling Suspension Bridge -see above picture)
ride across the Ohio River on the Anderson Ferry
visit Fountain Square
See Cincinnati from the Carew Tower Observation Deck
So, whether you're new to the area or just visiting us, I hope you get a chance to enjoy some of these great field trips right here in Cincinnati! If you're local, what are your favorites?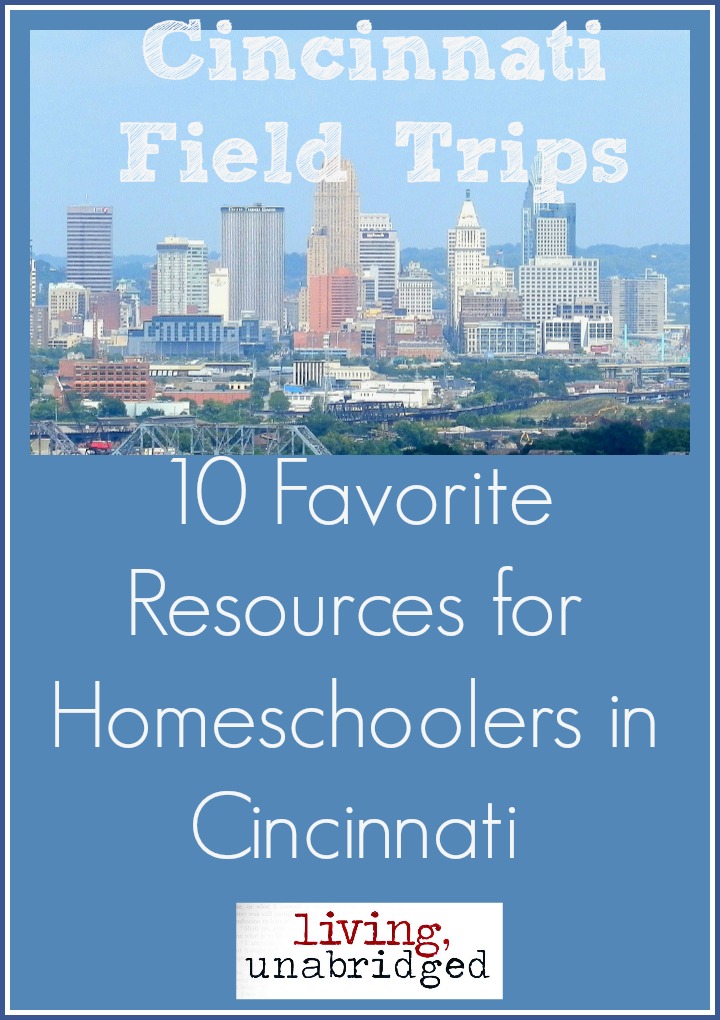 Linking up with: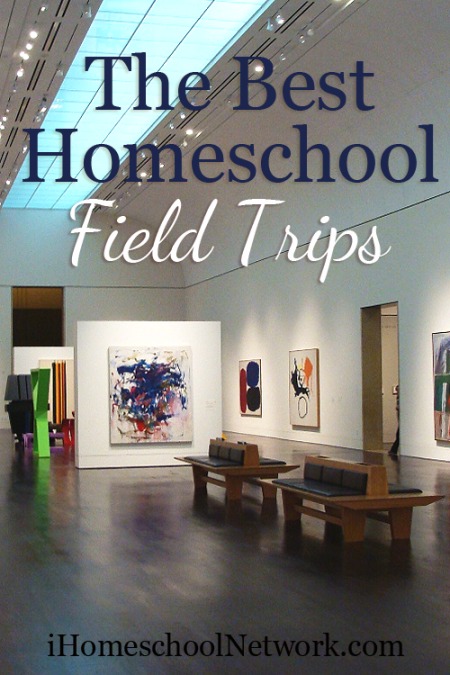 Follow Karen (Living Unabridged)'s board Homeschooling on Pinterest.

Posts may contain affiliate links. See my disclosure policy if you have questions about this. If no images appear on this post, you may need to disable an ad blocker on your browser. If you enjoyed this post, please consider sharing it on your favorite social media sites.