It's become customary for most bloggers to post a gift guide every year. Most of the items on this list are Amazon affiliate links. (This is when I get a tiny commission if you buy something, but it doesn't change the price tag for you) But as always…
Shop local first! (Your library may have a gift shop with a lot of these type items.)
Here are a few gifts for Book Lovers that have caught my eye: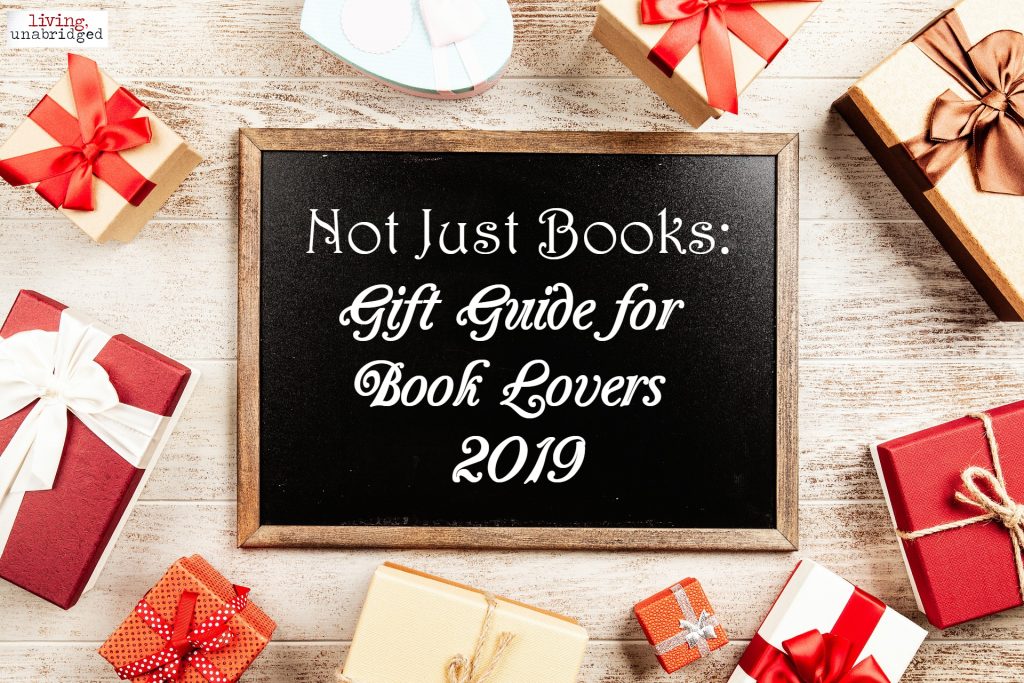 Puzzles are a great cold weather family activity and these book themed puzzles are sure to be a hit:
White Mountain Story Time Puzzle. (We have this one. It's my favorite puzzle: the puzzle equivalent of comfort food for me now!)
We have this one too: White Mountain Best Sellers.
White Mountain Christmas Books would be a fun challenge to set up on Christmas Day.

Re-Marks Holiday Puzzle features some beloved childhood Christmas stories.
Re-marks has an entire line of literary themed puzzles:
This Jane Austen puzzle is on my personal wish list.
Re-marks Mysteries will probably end up on my wish list too.
Mysteries not your thing? (I love them) How about: Re-marks Love Stories
If love stories don't seem like a family friendly option you could try Re-marks Adventure Stories
Or there's Re-marks Science Fiction
And last, but not least, Re-marks Great American Novels
(We personally own a Re-marks C.S. Lewis puzzle but that one doesn't seem to be available any more.)
This list is called "not just books", but you know what book lovers want? Yep. More books. So how about some gorgeous box sets?
C.S. Lewis Signature Classics. (Yes, another thing that's kinda-sorta on my own wish list. I own several of these already but I love the idea of a matched-set. #bookloverconfession)
This Jane Austen set is so gorgeous.
So is this Bronte sisters set.
Of course, if you're looking for a beautiful set of books you can't beat the Puffin in Bloom set.
If you really want to set up a child with an instant library, this Puffin Classics set would be amazing.
I never got into Madeleine L'Engle's books myself but I'm considering this A Wrinkle in Time series for my own girls.
My grandparents gave me a set of the Anne books when I was a girl. Talk about a gift that keeps on giving! My books are literally falling apart now. (Which doesn't stop us from re-reading them still.)
Looking for a series that boys or girls would love? What about the Choose Your Own Adventure books?
Or what about the Boxcar Children? This set includes the first 12 books plus a case that looks like a box car!
This is an amazing, bookshelf worthy set of Calvin and Hobbes. Anyone would appreciate this set!
Side note: there's just something about a slipcase, isn't there? I still have the slipcase my Anne books came in. It's falling apart too, but I refuse to throw it out. (more #readerconfessions)
Books and Reading Apparel
Reading is My Favorite Sport T-Shirt. True story!
Shhh, I'm Reading Socks. These work best when your feet are propped on a comfy ottoman, of course.
These library card socks for babies and toddlers are adorable.
Of course, you can find library card socks in adult sizes too.
Socks can represent your favorite book character. These Pigeon socks are super cute but there are lots of other literary options as well.
Books and Reading Household Items
Between the Pages of a Book pillow.
Just One More Chapter pillow cover. (The cry of every book lover!)
This engraved spoon gives wise advice.
Smarty Pants Hippo Book Art. Adorable!
One of my daughters has loved Manatees since she was tiny. So Dandy Manatee Book Art definitely caught my eye.
This self-inking stamp will help your book lover keep track of their personal library.
A Magnefic Book Lending Kit would also help with the personal library situation.
This Book Making Kit is perfect for your little author / illustrator.
Books and Reading Stocking Stuffer Ideas
Book Tape. Help your book lover repair their much-loved favorites!
Book Darts help you remember where you left off reading.
These Line Markers are a more whimsical option than the book darts above.
This little book light is cute, plus costs less than $10.
I'm publishing this gift guide on the Wednesday BEFORE Thanksgiving this year, to give you the chance to catch the Black Friday sales. Remember that a lot of online places will have sales and coupon codes this week and leading up to "Cyber Monday."
Curious what I put on my gift guide in previous years?
2014(The first gift guide I ever put together!)
Some affiliates of this blog (products or services our family uses and recommends):
All book lovers should give Thrift Books a shot. Build your home library the thrifty way. (Anyone else get excited when you get books in the mail?!)


My children have loved Maestro Classics for years. This year there's a new classic available:


But if you're looking for a classic Christmas story, it's hard to beat The Nutcracker.
Looking to take charge of your family's internet usage? Our family uses and recommends Circle. For three days (Black Friday through Cyber Monday), you can get $40 off your purchase of a Circle device.
It's Hard to beat Christian Book Distributor's prices all year long, but they have specials on shipping right now too:



Get 2020 started right!

Looking for a resource to teach your tweens and teens what's really going on in adolescence (and beyond)?
You want The Whole Story.

Posts may contain affiliate links. See my disclosure policy if you have questions about this. If no images appear on this post, you may need to disable an ad blocker on your browser. If you enjoyed this post, please consider sharing it on your favorite social media sites.