Every October bloggers all around the world commit to blogging for 31 days. They choose their own subject and then write on that topic for the entire month of October. (You can still browse through my 2014 31 Days series: From Aesop to Zion.)
I'm not participating this year. But just as I did last year, I thought I'd share a list of the topics that have caught my eye. Some of these are from bloggers I know and respect, but others are new to me.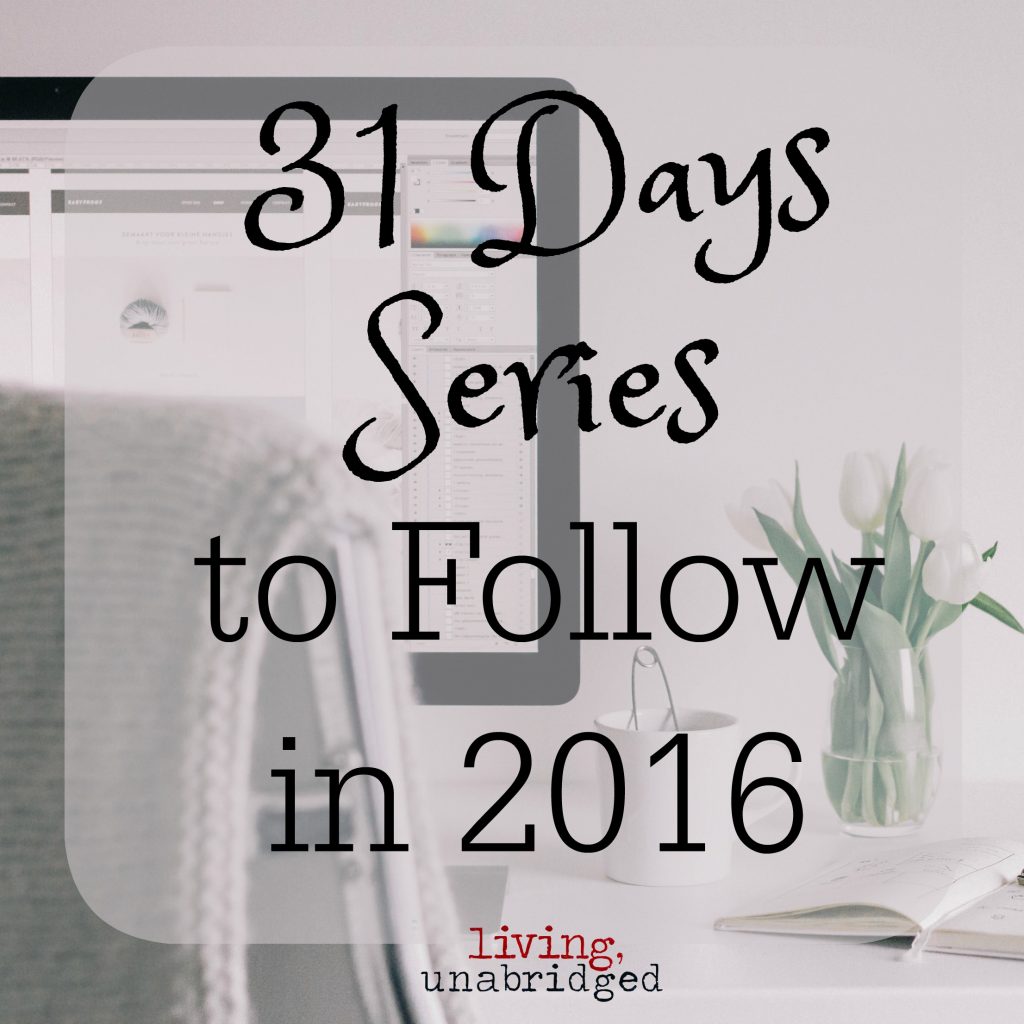 31 Days Series I'm Following
1. 31 Days of Hands-On Learning Stations from Family Style Schooling.
2. 31 Days of Homeschooling High School Made Easy by Lea Ann Garfias.
3. The Wonder Project by Kortney Garrison.
4. 31 Days to a Well-Run Homeschool by Sara at Classically Homeschooling.
5. 31 Days of Children's Books from Completely Booked.
6. Top 31 Favorite Books and Quotes from Missindeedy.
7. Board Book Beauty from Choosing This Moment.
8. 31 Days of Canadian Picture Books from Getting to Know Canada.
9. 31 Days of Bible Journaling Basics from Memoirs of a Girl.
10. 31 Days of Family World Travel for Less from Entre Family.
You can see that the series that catch my eye are the usual suspects: homeschooling, books, and world travel. (OK, that last one is probably just wishful thinking on my part. But you never know!)
If you'd like to find out more about the 31 Days challenge see Write 31 Days for more information.
Are you blogging a series through October? Is one of your favorite bloggers tackling a subject near to your heart? Feel free to share that information in the comments.
(And for those of you who have been around the blog world for a while, does it feel like this year there are fewer participants, or is that just my perception?)
Posts may contain affiliate links. See my disclosure policy if you have questions about this. If no images appear on this post, you may need to disable an ad blocker on your browser. If you enjoyed this post, please consider sharing it on your favorite social media sites.