The First World War ("The Great War") ended in the 11th month, on the 11th day, at the 11th hour with an armistice, in 1918. In Britain this is observed by special ceremonies and called Armistice Day. (Be sure to see the pictures of the art installation, Poppies at the Tower of London. It's truly breathtaking.)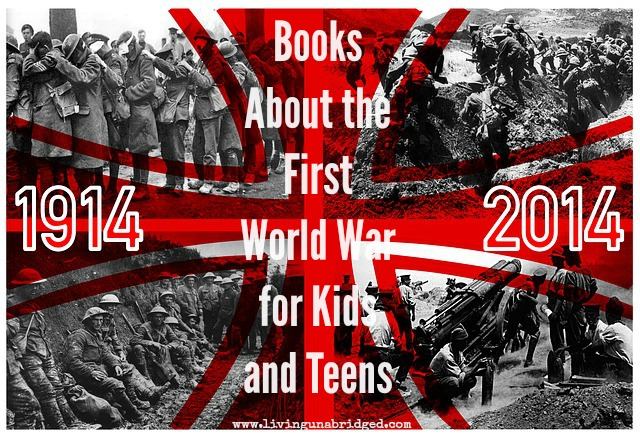 In the United States, which didn't get involved in the war until near the end, the Great War wasn't quite the cataclysm that it had been in Europe. The U.S. observes the 11th of November by remembering our veterans, although poppies on the 11th seem to be becoming more popular here in the states too.
The First World War seems to be forgotten and certainly misunderstood by many Americans. But there are some great books available to remedy that. Here are my suggestions, suitable for kids and teens, although you will, of course, first want to look through them yourselves to be sure they're appropriate for your child. Despite the sensitive treatment of the war in many of these, they are still about war:
1.In Flanders Fields is probably the most famous poem to come out of WW1. This book is suitable for children.
2.What Tommy Took to War is a poignant collection of photos that show what every British soldier on the Western Front (and other arenas) would have carried. This book would be suitable for a tween or teen studying the war.
3.Everything World War I was released by National Geographic Kids. It's full of facts, pictures, and quizzes.
4. World War I Eyewitness Book. This series from DK is well known since there seems to be one of these books on almost any subject you can imagine. Some images in this aren't suitable for younger children.
5. Rilla of Ingleside by L.M. Montgomery. A gentle introduction to the Great War, suitable for tweens or teens (although I still love it as an adult). Also notable for its look at the Canadian home front which seems to be a somewhat neglected subject. Could work as a read aloud.
6. If you have a teen who enjoys mysteries, don't miss The Unpleasantness at the Bellona Club by Sayers. The Great War plays an important role in this Peter Wimsey mystery.
7. The scrapbook format of Where Poppies Grow will appeal to some children.
8.War Game is a look at one of the most famous events near the beginning of the war, when soldiers from both sides observed a truce and played a game of football (soccer).
9. Christmas in the Trenches is another look at the Christmas Truce (see also War Game). Of the two, I love this one the most.
10. Truce by Jim Murphy also deals with the Christmas Truce, as well as an overview of the war itself. For older children.
11.War Horse by Michael Morpurgo. For older children. The reader is introduced to many characters and points of view as the horse makes his way through the war. The basis for the recent movie.
12.Bunny the Brave War Horse is a picture book based on a true story.
13.Rags: Hero Dog of WWI is a picture book true story of a truly amazing dog. These last two books were just released in 2014, to commemorate the 100th anniversary of the start of WW1. Reading about the animals involved in the conflict is sometimes poignant, but it does seem useful for  introducing children to the heavy subject of war.
14.Five Children on the Western Front is a continuation of the Five Children and It series by Edith Nesbit. I don't particularly love attempts to update or continue classic series, but I include this here because of the subject matter.
Many books about WW1 written for adults would also be suitable for older teens, but the content varies greatly and I hesitate to recommend too many. My top two suggestions would be The Guns of August: The Outbreak of World War I
 by Barbara Tuchman or anything by Martin Gilbert.
Have your children studied the First World War? What are your favorite books or resources?


This list has been adapted from an earlier post on my previous blog: Reading Through World War 1.

Posts may contain affiliate links. See my disclosure policy if you have questions about this. If no images appear on this post, you may need to disable an ad blocker on your browser. If you enjoyed this post, please consider sharing it on your favorite social media sites.