This quote illustrates one of my favorite reasons for homeschooling: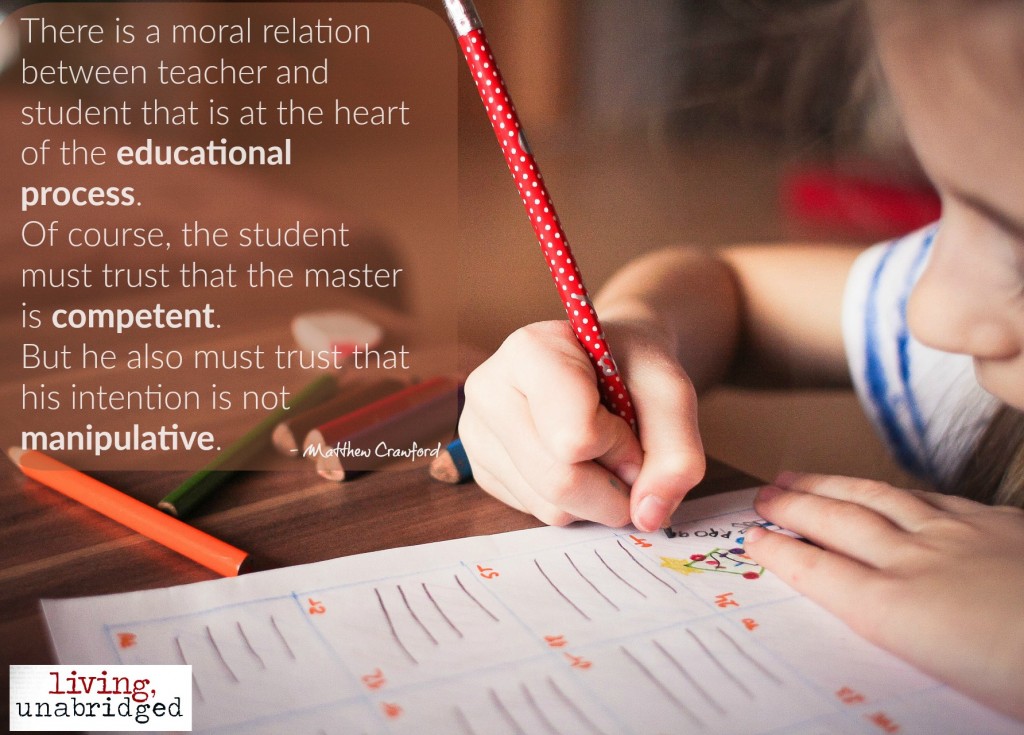 from Matthew Crawford's The World Beyond Your Head: On Becoming an Individual in an Age of Distraction
.
Can this "moral relation" be found in other education methods? Yes, of course. And we are glad whenever it works that way.
But homeschooling meets the need much more quickly.
My children learn to trust me and my care for them from before they are born. As their homeschool mom I demonstrate my competency to teach them. (And sometimes that means I admit I do not know something and we figure out how to learn it.)
They have to trust that nothing I am asking them to do is manipulative or just jumping through hoops. (Which means I need to be almost constantly evaluating my own expectations.)
Matthew Crawford wasn't talking about homeschooling, but of course I see any discussion of education through that particular lens. This book is interesting and I recommend it, even if you're not particularly interested in discussing education.
Recently Finished

This is embarrassing but I have several books nearly finished but the only thing I've finished in the last week is Agatha Christie's Murder Is Easy (Superintendent Battle Book 4)
.
If you'd like to see an adaptation of this featuring a not-quite-yet uber-famous Benedict Cumberbatch, see Agatha Christie's Marple Season 4
. There are changes (adding Miss Marple is the biggest) but otherwise it's kind of a fun episode.
Recently Added
Jane Austen Cover to Cover: 200 Years of Classic Book Covers
. This one makes for fun browsing. As I said on Instagram: Austen is timeless but the covers are not.

A City of Bells
I ordered this one from the library because, despite my love of D.E. Stevenson, Elizabeth Cadell, and Winnifred Watson, I realized that I have never actually read a book by Goudge.
This is my absolute favorite kind of library book: printed in 1936 with soft pages worn by the year and still including the old library card pockets and markings. Ah, book nostalgia!

The Family Romanov: Murder, Rebellion, and the Fall of Imperial Russia (Orbis Pictus Award for Outstanding Nonfiction for Children (Awards))
I think I saw this one on Semicolon. It looks good and I may pass it on to my daughter when I'm finished.
A School for Brides: A Story of Maidens, Mystery, and Matrimony
I don't remember which book list I saw this one on, but it's tagged as a teen book at our library. I haven't started it yet.
Current Read Aloud
The Secret Garden
is wonderful. You know a read aloud is going well when your two oldest daughter who have already read the book clamor for you to read at night.
We're also reading

D'Aulaires' Book of Greek Myths
in the mornings before other school work.
Quoth my eight year old, "I can't believe people actually believed this ridiculous stuff." Has already inspired several good discussions on myths, legends, and truth. (So: WINNING, in my book.)
Current Book to Review
The older girls are helping read and review Air Is Not Oxygen: Essential Science You Should Have Learned … But Probably Didn't!
. The cover is, admittedly, terrible. But the content is witty and educational.
Current Kindle Deals
Nothing really jumped out at me today. Some of the deals from previous weeks are still available, though.
Linking up with: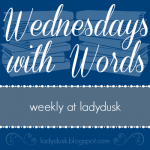 Posts may contain affiliate links. See my disclosure policy if you have questions about this. If no images appear on this post, you may need to disable an ad blocker on your browser. If you enjoyed this post, please consider sharing it on your favorite social media sites.