I love mysteries and I particularly appreciate series. Here are some of my favorites with more than 10 books. Don't Netflix and chill: grab a stack of mysteries and binge! (OK, I know, it doesn't have the same ring to it).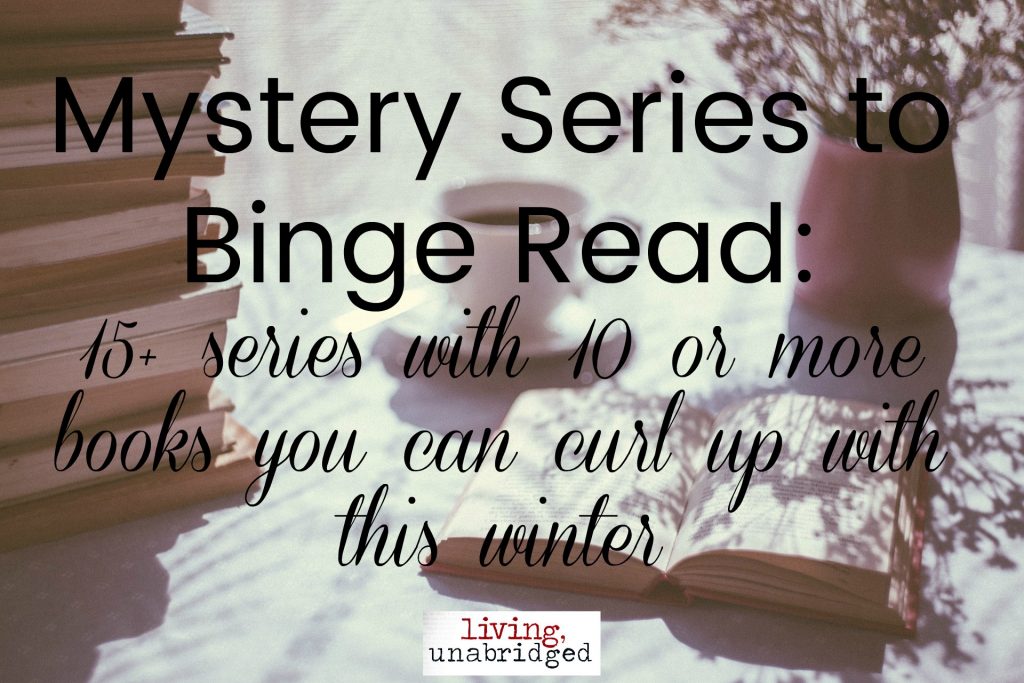 Classic Mystery Series to Binge Read:
 Hercule Poirot series.
Author: Agatha Christie. Christie is the master for a reason, and most others on this list are playing in her sandbox. There are 33 Poirot novels (not counting modern "continuations") and somewhere around 50 short stories. (Don't just read Murder on the Orient Express. It's the most famous, but there is much more to Poirot.) They don't necessarily have to be read in order, but it is fun to watch Christie master her craft.
First book: The Mysterious Affair at Styles.
Lord Peter Wimsey series.
Author: Dorothy Sayers. Oh how I love this series! Probably my favorite of all time. These witty, inventive stories are about a lot more than simply solving crimes. Lord Peter, Harriet Vane, Bunter et al. seem like old friends to me now and I occasionally have to revisit my favorite books in the series. 15 books (including short story collections). The series has been continued by Jill Paton Walsh, a capable mystery writer in her own right (the Imogen Quy series), but I have not particularly enjoyed the additions to the series and prefer to stop where Sayers left off and leave the rest to my own imagination.
First book: Whose Body?
Jane Marple series.
Author: Agatha Christie. Christie's second most famous sleuth. Miss Marple is an astute judge of human nature. There are many imitators of Miss Marple in mystery novels, but she is the quintessential harmless old lady that knits and still knows all. 12 books and many short stories.
First book: The Murder at the Vicarage.
Roderick Alleyn series.
Author: Ngaio Marsh. These are fun and twisty and Marsh does excellent stage setting in her novels. You will learn about some diverse things reading this series. (For example: mumming and morris dancing, raising sheep in New Zealand, life in various theaters around the world, etc.) 32 books in series.
First book: A Man Lay Dead.
Historical Mystery Series to Binge Read:
Sister Frevisse series.
Author: Margaret Frazier. These are medieval mysteries set in the 15th century. Classic problem solving, rather than scientific crime studies. 17 books in series. (Note: I have not read them all, and of course, I do have theological differences with a Catholic crime solving nun.)
First book: The Novice's Tale.
Sir John Fielding series.
Author: Bruce Alexander (pen name for Bruce Cook). Sir John Fielding (brother of Henry Fielding) really lived and really did help create one of the first professional police forces, the Bow Street Runners. The series starts in 1768. I don't particularly love all the supporting characters but Jeremy and Sir John make a fascinating team. There are 11 books in the series. (The author died in 2003.)
First book: Blind Justice.
Sebastian St. Cyr series.
Author: C.S. Harris (pen name for Candice Proctor). Set in Regency England. These are occasionally gory and slightly more descriptive than I usually enjoy, but the characters and overarching mysteries of Devlin's past make for compelling reading. Excellent supporting and recurring characters. Jane Austen's family shows up at one point, so there's also that. 12 books so far, usually one released each year. (Note: the author does have a romance novel background and that occasionally shows itself, particularly in the first few books.)
First book: What Angels Fear.
Thomas and Charlotte Pitt series.
Author: Anne Perry. Set in the later years of Victoria's reign. Thomas Pitt grows from a rather ordinary policeman (if there is such a thing) with a humble background to something resembling an English superhero protecting the realm. There are 32 books in this series so far, not counting short stories.
First book: The Cater Street Hangman.
Amelia Peabody Series.
Author: Elizabeth Peters (pen name for Barbara Mertz). Another favorite! If Sayers is first, then Peters is second, for me. Set in the late 1800s-early 1900s up to and including WW1. Peabody, Emerson, Ramses, Nefret, Abdullah, Sethos… These fantastic characters are unforgettable and delightful. 20 books in the series, but there are more if you consider the Vicky Bliss series related (6 more books). Another book was released this year, finished by a friend after the untimely death of Barbara Mertz. I haven't been able to bring myself to read it…yet.
First book: Crocodile on the Sandbank.
Daisy Dalrymple series.
Author: Carola Dunn. Set in post WW1 England. Daisy is a mostly delightful, and occasionally exasperating character. If you like shows like Downton Abbey you might appreciate this series. These are generally cozy and the spectre of the Great War isn't extremely heavy in most of the stories. Happy endings (at least for Daisy) reign. 22 books so far.
First book: Death at Wentwater Court.
Ian Rutledge series.
Author: Charles Todd. Set just after WWI in Great Britain. This mother-son writing team is occasionally uneven in tone and there are a few glaring inaccuracies in the first few books, but the characters are compelling, the plots are usually twisty, and the shadow of the Great War is haunting. 22 books so far, with another expected in 2018.
First book: A Test of Wills.
Modern Mystery Series to Binge Read:
Agatha Raisin series.
Author: M. C. Beaton (Marion Chesney). Agatha is not a particularly likeable person, and she makes a lot of mistakes, both personally and professionally, but you just can't help but root for her. The recurring characters are quirky. A whopping 28 books in the series so far.
First book: The Quiche of Death.
Faith Fairchild series.
Author: Katharine Hall Page. Faith is a prickly, somewhat spoiled main character and I don't love the way the author handles religious themes, but the supporting cast is usually good. A few books in the series actually star Faith's friend Pix. Bonus: you'll want a snack in hand because Faith is a caterer and food (and therefore related recipes) play a major role. 23 books with another expected later in 2017.
First book: The Body in the Belfry.
Hannah Swensen Series.
Author: Joanne Fluke. These modern day "cozy" mysteries have warmed many a winter evening for me. Bonus: recipes! You'll want to eat these with a warm beverage and sweet snack in hand. 20 books in series.
First book: Chocolate Chip Cookie Murder.
Goldy Bear series.
Author: Diane Mott Davidson. More mysteries to eat with snack in hand. Goldy has a complicated family life and usually ends up catering an event where something unfortunate happens. 17 books in series.
First book: Catering to Nobody.
Jane Jeffry series.
Author: Jill Churchill. Cozy mystery series starring a suburban housewife in Chicago. 16 books in series.
First book: Grime and Punishment.
Torie O'Shea series.
Author: Rett Macpherson. A genealogist in modern day Missouri deals with everyday life AND finds time to solve crimes while raising a family. 11 books in series.
First book: Family Skeletons.
Bryant and May series.
Author: Christopher Fowler. The "peculiar crimes unit" deals with mysteries tinged with supernatural occurrences, or strange scientific phenomena. The first book has multiple timelines and was occasionally difficult to follow but the next books in the series are slightly less complicated. Not my favorite series, but still an amusing way to pass a winter afternoon. 14 books in series so far.
First book: Full Dark House.
Ladies' No. 1 Detective Agency.
Author: Alexander McCall Smith. These aren't mysteries so much as examinations of human nature and quirks. Mma Ramotswe and her friends are unforgettable! 17 books in the series to date.
First book: The No. 1 Ladies' Detective Agency.
Do you have a favorite mystery series with at least 10 books? Do share in the comments!
*Disclaimer: it is impossible for me to remember the content for every book in every series listed here, and in some cases, I haven't read each and every book in the series. I've tried to warn about things that I remember, but as always, the reader's mileage may vary.*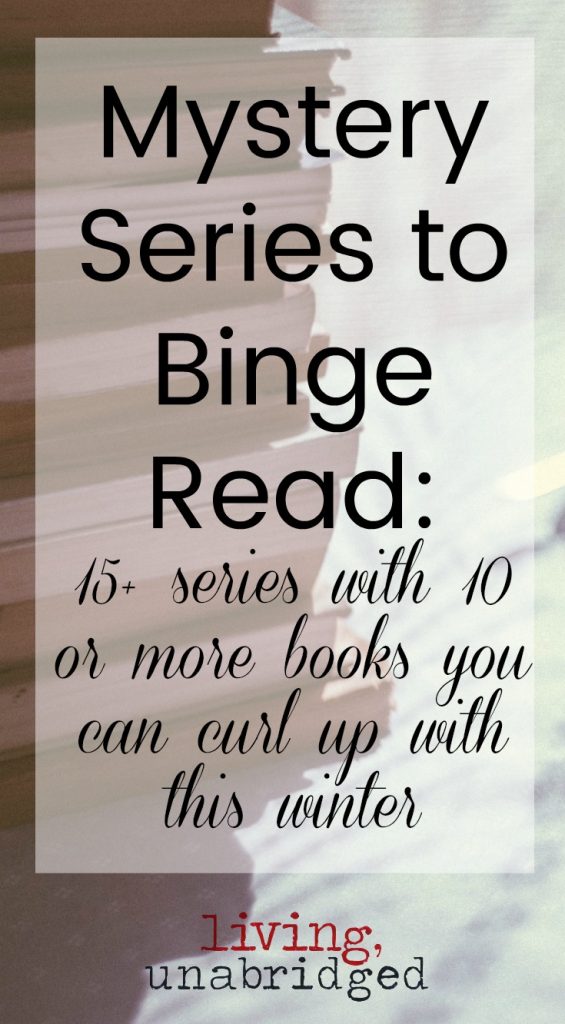 Posts may contain affiliate links. See my disclosure policy if you have questions about this. If no images appear on this post, you may need to disable an ad blocker on your browser. If you enjoyed this post, please consider sharing it on your favorite social media sites.