What do you get when you combine beloved holiday tradition with classic music and a stellar narrator? You might say something magical happens.
The tradition, in this case, is The Nutcracker. The music is conducted by Stephen Simon and played by The London Philharmonic Orchestra. The narrator is the incomparable Jim Weiss.
Music Education with Maestro Classics
I've mentioned a time or two (or more…) that my children love Maestro Classics. That's why I became an affiliate: because I love the company, what they do, and what their cds have meant to our family. Music education and appreciation is a subject many homeschoolers worry about. There are several reasons why our family does not.
One reason is that my husband and I are both musicians.
Another reason is Maestro Classics.
Once you've heard your three year old identify a piece of music on the radio as Handel, because of the Maestro Classics cd "My Name is Handel", you just tend not to worry as much about whether your children are being exposed to enough classical music.
So, anyway, we love Maestro Classics and I'm thrilled to share them with you.
Maestro Classics The Nutcracker
This CD of The Nutcracker is the same high quality music they've delivered in their previous works. And this time Jim Weiss is along to tell the tale of Clara and her adventures.
The CD includes a booklet that tells about the music, the history of Ballet, a short section on the harp, a short biographical sketch of Tchaikovsky, and even includes a few games for the kids. This CD is an hour long adaptation that includes music from every section of the original ballet. One difference from previous Maestro Classics is that CD spends less time teaching the kids about the score and contains no other variations, because the score itself is nearly an hour long. (If you're looking for a CD from Maestro Classics that spends more time teaching about Tchaikovsky, consider ordering The Story of Swan Lake
too.)
The Nutcracker is part of so many families' holiday traditions and memories. Our family is no different. This year our two youngest daughters will be dancing in an elementary ballet school version for the first time. They've enjoyed this CD because they can put it on and practice their steps. I've appreciated that they have this chance to get a little more familiar with the music and the classic story.
And if you'd like to enjoy this wonderful music conducted by Stephen Simon and performed by the London Philharmonic orchestra, the music only mp3 is available too. (Although, really, who wouldn't want to hear the Jim Weiss narration?) And for homeschoolers: don't forget to check out the free curriculum guide!
See what I mean about Maestro Classics taking the worry out of teaching music?
Make a new holiday tradition for your family by including this version of The Nutcracker to your holiday listening.
Available at Amazon: The Nutcracker
or directly from Maestro Classics.
Is The Nutcracker part of your holiday traditions? Do you have a favorite recording? Please share in the comments!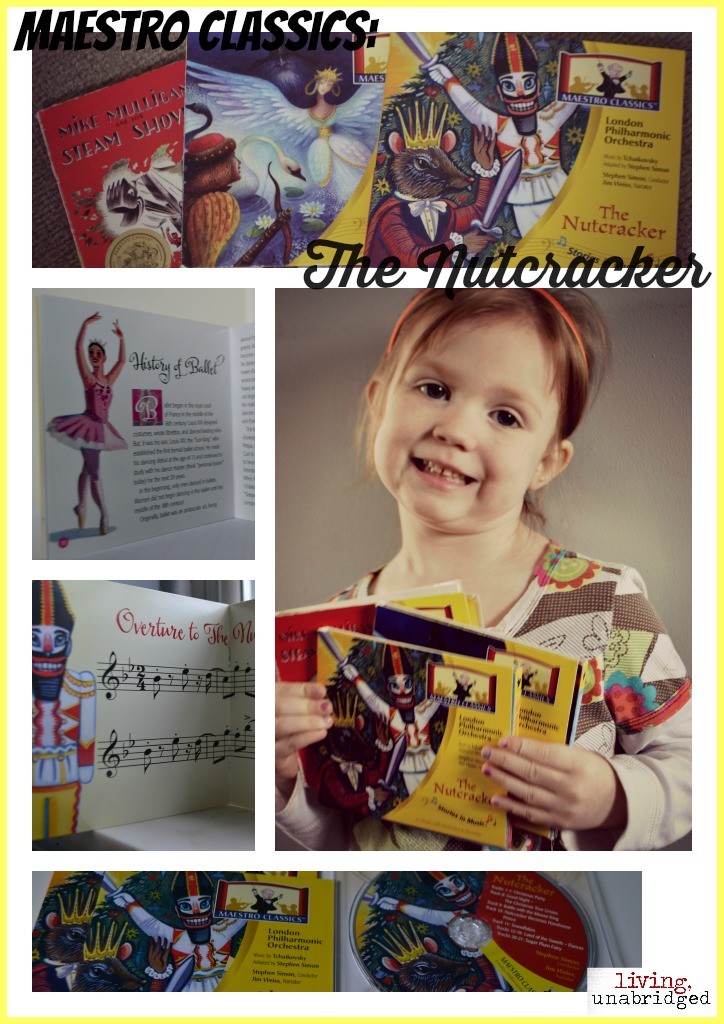 I received a CD of The Nutcracker from Maestro Classics for the purpose of this review. Opinions are my own and I was not required to write a positive review.
Posts may contain affiliate links. See my disclosure policy if you have questions about this. If no images appear on this post, you may need to disable an ad blocker on your browser. If you enjoyed this post, please consider sharing it on your favorite social media sites.