Writing (and blogging) is an easy habit to lose. But I don't want to lose it.
So, I'm happy to be sharing another post about what I'm reading and thinking right now: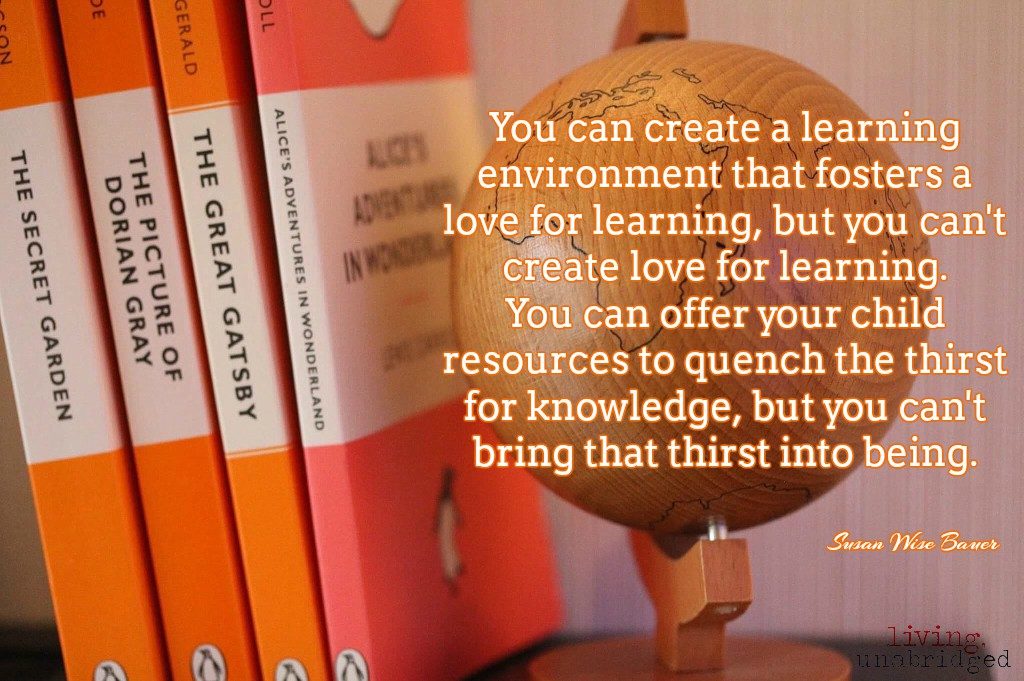 This quote is from Susan Wise Bauer's Rethinking School.


I finished this back in February but then I gave it to my husband to read and he finished it this week. We both wish we could give this to every parent we know.
And no, it's not just a book about homeschooling or why you should homeschool. It's about realizing the K-12 system is an artificial system and doesn't always serve our children well.
Many parents have already realized that. For one reason or another school isn't "working" (or maybe just one class or type of teacher isn't). What then? This book is packed full of practical advice.
And then there's this quote, which I love as a homeschool mom.
Because sometimes, in all the pinterest posts and instagram images, there's the idea that parents can MAKE their children love learning. Or maybe that we can GIVE them a thirst for knowledge ourselves.
Actually, we can't.
We can create an environment that assists. And maybe we can limit the shiny things competing for our children's minds, but we can't MAKE these things happen.
And here's the thing: teachers and schools and entire school systems can't do that either.
Anyway, if you're a parent, check out this book. Whatever type of education your family uses, make sure it's working for your child(ren) and not treating them as a problem to be solved.
Recently Finished
I've finished six so far in March:

1. The Woman Who Smashed Codes by Jason Fagone. Fascinating biography of Elizebeth Smith Friedman and the birth of US codebreaking.
2. A Case for Solomon by Tal McThenia and Margaret Dunbar Cutright. Honestly, it was better on "This American Life." (Which is where I heard about it.) The book is dense, repetitive, and requires quite a bit of conjecture. The case itself is interesting and the psychology is fascinating but the book is slightly less successful.
3. His Majesty's Dragon by Naomi Novik. So outside my usual reading habits! Recommended by Deanna Raybourn and I'm still not sure what I really think about it. Take a bit of Patrick O'Brien and mash it with dragons and you'll get the jist. Set in the Napoleonic era (so far, so good) but dragons are real (ok…). And they can talk (now you're losing me). You have to suspend a lot of disbelief on this one (try to forget anything you know about physics, for instance) but I can see why some folks like them. (Did I mention the dragons?)
4. Arithmetic by Paul Lockhart. Lockhart writes engagingly about math, which makes it much less strange that I would read this.
5. The Night Circus by Erin Morgenstern. My book club chose this one or I'm not sure I would ever have gotten around to reading it. Morgenstern excels at setting and description. She does not excel at plot or pacing. (And that's all I'll say here because not all of our book club readers have finished it and I don't want to spoil it if they see this post.)
6. The Mamur Zapt and the Men Behind by Michael Pearce. I don't like jumping into a series (I much prefer reading them in order), but this is the first in the series I could get. Fascinating setting (Egypt 1909) and a plot that moves along. It's formulaic but good fun and I've already ordered the next one. (Series mysteries are my favorite way to decompress after other, heavier reading.)
Recently Added
I'm currently reading A Mad Catastrophe: The Outbreak of World War 1 and the Collapse of the Hapsburg Empire by Geoffrey Wawro. Not finished but my big takeaway so far: Austria-Hungary was going to collapse within a matter of years and going to war was a spectacularly bad decision all the way 'round.
Current Read Aloud
The two youngest girls and I gave up on Henry and the Chalk Dragon. It was highly recommended but it never gelled with us. Just goes to show you that not every book works for every family.
We picked up Strawberry Girl on a recent trip to McKay's books (in Nashville, TN) and we thoroughly enjoyed it (both the book and the bookstore!). It's written in dialect and the girls particularly enjoyed my faux country-Southern accent. (Hey, I grew up in Tennessee…)
Current Kindle Deals
The Secret War by Max Hastings is one of the first codebreaking books I remember reading. It's $2.99 for Kindle this month.
Ember Falls by S.D. Smith is also $2.99 right now. My girls love this series and can't wait to see Mr. Smith again. (At the Great Homeschool Convention in April.)
If you're looking for books to fill a child's reading tablet, this Bobbsey Twins megapack might be a good idea. $0.55 for 15 of the vintage stories.
Or maybe this G.A. Henty megapack for $0.99.
It's been a while since we talked books. What are YOU reading now?



Posts may contain affiliate links. See my disclosure policy if you have questions about this. If no images appear on this post, you may need to disable an ad blocker on your browser. If you enjoyed this post, please consider sharing it on your favorite social media sites.