A combination of factors meant that our New Year's Eve / New Year's Day holiday passed in extremely low key fashion.
And, as you might expect for an Introvert, I was totally OK with that.
In fact, as I sat in the lamplight reading a thick novel while cuddled under a favorite blanket and sipping a hot drink around 8 PM on December 31, I thought the moment was nearly perfect.
My husband watched a documentary on his computer.
Our two boys slept peacefully in their room. (Although I could hear the occasional cough since sickness seized our house after Christmas and hasn't quite let go.)
The four girls watched a movie downstairs and I could hear them all laughing from my spot upstairs.
If I could have frozen one moment in my life to freeze and stay forever, it might have been this one.
Because all the people I care about most were safe, warm, and happy around me. I wasn't worried about our oldest being out on her own. The boys didn't feel great but we knew how to help them feel cozy and comforted so they weren't feeling too badly, either. Everyone seemed happy with simple pleasures and low key celebration.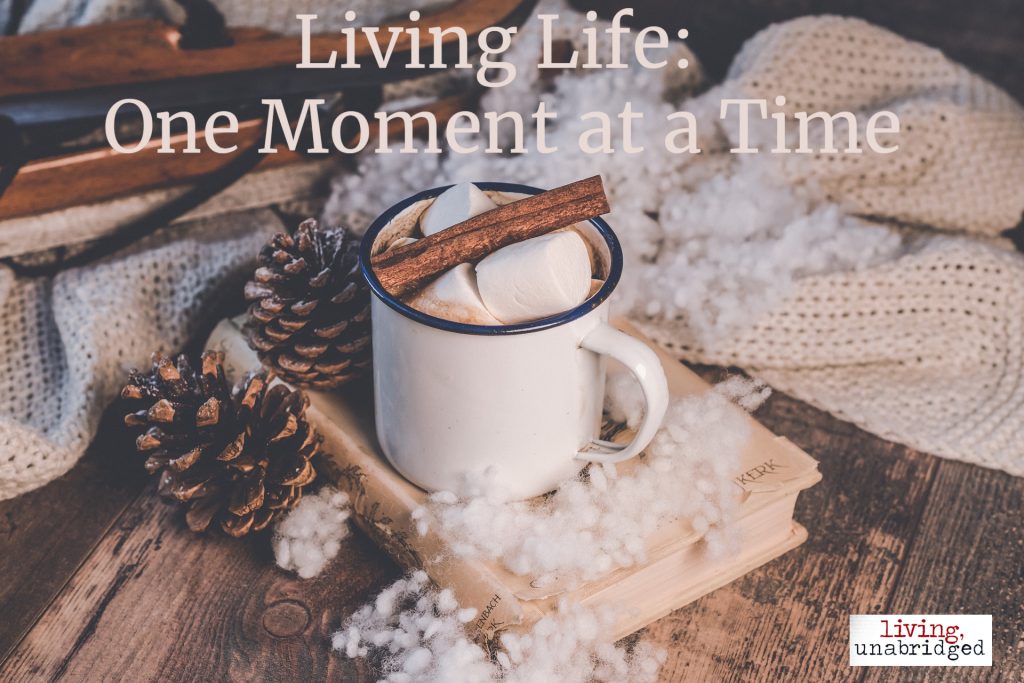 I would really love to have stayed in the moment longer than it lasted.
Because I as soon as we switched the calendar page to January, my anxiety rose.
The month is already too full.
There are too many things to do and too many places to be.
Various good things demand attention and some things I would rather not do still have to be done. (#adulting)
We have obligations and bills and competing activities.
Honestly? I'm really not sure how we're going to get it all done.
Our oldest daughter feels some of the same pressure. She has work and physical therapy and preparations for ending one educational journey (K-12 homeschooling) and starting another (community college).
We looked at the calendar together and she voiced the exact same thing I felt: "Mom, just looking at this is making me feel anxious."
And because it's easier to say the right thing to her than to myself I said, "One day at a time."
Because really, we only live one moment at a time.
We can plan the days, but we cannot know what a day brings forth.
The schedule could be perfect, and then someone (or multiple someones!) gets sick.
You can be exactly in the right place at the right time when you get a phone call that devastates your family and your life for the foreseeable future.
Someone you're counting on to help get it all done may let you down. The ride shows up late. A class goes long.
And what about all those factors you can't control at all?
Traffic is worse than you expected. Snowstorm. Power outage. Grocery store out of an essential ingredient on your list. The green cup is dirty. (Oh, wait, that last thing is only a disaster to my 3 year old.)
But if we're worrying about those things we can't control, we're robbing this moment we're living in of its joy and peace. Fretting over what might happen and what might be doesn't actually do any good.
Change is constant. (That has to be a contender for my favorite oxymoronic phrase.)
My daughter and I are familiar with anxiety. It rises in your throat and catches your breath. Your head fills with it as your heart pounds. Questions multiply and decision making is impaired.
We're both learning strategies for dealing with it.
One of those strategies is remembering what God says about things.
Some of Jesus words about anxiety are recorded in Matthew 6:25-34:
Therefore I tell you, do not be anxious about your life, what you will eat or what you will drink, nor about your body, what you will put on. Is not life more than food, and the body more than clothing?

Look at the birds of the air: they neither sow nor reap nor gather into barns, and yet your heavenly Father feeds them. Are you not of more value than they? And which of you by being anxious can add a single hour to his span of life? And why are you anxious about clothing?

Consider the lilies of the field, how they grow: they neither toil nor spin, yet I tell you, even Solomon in all his glory was not arrayed like one of these. But if God so clothes the grass of the field, which today is alive and tomorrow is thrown into the oven, will he not much more clothe you, O you of little faith?

Therefore do not be anxious, saying, 'What shall we eat?' or 'What shall we drink?' or 'What shall we wear?' For the Gentiles seek after all these things, and your heavenly Father knows that you need them all.

But seek first the kingdom of God and his righteousness, and all these things will be added to you. Therefore do not be anxious about tomorrow, for tomorrow will be anxious for itself. Sufficient for the day is its own trouble.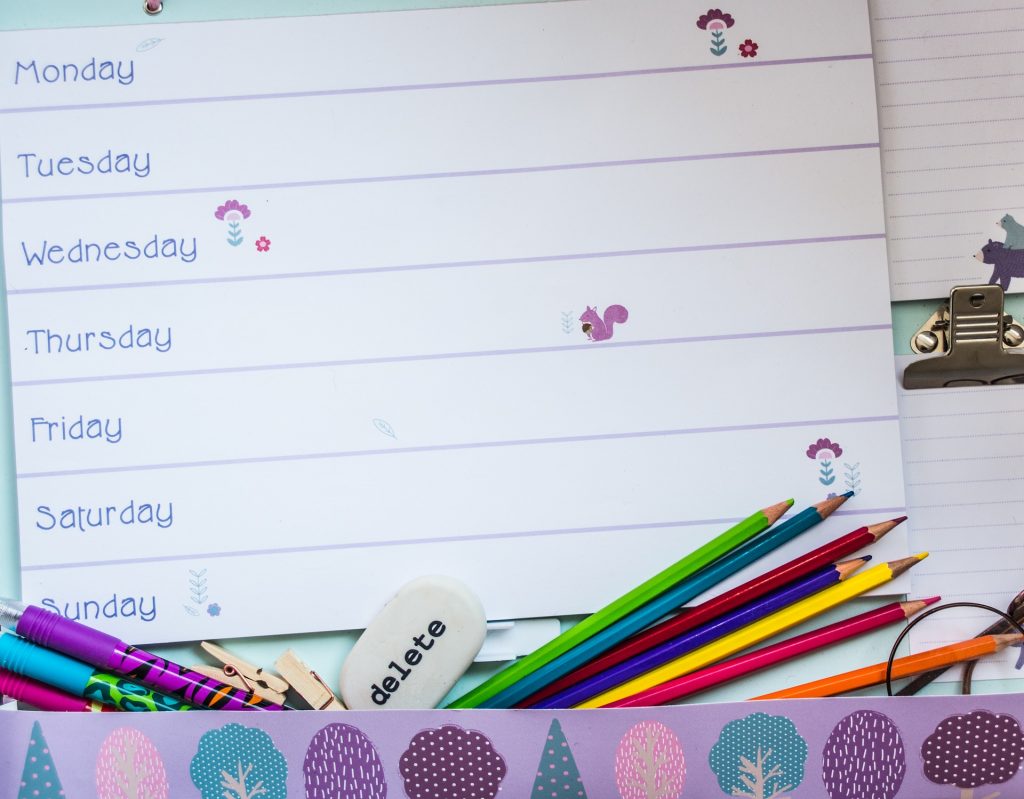 Looking at the calendar for January 2019, we may not actually get "it all" done.
Plans might fall through.
A day may not actually hold what we expect.
We may disappoint someone we care about, or someone we depended on might let us down.
Only God knows what the days hold. We can't trust in what we think might happen, but we can trust in the Creator of time.
He is good and His kingdom must be first in our hearts.
One moment at a time.
P.S. If you're looking for resources for bringing some order to your days, I have a resource that might be able to help:

Or:

Posts may contain affiliate links. See my disclosure policy if you have questions about this. If no images appear on this post, you may need to disable an ad blocker on your browser. If you enjoyed this post, please consider sharing it on your favorite social media sites.