January is a great month for resolutions. (Well, making them, if not keeping them.)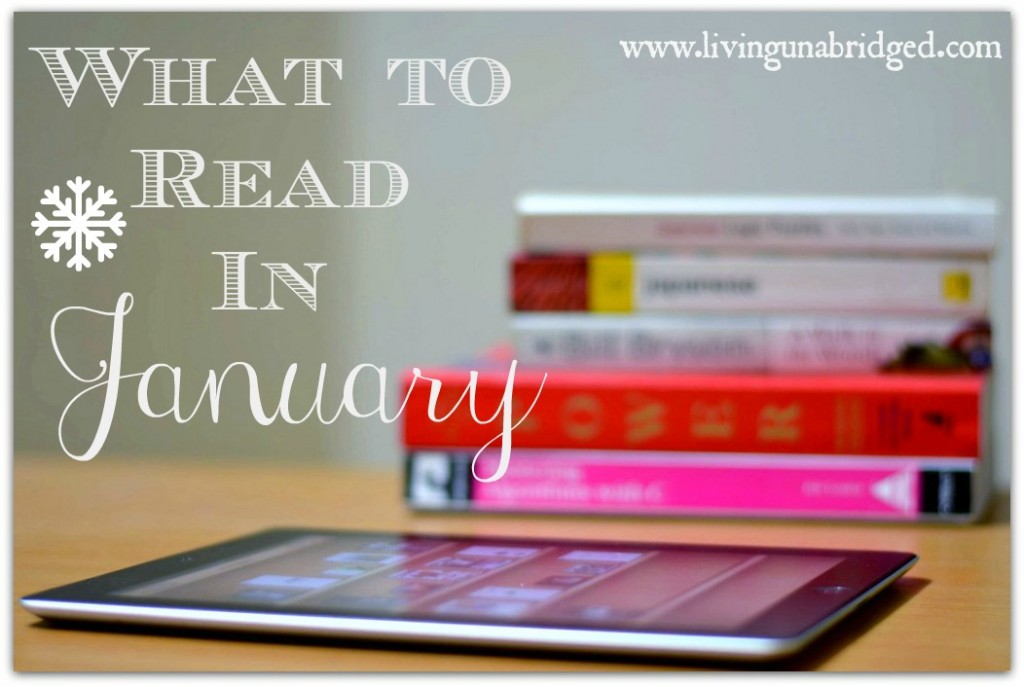 What to Read in January:
Non-fiction Suggestions for January:
1. 168 Hours by Laura Vanderkam. I'm not given to hyperbole over books (well, I hope I'm not), but I really do think of this book as a life changer. The style is readable and light but the insights are real. Read it and start redeeming your time in 2015.

2. The Total Money Makeover by Dave Ramsey. If you have resolved to get your money under control this year, you need this book. My husband and I have grown up listening to Dave Ramsey and we credit that for giving us the tools we need to survive on a less than average income while raising a larger than average family. I can't promise you'll agree with everything Dave says, but if you give his "babysteps" a fair chance I know they can change your life.
3. Start by Jon Acuff. If you're tired of the grind, you don't love your job, or you're not sure what you're supposed to do with your life, you need to move this book to the top of your reading list. (You do have a list, right?)
Fiction Suggestion for January:
1.Farmer Boy by Laura Ingalls Wilder. I love all the "Little House" series, but this story about her husband's childhood is a favorite. It makes a great read-aloud on winter nights, and it will help you resolve to focus on the things that matter (and maybe on some homemaking skills, too).
Have a snack handy, because this boy loves to eat and nearly every chapter will make you hungry!
2. Pride and Prejudice by Jane Austen. Why did I include this book? Because, if you've never read Austen, you need to fix that. Now. Start here.
And don't think Austen is just for women (don't be fooled by chick lit-ish covers), she never gushes and the men I know who have actually given her original works a chance have enjoyed them immensely. (And yes, it's also available for Kindle for a small fee.)
Anthologies to read in January:
1. The Book of Virtues by William J. Bennet. I'm not a huge fan of "condensed" or abridged books, but this hefty tome contains many wonderful stories and poems. They might inspire you to keep reading other works by their truly talented authors. Besides all that, January is a great month for thinking about the virtues we hope to cultivate in the coming year. This book could jump start those resolutions.
What books would you recommend someone read in January? What's on your list this month?


Looking to get organized this year?

Posts may contain affiliate links. See my disclosure policy if you have questions about this. If no images appear on this post, you may need to disable an ad blocker on your browser. If you enjoyed this post, please consider sharing it on your favorite social media sites.