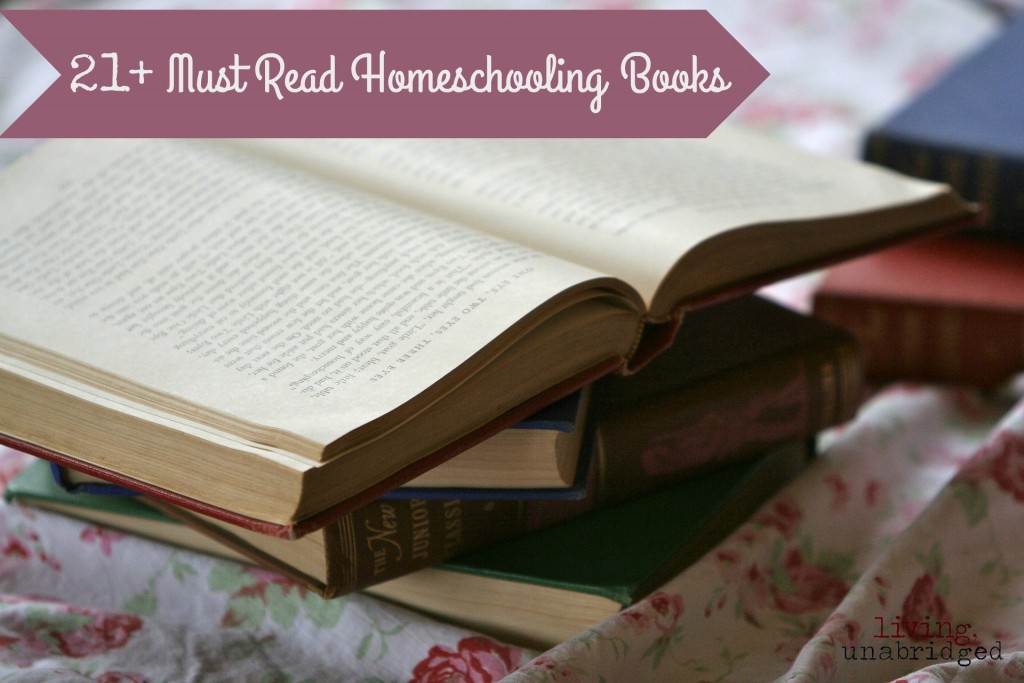 When my husband and I were making the decision to homeschool our own children some of these books helped us make our decision (and arrive at a comprehensive philosophy). Even though I'm a homeschool grad, some things had changed since my own parents chose homeschooling in the '80s. (There are other books that helped them make their decision.)
A few of these books are more recent, coming along once we were already into our family's homeschool journey. So there are books here for if you're just now considering it, if you've already started, or you're just curious about what it might look like.
Homeschooling Books for When You're First Considering Homeschooling:
1.For the Children's Sake: Foundations of Education for Home and School
by Susan Schaeffer Macaulay. This book is simply lovely to read. It explains things without making you feel as if you've already failed.
2. Dumbing Us Down: The Hidden Curriculum of Compulsory Schooling
by John Taylor Gatto. Gatto's books are controversial because they dare to describe what compulsory education actually looks like, and how well it works.
3.Weapons of Mass Instruction: A Schoolteacher's Journey Through the Dark World of Compulsory Schooling
. Another sobering book by Gatto.
4.The Well-Adjusted Child: The Social Benefits of Homeschooling
by Rachel Gathercole. One of the most common questions a homeschool parent gets is "But what about socialization?" This book does a great job of putting that worry to rest.
5.Teach Your Own: A Hopeful Path for Education
by John Holt. This one was radical reading for my parent's generation. It's still a good one to challenge assumptions.
Homeschooling Books for When You're Convinced and Ready to Learn More:
6.The Well-Trained Mind: A Guide to Classical Education at Home
by Susan Wise Bauer and Jessie Wise. I love this book. I refer to it at least once every school year. I treat it as a reference and not an edict, to keep it from overwhelming me. I'm not really into gurus but if I had one, it would be Susan Wise Bauer.
7.The Core: Teaching Your Child the Foundations of Classical Education
by Leigh Bortins. Leigh Bortins founded Classical Conversations, but you don't have to join CC in order to appreciate this book.
8.A Charlotte Mason Companion: Personal Reflections on The Gentle Art of Learning(TM)
by Karen Andreola.
9.A Charlotte Mason Education: A Home Schooling How-To Manual
by Catherine Levison.
These two are a good overview of the Charlotte Mason method (also discussed in book #1 above). Of the two, I prefer Levison's book more, but I actually own Andreola's. That's just how things work out sometimes. (Levison also wrote a companion book, once you've read this one.)
10. Educating the WholeHearted Child — Third Edition
by Clay and Sally Clarkson. The Clarksons have provided a great resource in this book. Their style is similar to classical or Charlotte Mason (for instance: a lot of emphasis on whole books), but also remains distinctively Christian.
11.Christian Unschooling
by Teri Brown. I am not, ultimately, convinced by the unschooling argument. But this book comes as close to selling it as any I've read.
12.The Three R's
by Ruth Beechick. Beechick was one of the early voices for homeschooling. Her common-sense practical advice for teaching your young children how to read and the fundamentals of math.
13.Homeschooling: The Early Years: Your Complete Guide to Successfully Homeschooling the 3- to 8- Year-Old Child
by Linda Dobson. Dobson has written many books about homeschooling. This one is a good place to start.
Just in case you're wondering, I call our method of homeschooling "Relaxed Classical" and I consider it an intersection of Classical, Charlotte Mason, and Unschooling. I guess "eclectic" would be simpler to say but I like "Relaxed Classical" is more descriptive of the life we work toward.
 Homeschooling Books for When You're Already Homeschooling:
14.Homeschooling at the Speed of Life
by Marilyn Rockett.

15.Homeschooling More Than One Child: A Practical Guide for Families
by Carren Joye. Because sometimes you just need a reminder that yes, you can homeschool and parent more than two children or other practical advice.
16.Grace for the Homeschool Mom
by Tamara Chilver.
17.Plan To Be Flexible: Designing A Homeschool Rhythm and Curriculum Plan That Works for Your Family
by Alicia Michelle. I ordered these last two for my Kindle when they were free or on discount and both have been encouraging.
Homeschooling Books for When You're Ready to Dig Deeper:
18.Norms and Nobility: A Treatise on Education
by David Hicks. This was written in 1981. It's just as true today. Hicks is not laying out a specifically homeschool vision, but homeschooling can certainly aim for the excellence he describes.
19.Teaching the Trivium: Christian Homeschooling in a Classical Style
by the Bluedorn family. The Bluedorns are homeschool pioneers. This book is their huge resource. They are unapologetic Christians and they put a lot of emphasis on learning Biblical languages. I wouldn't read this one if I was not yet sure that homeschooling was right for my family: it might overwhelm.
20.Climbing Parnassus: A New Apologia for Greek and Latin
 by Tracy Lee Simmons. A powerful apologetic for restoring what used to be called education.
21.Ten Ways to Destroy the Imagination of Your Child
by Anthony Esolen. Esolen's book is well-written satire. It will make you think. (Again, not a specifically homeschool book, but one that captures the "why" of homeschooling for many families.)
22.The Well-Educated Mind: A Guide to the Classical Education You Never Had
by Susan Wise Bauer. This is one to help you educate yourself. Even if you had a good education, it might help you round out your reading list. After all, education is not just for our children. If you feel your own education was inadequate, and you're wondering how you can ever teach your children all they need to know, this one might help.
What books are on your "Homeschooling Must Read" list?
Posts may contain affiliate links. See my disclosure policy if you have questions about this. If no images appear on this post, you may need to disable an ad blocker on your browser. If you enjoyed this post, please consider sharing it on your favorite social media sites.