Yardmaster is a newer game for our family but it's become almost an instant favorite and I'm excited to share it with you.
Family Game Night #24 – Yardmaster
Our friends Gail and Lisa introduced us to several games when we got together for a game night. This is one that I instantly liked. It sounded a bit complicated when first explained, but it's really not much more complicated than Uno.
How to Play Yardmaster
This is a card game for 2-5 players. Each player is trying to put together their own train, made up of cars of different values. The target number of points is either 18 (for 2-3 players) or 16 (for 4-5 players).
Each player starts with an engine card and the other cards are in two decks: Railcars and Cargo (including some bonus cards). There are also six tokens: five used for exchanges and 1 yardmaster. Each player takes 2 actions per turn, with the exception of the Yardmaster who gets 3 action. The yardmaster role changes from player to player throughout game play.
You trade cargo cards for railcar cards in order to "build" your train. You can only play a railcar card only if it matches the color or point value of the car in front of it. If you have a railcar that you can't add to your train, it goes in your sorting yard (kind of like a holding pile that only you can access).
Yardmaster Variations
We haven't played often enough to know many variations. There is a related game called Yardmaster Express, but we haven't picked that one up yet. One variation you can try is playing without the bonus cards. This allows non-readers to play, since the only thing required then is matching colors or numbers.
Summary of Yardmaster
Number of Players: 2-5
Recommended ages: the box says 8+, but we've played with younger.
Reading required: minimal. If you play without the bonus cards there's no reading.
Since this is a newer game and the price on Amazon seems to vary between $20-$25. (The Express version hovers around $15.) You may be able to find it at a hobby game store but it is not available at mass merchants (Target / Wal-Mart) yet. But if you have a kid who loves trains who isn't quite ready for Ticket to Ride, this could be a great alternative.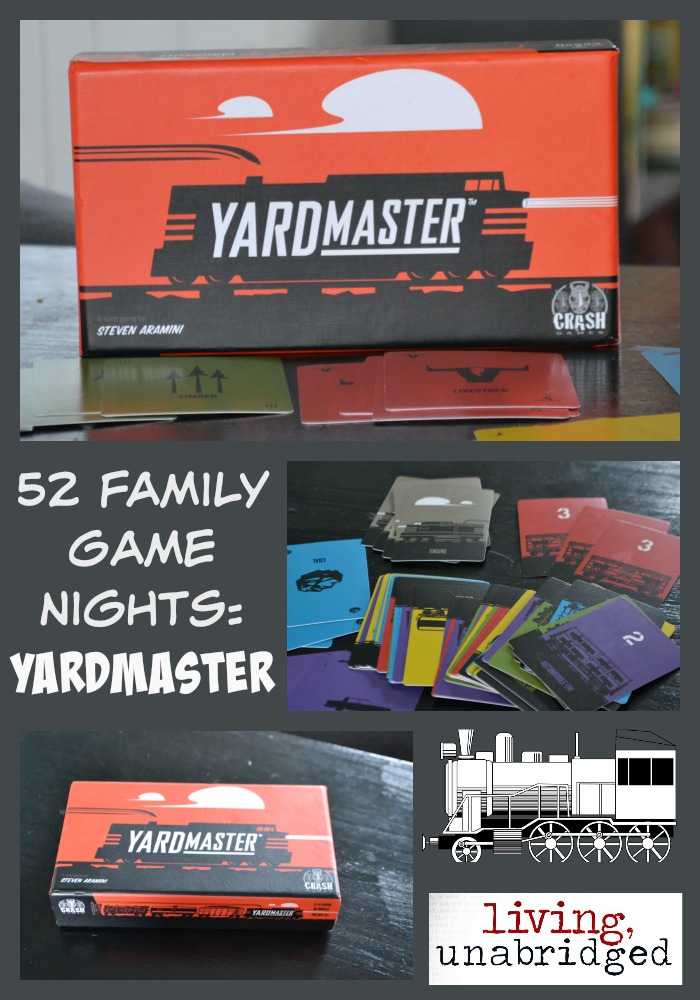 Have you played Yardmaster? What's your favorite game with a train theme?
Posts may contain affiliate links. See my disclosure policy if you have questions about this. If no images appear on this post, you may need to disable an ad blocker on your browser. If you enjoyed this post, please consider sharing it on your favorite social media sites.