Our family game night suggestion for this week is a game we've had since before we got married. Our version of Sequence is homemade but, never fear, you can also easily buy one.
Family Game Night #27: Sequence
Once upon a time my husband wasn't my husband, he was my fiancé. Before he graduated college he worked as a student teacher. For 1/2 of this assignment he worked in a third grade classroom where the teacher taught him to play this game. And when he finished his assignment there she gave him a copy that she and her husband made for him. (Along with a brownie recipe that we still use and a huge gift basket of school supplies which helped tremendously in the first year we were married. Newlyweds working at a Christian school are not rolling in the dough, to say the least.)
So, anyway, we started married life with this game. (And very little else!)
Twenty years later and it's still a favorite for our kids.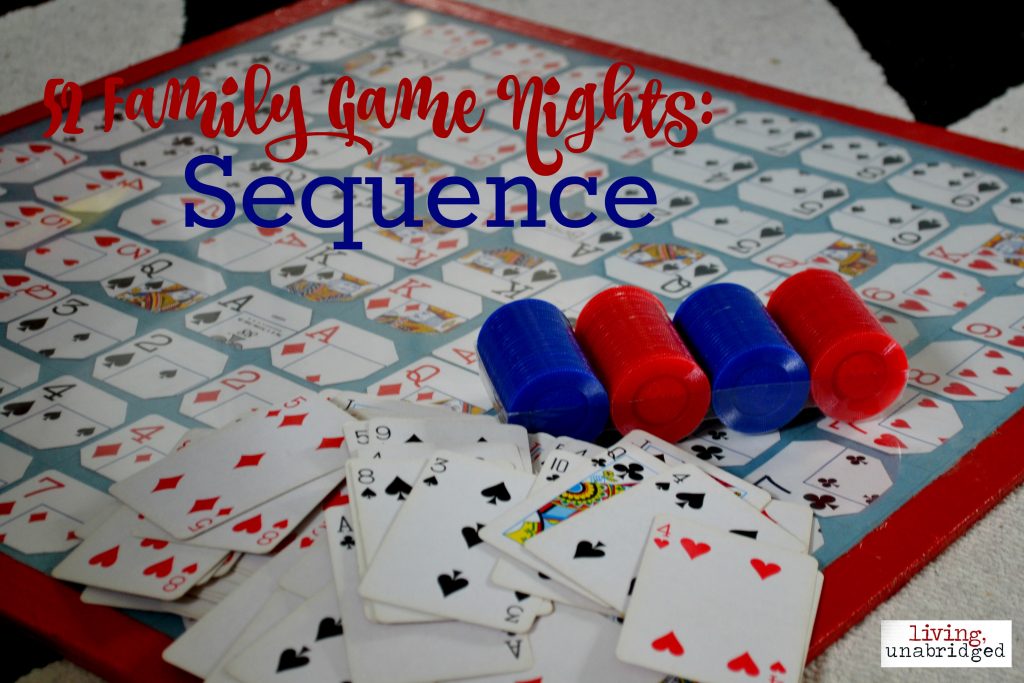 I can't promise that the store bought edition will be as hardy as ours, but I think the fact that we're still playing this game twenty years after we first learned it is a good testimony to the game's longevity.
You draw from a deck of cards and lay a chip on a piece of the board. Your goal is to get five of your chips in a row (a "sequence"). In our version you have to do this three times to win, but I believe it's only once or twice in the store bought edition (depending on the number of players).
Jacks are wild cards. A one-eyed Jack (that is, you can only see one of his eyes) will remove a token, a two-eyed Jack will let you place a token anywhere. Corners are also wild (so if you have four cards in a row leading up to a corner, you get the corner for free).
When you get a sequence you flip the chips. (Similar to "kinging" in checkers.) These chips can no longer be removed from the board.
Who Can Play Sequence
No reading is required, so we've played with players as young as five. You can play also play teams, which helps to include a younger player.
Game play is fairly quick. It doesn't take long to learn, and while there is some strategy involved, it does not require a lot of thinking time.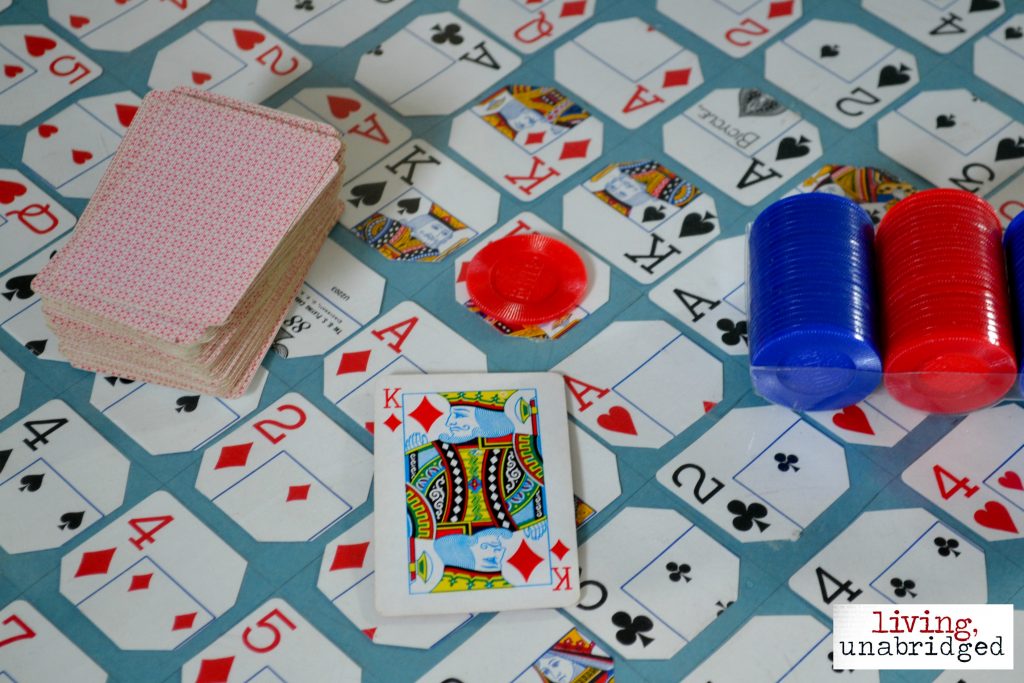 Making Your Own Game of Sequence
The Sequence game that you can buy has a board, three different colored chips, and 104 cards.
You can see that our board is slightly different from the purchased board, as far as layout, although both editions have two of every type of card displayed on the board. The images on our board are cut up cards instead of the full images on the purchased board. We also only have two colors of chips, although we could add a green set to our game.
What you would need to make a Sequence game like ours:
Four decks of cards: two to make the board and two to play the game
A thin board that you can cut to size
Plastic to cover the board, again cut to size
Contact paper, if you're unable to use plastic or plexiglass
At least two colors of poker chips – this may require purchasing two sets of chips
Small circle stickers for one side of the poker chips, to show a "Sequence"
Summary of Sequence
Number of players: 2 or more (you need an even number to play teams). With our set we can play with up to six players.
Recommended ages: 7 and up (we've played with children as young as five)
Reading required: no
There are several different types of Sequence available and most cost under $20. There's also a travel edition: great for family vacations!
Have you played Sequence? Do you still play any games twenty years after you first learned them?


Posts may contain affiliate links. See my disclosure policy if you have questions about this. If no images appear on this post, you may need to disable an ad blocker on your browser. If you enjoyed this post, please consider sharing it on your favorite social media sites.