One more thought from Anthony Esolen's Out of the Ashes: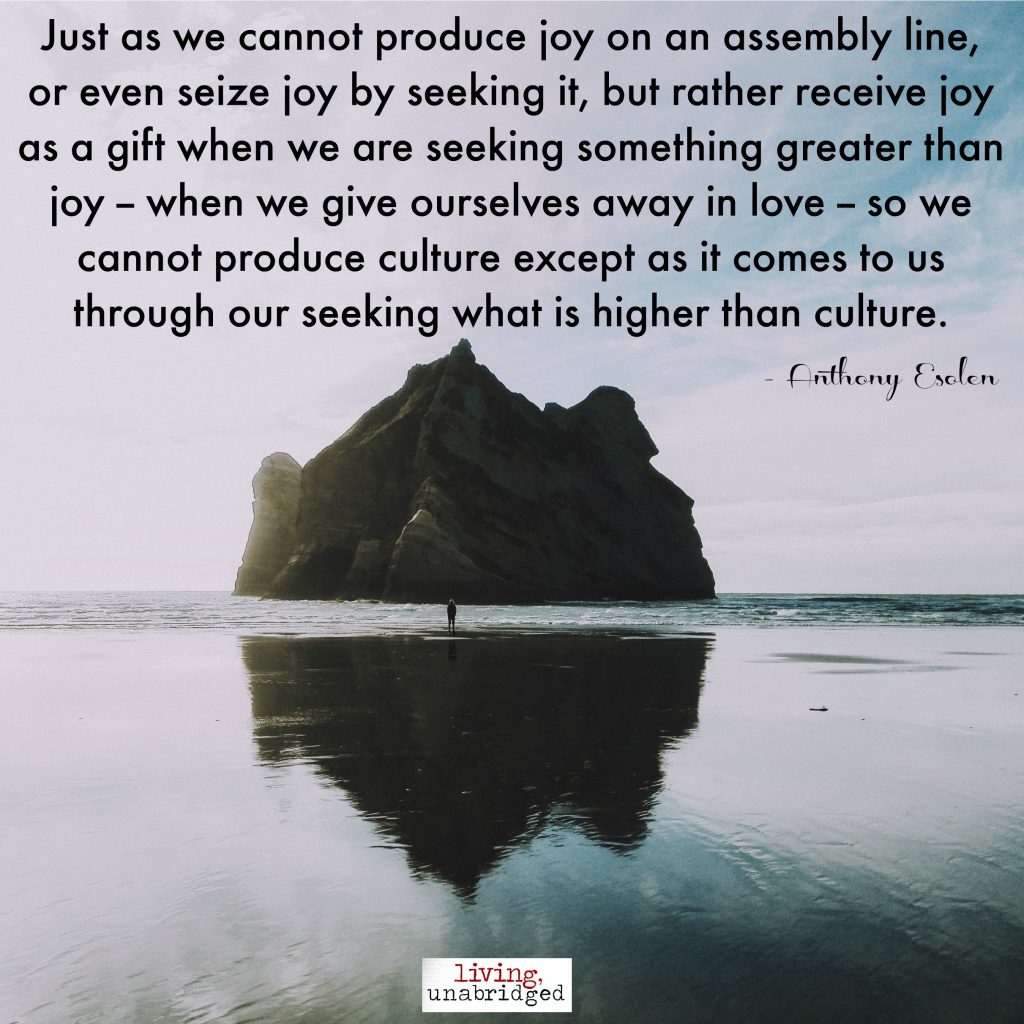 I think this is one thing that a lot of books or essays about culture wars get wrong. You cannot actually produce culture like an assembly line product. Culture (in this case I mean true, good culture) is a byproduct of seeking higher things.
I heard Professor Carol Reynolds talk about this last year: you cannot just subtract bad things. You must seek good things. You can't just say "Don't look at that, it's ugly," you must also say, "Look on this, it is beautiful" or "Consider this" or "Think on this."
That thought gives me hope. Because fixing a culture is a big task. But seeking something higher? That is what I am called to do anyway.
(And yes, I am really excited to have the chance to hear Anthony Esolen in person this weekend at the GHC.)
Recently Finished
I've been on a roll this week!

I finished my book club book The Snow Child by Eowyn Ivey. I honestly didn't love it, but we did have some interesting discussions about what things meant.
To me it felt disjointed, like the author had two different tasks : write a pioneer, wow life is hard in Alaska type story and also update a fairy tale. And for me the two just didn't mesh well.
(Off topic: I love the author's name. I tried to talk Philip into letting me name one of our daughters Eowyn, but it didn't fit our naming patterns. And hey, maybe I'll have a granddaughter named that someday though. Because my oldest is an even bigger Lord of the Rings fan than I am.)

The Little Things by Andy Andrews would make a great motivational speech, but doesn't make a great book.

Forty Autumns by Nina Willner is one of my favorite books so far this year. HIGHLY recommended if you're at all interested in post-WW2 history or history in general.

Not God's Type by Holly Ordway. In the "Secret Thoughts of an Unlikely Convert" or "Surprised by Oxford" genre, if there is such a thing. More than I ever wanted to know about fencing, and not my favorite of the genre, though Ordway is at times engaging and clever. Her rigorous logical examination in this first part of the book (from Atheist to Believer) is abandoned at the end (explaining how this Believer became Catholic).
Recently Added
I'm haven't added any because I'm making good progress on my reading stack (and still preparing an epic World War Two Books for Kids and Teens post) but my husband slipped this one into my stack:

The Death of Expertise and told me to read it next.
Current Read Aloud
We have one chapter left of The Story of the Amulet. We've been interrupted by some of our listeners not being present for various reasons.
One reason I love that my older two girls still listen to read alouds: we had a deep and fascinating discussion the other night about socialism, history, and religion all because of one chapter in this book. That's not why we read aloud, but it's a nice bonus!
Current Book to Review
None
Current Kindle Deals
This Kindle edition of the first four Betsy-Tacy books is $1.99.
Several N.D. Wilson titles are on sale right now, too. (By now most of his fans have heard that he has a brain tumor. Please be praying!)

Outlaws of Time and

100 Cupboards are both $1.99 for Kindle.
Resources for Readers:

Posts may contain affiliate links. See my disclosure policy if you have questions about this. If no images appear on this post, you may need to disable an ad blocker on your browser. If you enjoyed this post, please consider sharing it on your favorite social media sites.