In our Pinterest, Instagram, and Facebook age, it's easy to become overwhelmed with all the possibilities during the holidays. So many things to see. Far too many things to do.
Way too much money to spend.
But making family memories or traditions doesn't necessarily have to cost a lot.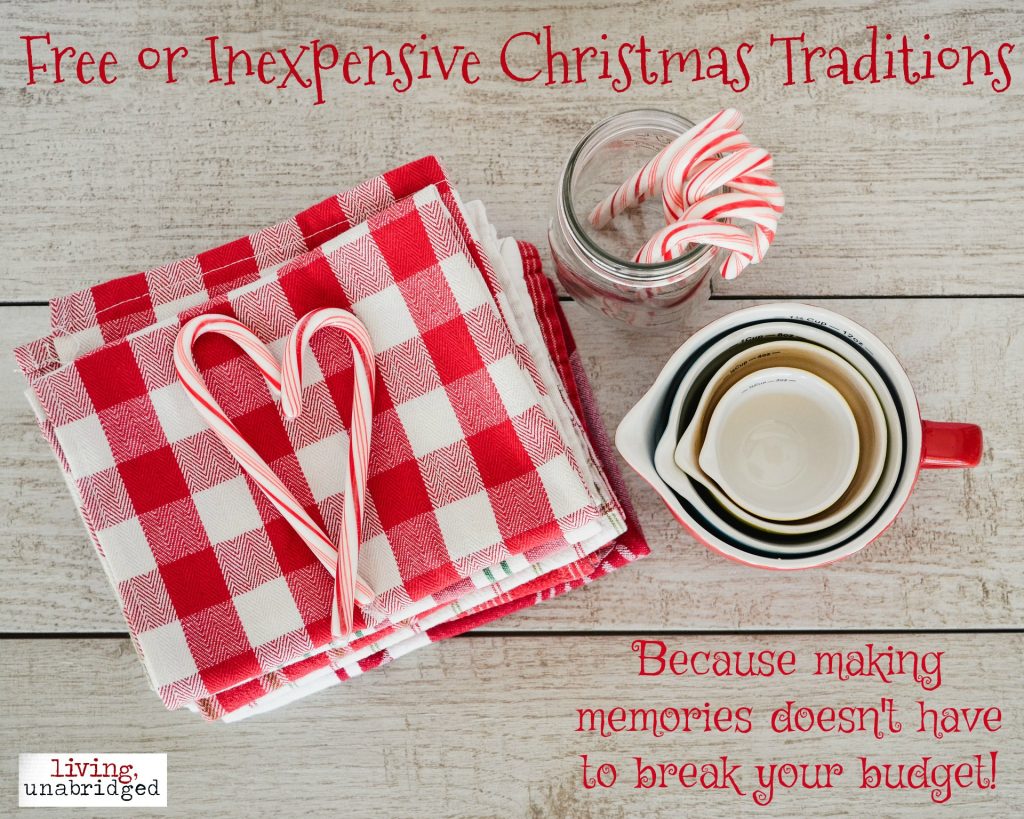 Here are a few free or inexpensive Christmas Traditions we've thought of:
Walk or drive through a neighborhood with lots of Christmas lights.
Pop popcorn on the stove. (Bonus: make popcorn and cranberry strings for your tree.)
Drink hot cocoa. Whipped cream, candy canes, and / or marshmallows will make this more festive.
Visit shut-ins at a nursing home. Sing Christmas carols, if you are so inclined. Or deliver some homemade art to brighten up rooms.
Write letters to faraway friends and family. You could include these with your Christmas cards (if you send them).
Have a Christmas movie marathon. (In your pjs, maybe? One of my children suggested watching as many versions of "A Christmas Carol" as your family can stand and then voting on your favorite. Our favorite is always The Muppet Christmas Carol, no matter how many other versions we see.)
Read aloud Christmas books. (Bonus if those stories are of simpler Christmas days gone by. See my list of Little House Christmases for inspiration.)
Attend a holiday themed program at the library. Many libraries have holiday displays too.
Attend special church services, plays, musicals, or programs.
Hold a Christmas song sing-along. (With the radio, a favorite album, or the family musicians.)
Bake cookies or other favorite treats.
Give away homemade treats to friends or neighbors.
Do an act of service for someone who could use help. Shovel a sidewalk or rake leaves (depends on what December is like where you live) for someone. Or offer to babysit while a young mom does her grocery shopping or Christmas shopping.
Do a holiday themed scavenger hunt. (Could be at a mall or outside depending on your list and the weather)
Look through old picture albums or Christmas pictures.
Help your children decorate their dollhouses for the holidays. We have a Barbie house and a Playmobil mansion. My children enjoy making Christmas trees, stockings, wreaths, and gifts for these. (If you have a boy with a train set or play town, you could do something similar with him.)
Cover your wall art with wrapping paper.
Make reusable fabric gift bags. (Watch for fabric sales, coupons, or pieces of Christmas material at thrift stores.)
Board game marathon. Or card games. Need suggestions? We've got you covered.
My children helped compile this list, but we don't do everything. No one can do EVERYTHING on this list, even if it's free.
Find Out What Traditions are Important to Your Children
Each year our family makes a "Christmas To-Do List". (Some people might call it a "bucket list".) Each child (and adult) contributes their favorite treats or activities that they really want to do / see / watch in December.
The list is a frugal thing, because there's no sense spending a lot of money to do an activity that turns out to be not a favorite with your kids. And here's a secret: the comfortable, "at home" traditions show up on our lists more than anything else.
You can make memories without spending a fortune!
And, bonus tip with one resource that could help: vintage books, like Childcraft.
Give Pinterest a rest and get inspired by the creative suggestions of yesteryear. These ideas tend to be more frugal, as a general rule. My children have made this Christmas the "Paper Chain Christmas" with paper chains in various color schemes all around the house.
(And yes, the instructions they followed came from our Childcraft books! We have this set. We have a newer set too, but I notice my kids gravitate toward the older books.)
Now, I know Living Unabridged readers are creative and thrifty. And I want this list to be longer for next year, so what are your best suggestions for free or inexpensive Christmas traditions?
I do have a Pinterest Christmas Board (of course):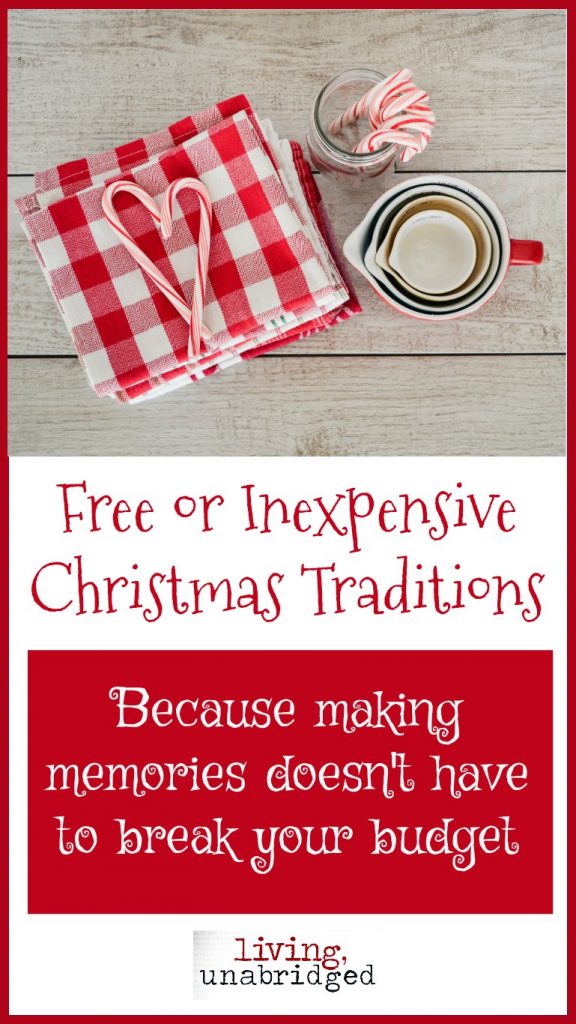 Posts may contain affiliate links. See my disclosure policy if you have questions about this. If no images appear on this post, you may need to disable an ad blocker on your browser. If you enjoyed this post, please consider sharing it on your favorite social media sites.