I didn't find this quote in something I'm reading currently, but it's inspiring me all the same: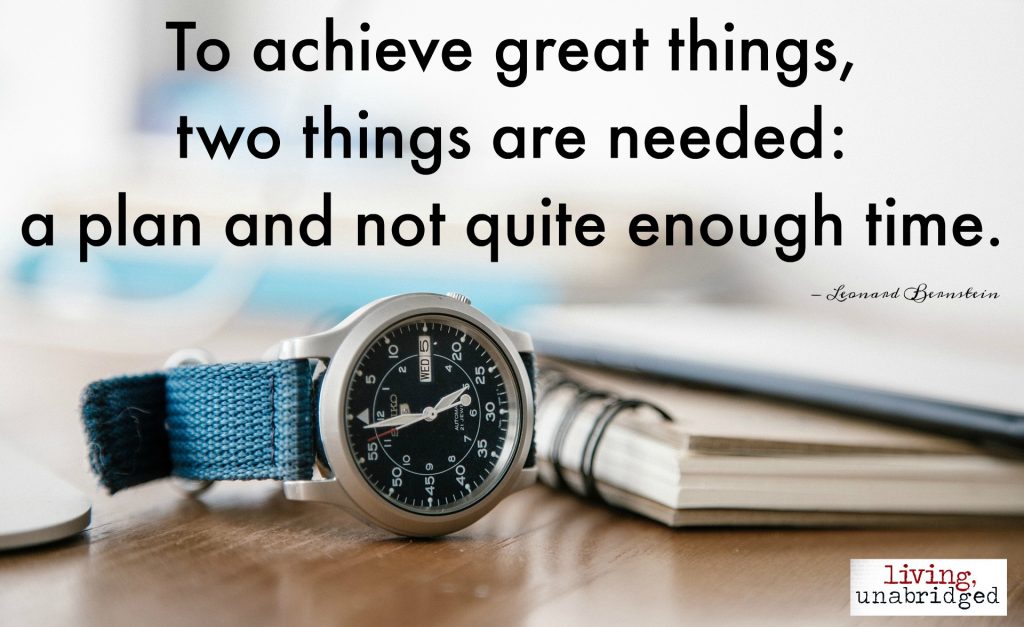 Have a plan but not quite enough time? Mr. Bernstein tells us that's the recipe for achieving great things.
True or not, it made me smile.
Recently Finished
Fahrenheit 451 by Ray Bradbury. Read for an online book club I'm participating in. I can't believe I hadn't read this before. I know I've seen the movie and I don't generally watch movies without reading the books first, but somehow this slipped through. While it's definitely of its time, it certainly continues to resonate.
Racing the Devil. Series mystery by Charles Todd. "Charles Todd" is a nom de plume for a mother-son writing team. This series is up into double digits now. The books are uneven in quality (which makes me wonder about the mother-son writing process and if I actually like one of the two better than the other), but this was a solid entry in the series and I didn't want to put it down.
Murder on the Serpentine. Series mystery by Anne Perry. I don't enjoy this series as much as the Ian Rutledge series, but mysteries are my literary comfort food and I've read most if not all the books in the series so why stop now? One thing really bugged my history nerd self in this one: she consistently referred to the Prince of Wales (Victoria's oldest son) as "Edward" or even "Edward VII", which, just NO. His name was Albert Edward, his family called him "Bertie" his entire life, and no one knew before he was King that he would choose to honor his grandfather instead of his father with his regnal name.
Recently Added
In addition to my already overgrown stack a few more series mysteries came home with me this week:

The latest Sebastian St. Cyr: Where the Dead Lie(just released in April!)

and the second Veronica Speedwell book: A Perilous Undertaking.
Current Read Aloud
We're in the last third of Rebecca of Sunnybrook Farm.
Current Book to Review
The Story Cure by Dinty W. Moore (and yes, I did a double take at that author's name).
Current Kindle Deals
Money Making Mom by Crystal Paine. $1.99 for Kindle. (Haven't read this one, but I know a lot of people appreciate the author's blog.)
Pressing Pause by Karen Ehman and Ruth Schwenk. Another popular blogging duo. Also $1.99 for Kindle.
Love and Respect in the Family by Dr. Emerson Eggerichs. $1.99 for Kindle.
Speaking of series mysteries (see above), two of the Drew Fathering mysteries by Julianna Deering are $1.99 each for Kindle: Dressed for Death and Murder on the Moor.
Particularly poignant after yesterday's news: My Word is My Bond by Roger Moore. $0.99 for Kindle. (Haven't read it, so can't advice you as to its contents.)
My children say, if your kids haven't The Green Ember by S.D. Smith yet, order it today! Mr. Smith is a family favorite and this is $0.99 for Kindle right now.
I HIGHLY recommend Forty Autumns by Nina Willner. It's an engrossing read and a steal at $1.99.
What are you reading now?


Resources:

Posts may contain affiliate links. See my disclosure policy if you have questions about this. If no images appear on this post, you may need to disable an ad blocker on your browser. If you enjoyed this post, please consider sharing it on your favorite social media sites.