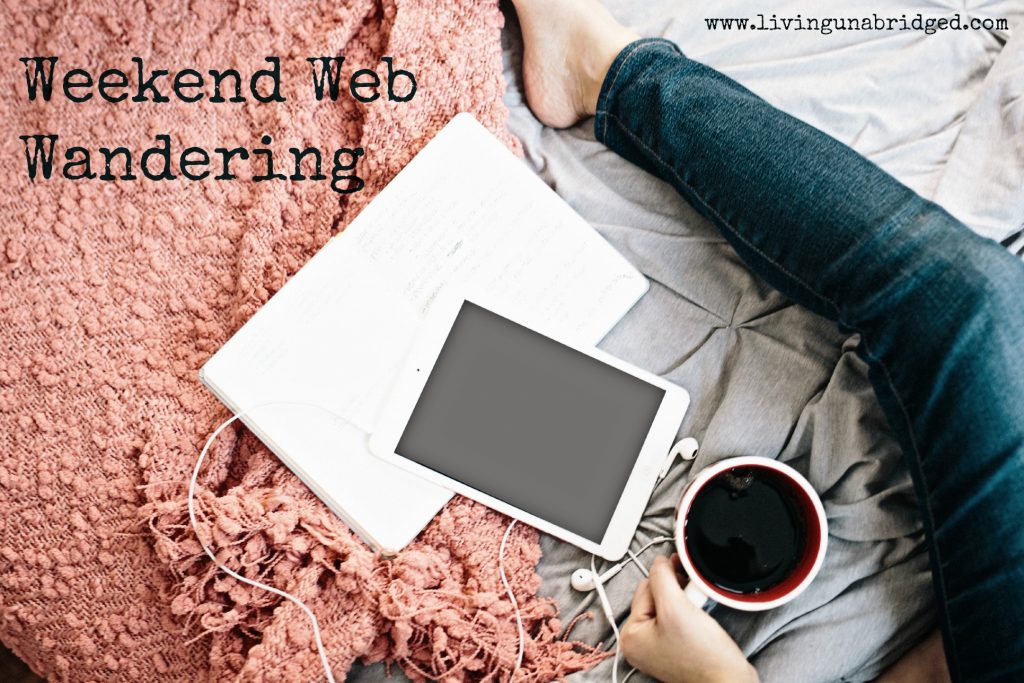 We've had a full weekend already, with a visit from my husband's parents, a trip to a Children's Museum one state over, and then I got out this morning for a Homeschool Used Curriculum Sale. (Curriculum being one of the few reasons I'll get up earlier than I have to on a Saturday. File under: "you might be a homeschool mom if"). Later today I need to pick up some furniture I bought from an online auction site.
And spring is here, even if it's a little chillier than we'd like. All in all, good times. But enough about that, on to the links:
Learning
Living
A Dad "Stuck" With Daughters by Will Odom at The Humbled Homemaker. I appreciated this post. We have a son now, and a son on the way, but my husband was a wonderful father even when we were "stuck" with only girls. Part of me can't believe these attitudes persist in our day, but unfortunately, they do. So thankful for the fathers who love their daughters and make sure they know it.
I Saw Way Too Much Online Today…and I Wonder if Your Child Did Too by Jennifer Ebenhack for The Better Mom. We cannot ignore this problem because it will not ignore us, or our kids. We have to play offense and defense. (Or something like that. Sports analogies are not my forte.)
We Live in an Age of Irrational Parenting by Jennifer Senior at Science of Us. Want to fix this? Have more kids and start younger.
Loving
This week at Living Unabridged we talked about Enjoying the Journey in Homeschooling, shared a quote about The Quality of Redemption in Art (and my dwindled down book stack), and a review of Jen Wilkin's fabulous book Women of the Word.
What caught your eye this week? Is it Spring in your neck of the woods yet?
Posts may contain affiliate links. See my disclosure policy if you have questions about this. If no images appear on this post, you may need to disable an ad blocker on your browser. If you enjoyed this post, please consider sharing it on your favorite social media sites.