Can you believe it's August already?! It's a busy time with back to school type things but also…a long awaited trip is coming for me at the end of the month. Yes, Philip and I are planning to travel back to the UK and see a bunch of things we didn't see last time. (10 years ago!)
But there's plenty to do before that happens so more on that later.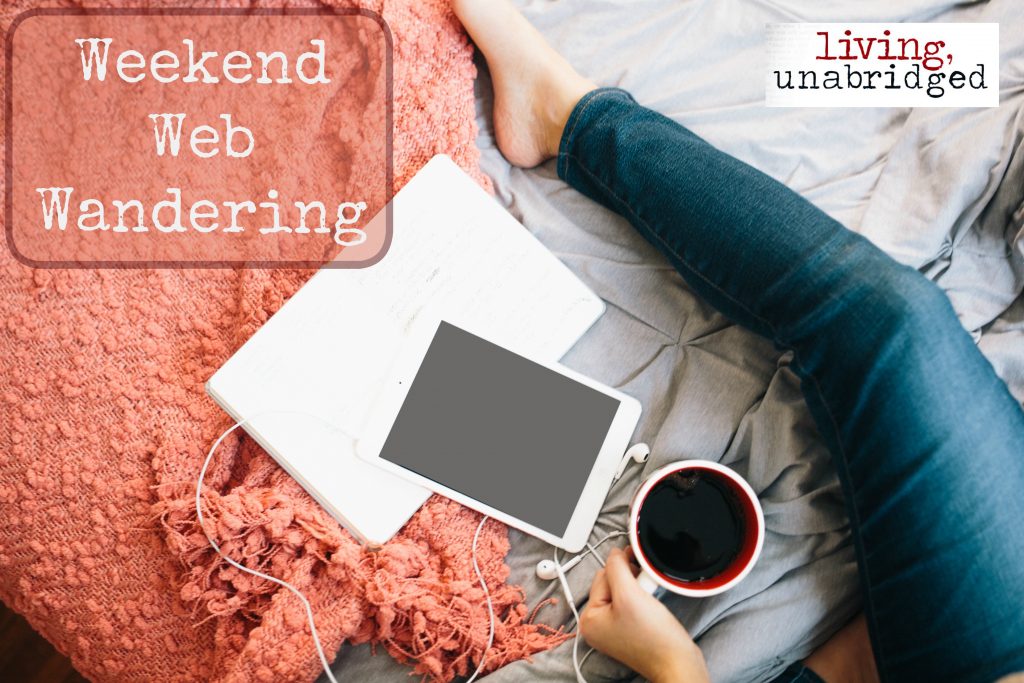 1. The Life Changing Magic of Making Do by Benjamin Leszcz in The Globe and Mail. Another perspective on the "tidying-up" mania.
2. Somewhat related to the above: The Gap Between More and Enough Never Closes by Kristen at The Frugal Girl.
3. My skepticism justified: Do Sleep Trackers Actually Work? by Julia Ries.
4. I want to read this book but meanwhile, the review is intriguing. The Internet is Changing the English Language. Is that a good thing? by Katy Steinmetz for Time.
5. Made me laugh (language warning): List of Things You'll Never Hear a Three-Year-Old Say by Olivia Appleby at McSweeneys.
Josh Harris made pretty big headlines in the Christian world recently. Here are four different takes that I found interesting and / or helpful to consider:
6. Joshua Harris and Perils of Idolatry by Janie at Redeemed Reader.
7. Whither Evangelical Purity Culture? Thoughts on the Legacy of a Lost Pastor by David French at National Review.
8. Sex Ethics After Purity Culture: What Do the Critics Want? by Matthew Lee Anderson at Mere Orthodoxy. The significant disagreements between David French and Matthew Anderson are worth consideration in this whole debacle.
9. Another SGM Survivor Speaks Out Regarding Josh Harris posted at Spiritual Sounding Board.
10. I think I'd like my teen daughters to read this article about marriage just as a discussion starter: I Called Off My Engagement by Lore Ferguson Wilbert at CT.
11.Ever wonder what all those political promises would actually cost? Brian Riedl answers: American Might Be Ready for Democratic Socialism. It's Not Ready for the Bill.
12. Articles like this just make me sad: Elementary Education Has Gone Terribly Wrong by Natalie Wexler in The Atlantic.
From Living Unabridged
Recent: Books of 2019 – July
One year ago: Thoughts on Re-Reading Austen
Two years ago: Mystery Series to Binge Read
Three years ago: Why Living Unabridged?
Four years ago: The Gift of Time
When you share any post from Living Unbridged on your social media or use my affiliate links, you help pay the hosting fees and keep this little space available on the web, so thank you!

Posts may contain affiliate links. See my disclosure policy if you have questions about this. If no images appear on this post, you may need to disable an ad blocker on your browser. If you enjoyed this post, please consider sharing it on your favorite social media sites.