So, you have someone on your list who loves books. They read them, maybe they write them, they love the library, the cashier at Barnes and Noble knows them by name…you get the idea. You want to get them something they'll love, but buying them a book seems risky. 1) They already have a lot of books. 2) You have no way of knowing if they already have the book you're thinking about buying 3) You want to branch out from Amazon or B&N gift cards.
What to get instead?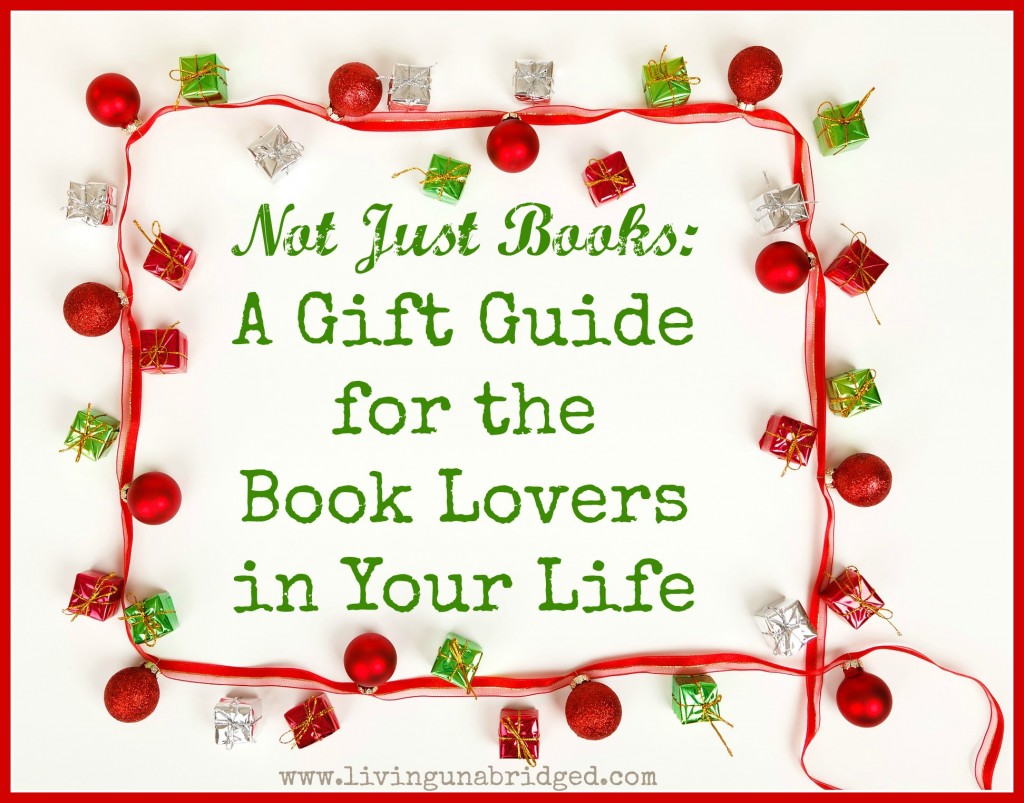 Images may be links and they are for illustration purposes only. Please don't pin these images from here – visit the original sites and give the creators some link love. Prices were accurate at the time of writing, but subject to change. See disclosure page for more information about affiliate links.
I put this list of suggested gifts together for the Book Lover(s) in your life, divided by Men, Women, Children, & Anyone. (Please don't get too hung up on these divisions. If you have a female Dr. Who friend, she'd probably love #1 from the Men's section. You know your Book Lover best.) I tried to keep everything under $100 and most items are under $50. And if you're the crafty type, you may want to consider some of these items as inspiration for your own book related project. You might save some cash, and the item you come up with would be more meaningful to the recipient.
Gifts for Men Who Love Books
1.Doctor Who Book Light & UV Pen
. $14.69
2. The Maps of Tolkien's Middle-earth
. $22.70. Gorgeous maps in a lovely slipcover case.
3.Gentle Giant Imperial Seal Bookends
$75.98 from Amazon but also available at Think Geek. If your husband's Star Wars books collection is falling over, you might need these bookends.
4.Portal 2 Bookends for Shelf and Books
. $34.67. The cake may be a lie, but the truth is everyone needs some bookends.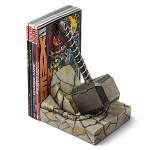 5.Thor Hammer Bookend from Think Geek. $99.99. Pricy, but perfect for that graphic novel collection.
6.William Shakespeare's Star Wars
. Hardcover is $8.49 from Amazon, also available for Kindle. The Bard meets George Lucas and the results are, of course, epic.
7.BARSKA Real Book Gun Safe
. Looks like a harmless edition of Pride and Prejudice, packs an even deadlier punch than Miss Austen's dry wit.
8.The Book Was Better T-Shirt
$20.99 – available in any color you might want. Proudly announce the truth.
9.Ain't No Party like a Gatsby Party T-Shirt
$24. You don't have to be a big Fitzgerald fan to think this is funny.
10.CHAPTER XVI THE BOOK for iPhone 5 / 5S – Genuine Vintage Leather iPhone 5S Case with Wallet
$35
Gifts for Women Who Love to Read
1.Book Club Classic Necklace from Mod Cloth. $24.99. Reminiscent of all those charm bracelets you loved as a kid.
2. The Definition of Darling Wallet from Mod Cloth. $52.99. A lovely wallet that looks like a dictionary.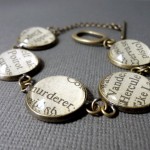 3. Literary Bracelet from Bookity (Etsy). $39.95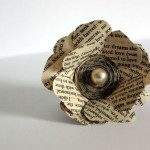 4. Book Flower Brooch from Bookity (Etsy). $28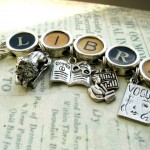 5. Librarian Charm Bracelet from A Likely Story (Etsy). $39.95
 6. Stack of Books Earrings from Coryographies (Etsy). $24.29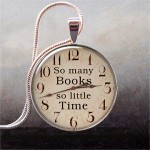 7. So Many Book, So Little Time Pendant from The Pendant Emporium (Etsy). $9.25.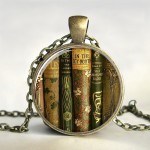 8. Library Book Necklace from Doony and Moony (Etsy). $14.50
9. Pride and Prejudice Tote Bag. $19.99. Also available in blue:Out of Print Canvas Tote – Pride & Prejudice Navy
. You can never have enough tote bags. And this is a beautiful example.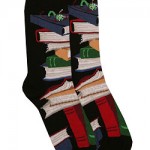 10. Book Socks from Stop Falling Productions. $9
11."Library Card" Literary Socks
$14.95
12.Out of Print Women's T-Shirt — Pride and Prejudice
$28
13.Infinity book scarf with a quote from Pride and Prejudice
$36. (Other scarves with different quotes also available)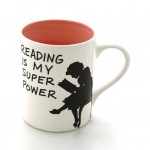 14. Reading is my Superpower Mug from Lenny Mud (Etsy). $16. I love this one. If I have a superpower (other than being able to nurse an infant, restrain a toddler, and give a tween a piano lesson ALL AT ONCE), this is it.
15.Jane Austen Note Cards – Pride and Prejudice
$10.08. Bring back the art of letter writing on these lovely notecards.
16.Jane Austen Pocket Pads
$19.53. You never know when you might need to write down some bit of dialogue or an interesting turn of phrase.
Gifts for Children Who Love Books
1.Bookworm Journal: A Reading Log for Kids (and Their Parents)
$11.07. A fun way for kids to keep track of their reading.
2.Personal Library Kit
$13.45. Your little bookworm will love setting up their own library. (Side note: if you're in the habit of lending out your personal library, you may want this set for yourself. "Uh, Jane, do you realize that the Hunger Games copy I loaned you is overdue?")
3.Little Librarian
 $19.99. Another fun kit for playing librarian.
4.Mark-My-Time Digital Bookmark Purple
$8.44. This would be a fun tool for kids who need to track how long they're reading.

5.Lego 71001 Series 10 Minifigure Librarian
You know your child's Lego World needs a librarian. Wouldn't be civilized without one, right?
6.Accoutrements Jane Austen Action Figure
$11.15. The Avengers have nothing on Miss Austen. Let this seemingly mild mannered author keep peace among the Hulk, Iron Man, and Captain America.
7. Onesies: Madeline
,Goodnight Moon
, and The Very Hungry Caterpillar
. Every baby needs as many onesies as you can fit in their dresser drawer. Some of them might as well proclaim some of your littlest bookworm's favorite books.
8.The Very Hungry Caterpillar Melamine-Dishes and Cup
$18.54. For coaxing the toddler to eat. (Might go something like this, "Here, don't you want to eat this fruit? The Very Hungry Caterpillar loved fruit. Try a bite, like the caterpillar, please?")
9.Eric Carle Wooden Puzzles – 1,2,3 to the Zoo 4 in 1 Wooden Jigsaw Puzzle Box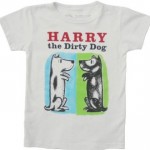 10. Harry the Dirty Dog T-Shirt
. $18.99. Everyone loves Harry.
Gifts for Anyone Who Loves to Read
1. Olde Book Pillow Classics from Think Geek. Who wouldn't love snuggling up with a pillow shaped like a favorite book?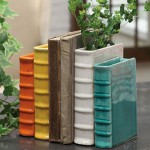 2. Terra Cotta Book End Vases from Elizabeth's Embellishments.  $20.95. Beautiful and functional.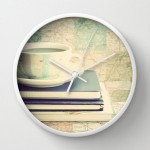 3. Book Lover Wall Clock from The Accessory Corner (Etsy). $49. This shop also has other book clocks.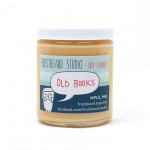 4. Book Lovers Soy Candles from Frostbeard Studio (Etsy). $15 The titles of these candles makes me want them all: Oxford Library, Sherlock's Study, and Dumbledore's Office being just a small sample.
5. Book Shaped Plates and Dishware from Gone Reading. Prices Vary. I think these are gorgeous.
6.Great First Lines of Literature Mug
$14.95. There's more than one way to wake up your brain in the morning.
7.Novel Teas contains 25 teabags individually tagged with literary quotes from the world over, made with the finest English Breakfast tea.
$14.95. To go in your First Lines of Literature mug (#6 above), of course.
8.Bamboo Bathtub Caddy with Extending Sides
$39.95. Because reading in the tub is only relaxing if you're not worried about your book falling in.
9.CafePress Book Shelf Throw Blanket
$44.99. Because a cold day is perfect for snuggling down with a book.
10.Mighty Bright TravelFlex Book Light, Black
$11.69. Perfect size and handy clip on.
11.BookBones®- Weighted rubber bookmark
. $8.95. Keep those cookbooks open, or anything else that's prone to shutting.
12.It Was a Dark & Stormy Night – A Game of First Lines for People Who Love to Read
$39.95
13.Book Lover's Memory
$18.85
14.Jenga: Book Lovers Edition
$14.72
15.White Mountain Puzzles Best Sellers – 1000 Piece Jigsaw Puzzle
$12.62
16.Magnetic Poetry Kit: Book Lover
$9.99
17.Magnetic Poetry Refrigerator Magnets: Pride & Poetry
$18.28
18. White Mountain Puzzles Old Book Store Jigsaw Puzzle (1000-Piece)
$16.49
19.Postcards from Penguin: One Hundred Book Covers in One Box
$21.25. Maybe these book cover postcards will help inspire us to bring back the handwritten note. (Don't you love when you get mail that isn't a bill or an advertisement?) Bonus gift idea: art made from Penguin Postcards, and idea from Modern Mrs. Darcy
20.Card Catalog: 30 Notecards from the Library of Congress
$17.95. More beautiful notecards. (And oh, how I long for a real card catalog of my own! #bibliophileconfessions)
21.Pride and Prejudice poster – Typography Art Print – 24W x 30H inches
$26.95 or:

Pride and Prejudice Poster – Full Text Typographical Artwork of Jane Austen's Book on Readable Poster
$32.99. OR:

Pride and Prejudice – Full Text Poster – Spineless Classics – Jane Austen
. There you go. Three posters of a beloved favorite featuring the original text with Austen's original words.
22.The Hobbit- Full Text Poster – Spineless Classics -J.R.R. Tolkien
. Just in case your Book Lover's taste runs more to fantasy than Regency romance.
23.Eccolo World Traveler READ Case for eReaders
$18.84. My favorite Kindle cover that I have used with a Kindle Fire.
24.Mobiflare Apple iphone 5S / 5 Vintage Library Card Snap on Artistry Design Case
$9.99. I don't have an i-anything (other than my kids, whose names start with I), but if I did, I'd like this cover.
25. Composition Book Tote from Mod Cloth. $19.99. Remember when I said you could never have too many tote bags?
26."Library Card" Canvas Tote Bag
$22. Ahem.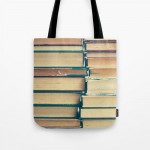 27. Tote Bag from The Accessory Corner (Etsy). $33. This shop has other book print tote bags too.
Here are my favorite places to shop for gifts for book lovers (in other words, ahem, myself):
Etsy. So many great shops with a literary theme, the only problem will be narrowing it down. I've gotten you started with a few of my favorites. Do be sure to order early if you're wanting a custom piece of jewelry. The crafter has to have enough time to create your piece.
Library gift shops. Our downtown library has a fabulous gift shop. I've seen (and purchased) many of these items there. Win-win: great gifts for book lovers and you're supporting a vital local business. Does your library offer something similar?
Local bookstores. Bookstores carry so much more than just books. Find a locally owned bookstore and check out their offerings.
And of course: Amazon. If you can't get it from Amazon, you might not need to get it. They have everything, the prices are usually competitive and shipping is a breeze (although not as easy to get free, unless you're a Prime member, which I am not)
Do you have a Book Lover on your gift list?
What are your favorite gifts, other than books, for someone who loves to read?
More gift list ideas from some of my blog friends:
Posts may contain affiliate links. See my disclosure policy if you have questions about this. If no images appear on this post, you may need to disable an ad blocker on your browser. If you enjoyed this post, please consider sharing it on your favorite social media sites.