Ready for some inspiration in the new year? This Chesterton quote is in my commonplace book to kick my perfectionist self in the…well, you know.
If you want to read more about the context of this quote see The American Chesterton Society.
Here's my takeaway: if there's a thing worth doing (a worthy endeavor) then I need to do it. I don't need to do it perfectly. And I shouldn't wait until I know everything, or how to do it perfectly, or until I understand the subject perfectly: I just need to do it.
And yes, I believe in striving for excellence. But for those of us who are recovering perfectionists, sometimes we just need to start, you know?
Recently Finished
I was in a book finishing slump until December. Then I finished eight books:

The Disappearing Spoon by Sam Kean (Fascinating but problematic. Read primarily to discuss with my oldest, who is taking Chemistry this year because this was on her required reading list.)

The Magnolia Story by Chip & Joanna Gaines (Interesting because Joanna and I have a mutual friend – shout out to Julie, if she's reading this! – and I love Fixer Upper. But it's not otherwise groundbreaking reading. It made a great read on a car trip and I read a lot of the funny anecdotes out loud to my husband.)

Skin & Bone by Robin Blake (reminiscent of the Sir John Fielding series, but slightly gorier and with more cursing.)

Hamilton: The Revolution (Hamilton is my new love, y'all. And Lin Manuel-Miranda, too. Warning: the musical does contain cursing so head's up on that. There is a "clean" version but it's really not cleaned up all that much. Dear Whomever is in Charge of These Things, please, please release a kid friendly version ASAP. Please and thank-you!)

Hillbilly Elegy by J.D. Vance. Perhaps because I live in Cincinnati and have some similar roots as the author, I'd wanted to read this all year. It did not disappoint. It's a devastating memoir. And I have Thoughts, but those will wait for another time.

Absalom's Daughters by Suzanne Feldman (I'm really not sure why this caught my eye since I'm not a Faulkner fan, but it did. Parts of it are really well written but I could have done without the "magical realism" bits and the ending just peters out.)

Alexander Hamilton and the Persistence of Myth by Stephen Knott. I believe I mentioned that Alexander Hamilton is my latest obsession (above).
This book was written before the Hamilton revolution and attempts to set the record straight after the years of slander – rumors that were started by John Adams and Thomas Jefferson.
I'm not sure what Mr. Knott thinks of the new interest in Hamilton, but I hope he's pleased. Anyway, this is a good read if you're interested in the subject.

A Most Extraordinary Pursuit by Juliana Gray (reminded me a bit of vintage Elizabeth Peters / Barbara Mertz, which is a good thing. Light little mystery, some supernatural elements, possible time travel, Greek myths…what's not to like? I'll probably watch for the next book in the series.)
Thanks to illness, I've finished one book in the New Year. The latest Agatha Raisin mystery which was…meh. Lots of telling instead of showing, a bunch of random things happened, and if this was the first book in the series instead of the 27th (!) I wouldn't care to read more.
Recently Added
Washington and Hamilton: The Alliance that Forged America by Stephen Knott. *cough*
Current Read Aloud
Here I must shamefully admit that we haven't started back reading aloud in the evenings. *hands head in shame* But, in my defense, we've had a lot of sickness, strange sleep schedules, and movie watching going on.
I'm not sure we're going to pick The Rescuers back up. We may leave that as a "read on your own" book and start a different read aloud.
Current Book to Review
Haven't ordered any yet.
Current Kindle Deals
Fierce Convictions by Karen Swallow Prior is a must read. And with a $0.99 price tag right now, it's a must buy. This biography will be great inspiration in the New Year. (Find my review here.)

The Guenrsey Literary and Potato Peel Pie Society by Mary Ann Shaffer and Annie Barrows is my most favorite Austen-esque book of recent years (I own more than one copy!). $1.99 for Kindle right now.

I've mentioned before my love of period British writers like D.E. Stevenson and Elizabeth Cadell. Amazon has two Stevenson books on sale for $0.99 right now: Amberwell – which I haven't read and Shoulder the Sky – which I have.

Walter Lord's classic about the Titanic, A Night to Remember, is $1.99 for Kindle this month.

Trigger Warning: Short Fictions and Disturbances is a collection of short stories by Neil Gaiman. Also $1.99 for Kindle right now. Gaiman is not for everyone, and I find his writing inconsistent, but my husband enjoys these. (My personal favorite book by Gaiman is Stardust, which is a bit frothier than some of his other writing.)
So, it's a new year. What are you reading?


Resources for Readers:
A great way to read more in 2017 might be to add some audio books to your routine:

Or you could stock your Kindle with Kindle Unlimited (you can get a free trial if you're unsure how it works):

You can take advantage of Kindle deals, even if you don't own a Kindle:

Check out the warehouse deals from DaySpring:


Build your personal library frugally with Dover Books:


Linking up with: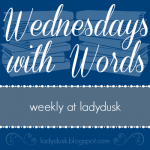 Posts may contain affiliate links. See my disclosure policy if you have questions about this. If no images appear on this post, you may need to disable an ad blocker on your browser. If you enjoyed this post, please consider sharing it on your favorite social media sites.