After the convicting (and encouraging) thoughts from the GHC (see this post if you'd like to read some of my favorites), I returned to this thought from my commonplace book: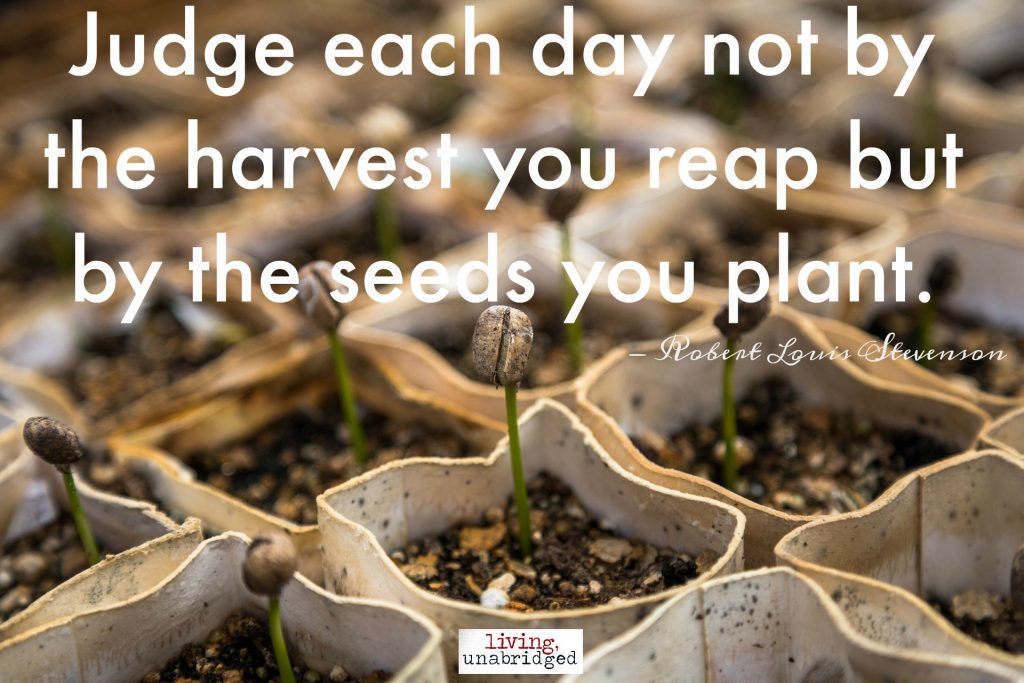 Not that we should never consider the harvest, but each evening I can ask myself, "What did I plant today?" and that will encourage me in the actions I take the next day.
Results are not guaranteed in homeschooling (or parenting either). But that doesn't mean I can't plant seeds.
I can't guarantee my children will love classical music, or Latin, or beautiful art, or good books. But I can plant those seeds.
I am not a gardener by any means. (My grandpa and mom have green thumbs, but it must have skipped a generation in me.) In real life, I've only ever kept one houseplant alive.
That doesn't stop me from loving gardening analogies for homeschooling or parenting. (Someday I'll have to write a post about the analogies I hate, for instance: education as a monastery. Ugh. I shudder every time someone mentions it.)
Recently Finished
Due to travel I didn't get much reading done, although I did manage to pre-read a few books for my still upcoming World War 2 Books for Kids and Teens post.
Recently Added
I browsed my husband's office shelves and added three to my stack:

Selina: Countess of Huntingdon by Faith Cook is a biography that my parents gave me years ago. I started it but never finished and want to give it another try.

Christ and Culture Revisted by D.A. Carson.

An All Around Ministry by C.H. Spurgeon.
I'm not planning on rushing through any of these. Slow reading is difficult for me, but it seems appropriate for theological books. (And yes, I'm trying to deliberately plant some good seeds in my own life, as well.)
Current Read Aloud
We chose Rebecca of Sunnybrook Farm by Kate Douglas Wiggan. The girls are enjoying it, although the first chapters were light on plot and heavy on description. Trying to do a Maine or Yankee accent is taxing my reading aloud abilities, and I suspect my efforts are more Southern than Northern, but the girls don't mind.
Current Book to Review
Nope.
Current Kindle Deals
I'm thrilled that Forty Autumns is a monthly kindle deal. ($1.99) Highly recommended!

The Crown and the Crucible by Michael Phillips and Judith Pella is free for Kindle today. If you read Christian Fiction in the '90s, you've probably heard of these authors. As a team and separately they wrote scores of novels.

Love and Respect in the Family by Dr. Emmerson Eggerichs. I haven't read this but a $1.99 price tag makes it worth mentioning.
Reader Resources:

Posts may contain affiliate links. See my disclosure policy if you have questions about this. If no images appear on this post, you may need to disable an ad blocker on your browser. If you enjoyed this post, please consider sharing it on your favorite social media sites.