Today's quote is from Paul Lockhart's A Mathematician's Lament: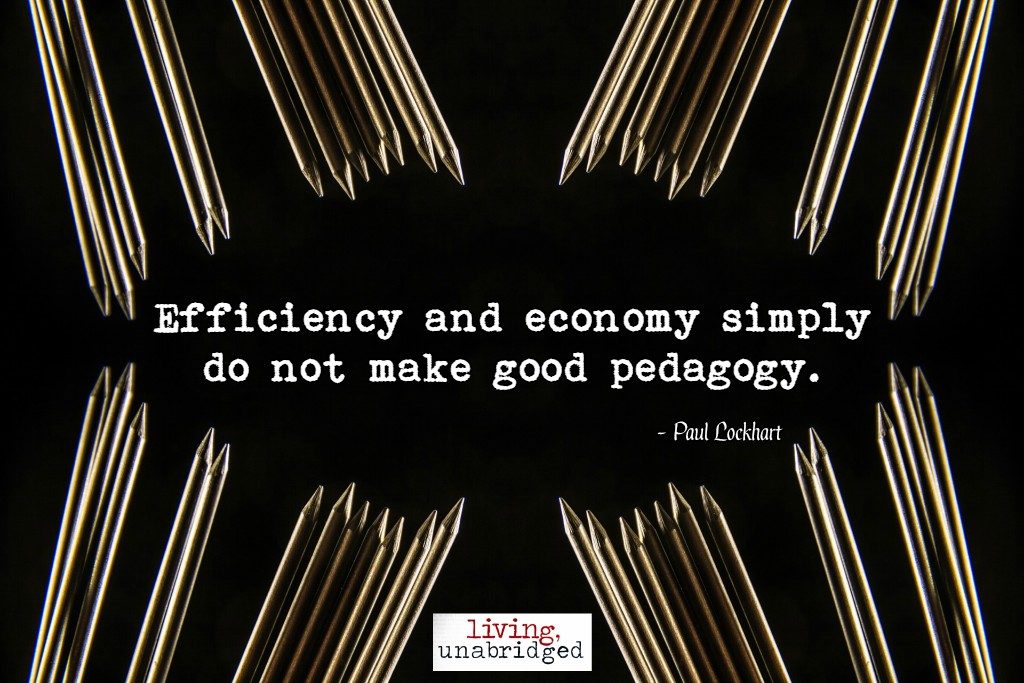 So, let's define terms first.
Pedagogy means the art, science, or profession of teaching.
Being efficient means an effective operation as measured by comparison of cost (as in energy, time, or money)
Economy in this context means a thrifty use of material resources.
With all those definitions it sounds like Mr. Lockhart concurs with John Holt who said, "There isn't any known way to bulk educate; it's all custom work."
It's so easy to become focused on being efficient even in our homeschools.
But what if that's not the point?
Is it wrong to be efficient or economize?
Not necessarily. But those principles cannot be the foundation of our pedagogy.
Paul Lockhart was writing about mathematics specifically, but I obviously believe there's a broader application.
Currently Reading
My stack hasn't changed much. I'm keeping up with my slow reads and also working on depleting my stack.
Recently Finished
Since last week I've finished one:

Alice: Princess Andrew of Greece by Hugo Vickers. Alice was a granddaughter of Queen Victoria and the mother of Prince Philip, Duke of Edinburgh. She lived a fascinating life, witnessing first hand much history (Queen Victoria, WW1, WW2, etc.) This is a well written, information packed biography, the type with extensive footnotes (and each footnote could probably be an article or book on its own). Recommended if you like reading about the British royal family or history.
Recently Added
The Woman Who Smashed Codes by Jason Fagone. Haven't started it yet, though.
Current Read Aloud
Pippi Longstocking by Astrid Lindgren. This edition illustrated by Lauren Child jumped into our cart at the thrift store recently. None of us had read it before (although I vaguely remember a movie when I was a kid).
We're enjoying the story but one of my daughters said, "You know, I don't think I LIKE Pippi. But the story is funny."
Kindle Titles That Caught My Eye
A Twaddle Free Education is $0.99. (Free with Kindle Unlimited.)
Love and Respect in the Family is $1.99 right now.
The Weight of Glory by C.S. Lewis is $1.99.
Today is Edith Wharton's birthday. I found this Kindle edition of 14 of her novels for $1.99. I don't know if the formatting is good or not, but it seems worth a shot. (The most important birthday on Jan 24 is, of course, my husband's! But he hasn't written any books…yet.)
Posts may contain affiliate links. See my disclosure policy if you have questions about this. If no images appear on this post, you may need to disable an ad blocker on your browser. If you enjoyed this post, please consider sharing it on your favorite social media sites.