We're continuing our "classic games" section of this series with another old card game.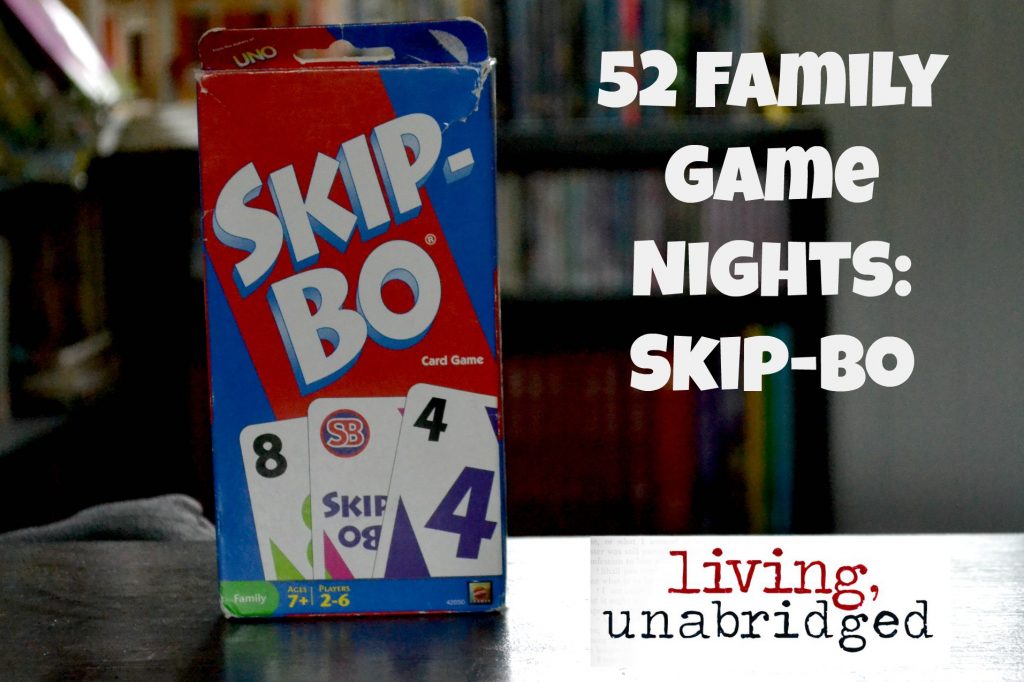 Family Game Night #18: Skip-Bo
The Skip-Bo box says "From the Makers of Uno" but my (perfunctory) research tells me that Skip-Bo is actually older by a few years. Either way, it's definitely got some similarities to Uno.
I remember some great games of this when I was young, so it's got the nostalgia factor. There's very little reading (just numbers 1-12 and Skip-Bo cards), so even young family members can play. And it's easy to play teams, which is actually my favorite way to play. There are some similarities to Dutch Blitz, too, in that players are building up stacks of cards in sequence. But everyone has to take turns with Skip-Bo so it's not as crazy as Dutch Blitz (and that could be good or bad depending on your gaming mood).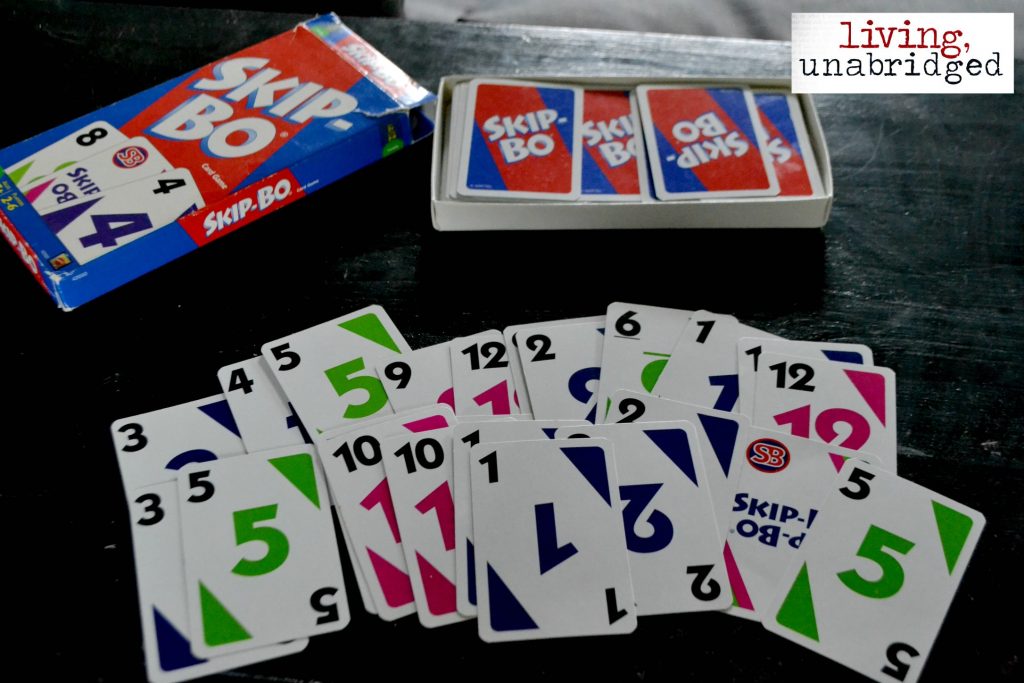 The basic point is to get rid of the cards in your own stock pile. You also have cards in your hand that you can play, and your own discard piles. The rules say that stock piles are to be 20 or 30 cards depending on the number of players, but my family has rarely played that many. You can vary the game by having each players' stock pile be 10, 12, or 15 cards instead of 20. (This also makes for a shorter game.)
If you're in the mood for strategy and deep game playing, this is not your best bet. But if you're in the mood for a simple card game that almost anyone can play, this could be a great choice.
There's a Junior version, but I don't think it's necessary since younger children can easily play the original. This one is easy to find at yard sales and thrift stores, but with a price tag under $10 it's not going to hurt your budget too badly even if you buy it new. (I must admit that I'm partial to the older cards. It's that nostalgia thing again.)
Summary of Skip-Bo
Number of Players:2-6
Recommended Ages: 7+ (we've played with younger, probably 4 or so)
Reading Required: No
Have you played Skip-Bo as a family? Do you prefer singles or teams?
Posts may contain affiliate links. See my disclosure policy if you have questions about this. If no images appear on this post, you may need to disable an ad blocker on your browser. If you enjoyed this post, please consider sharing it on your favorite social media sites.