We've been getting back into our "usual" routine. By usual, I mean: school work completed on a regular basis, one day of homeschool co-op, various extra activities (ballet class, working at the library, etc.), and whatever else passes for "normal" in a family of eight.
We've added some things this year (the 16 year old has a real job, we're babysitting cousins two days a week) and we're definitely getting up earlier most days (our co-op now starts 30 minutes earlier). But, most members of this family are settling into the new routine. Which sometimes looks like no routine.
It's a busy season. But a good one. And I hope the same is true for you.
On to the links!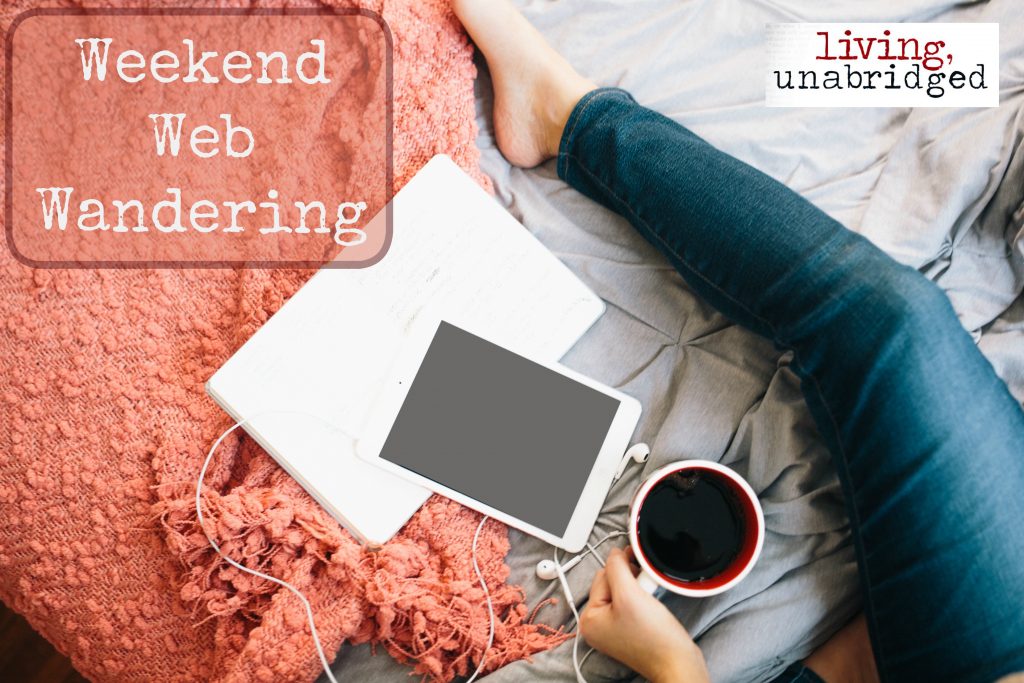 Learning
Wandering from Room to Room: Waugh, Caldecott, Socrates, and an Aesthetic Education by Hannah Hubin at CiRCE.
Why You Should Consider Ditching Your Set Start Time by Kara at Simple Homeschool. Co-sign.
The Mystery of People Who Speak Dozens of Languages by Judith Thurman at The New Yorker. I love languages and wish my mind worked this way. Meanwhile, I'll just keep exposing my kids to Latin, Greek, French, and Spanish and hope the familiarity will help them later on if they want to pursue these studies.
Old English and a New Cuss Word: On Word Choice by Jonathan Rogers at The Rabbit Room. Fascinating and kind of bursts the classical lecturers' on Latin a bit.
I don't agree with all the points in this, but it's worth considering: The Book World is Getting Way Too Politicized by Anna Mussmann. (I would also probably argue that it's always been political…)
Living
The High Calling of Bringing Order from Chaos by Tim Challies.
Wrestling the Giant: Why I Deleted Instagram by Andrew Peterson at The Rabbit Room. Thoughtful, as expected.
How Cultural Attachments of Yesterday Diminish Our Effectiveness Today by Jeff Christopherson at CT.
Loving
Beauty Beyond the Reach of the Shadow by Amy Baik Lee at The Rabbit Room.
Job's Most Beloved Verse May Be Different Than You Think by Gordon Grose at CT. I appreciate anything that helps me dig deeper than the surface in Bible study.
Museum Visitor Falls into Giant Hole. Modern art can be dangerous. *wink*
Hamilton: Healing Balm for Restless Immigrants by Moses Lee at TGC. Our family's obsession with Hamilton continues so anything like this catches my eye.
From Living Unabridged
Recent: Not Back to School 2018 Student Interviews
One year ago: Reading About Race and Slavery
Two years ago: Family Game Nights: Revolution!
Three years ago: The Hardest Part of My Homeschool Year
Four years ago: Three Simple Ways to Save a Bad Day
Have a great weekend!
Posts may contain affiliate links. See my disclosure policy if you have questions about this. If no images appear on this post, you may need to disable an ad blocker on your browser. If you enjoyed this post, please consider sharing it on your favorite social media sites.