November seems like it flew by. (I feel like I say that every month, but every month it is true.) I usually post a month in review on the last Friday of the month, but last Friday I shared a gift guide instead (Book Lovers Gift Guide 2015) in honor of Black Friday.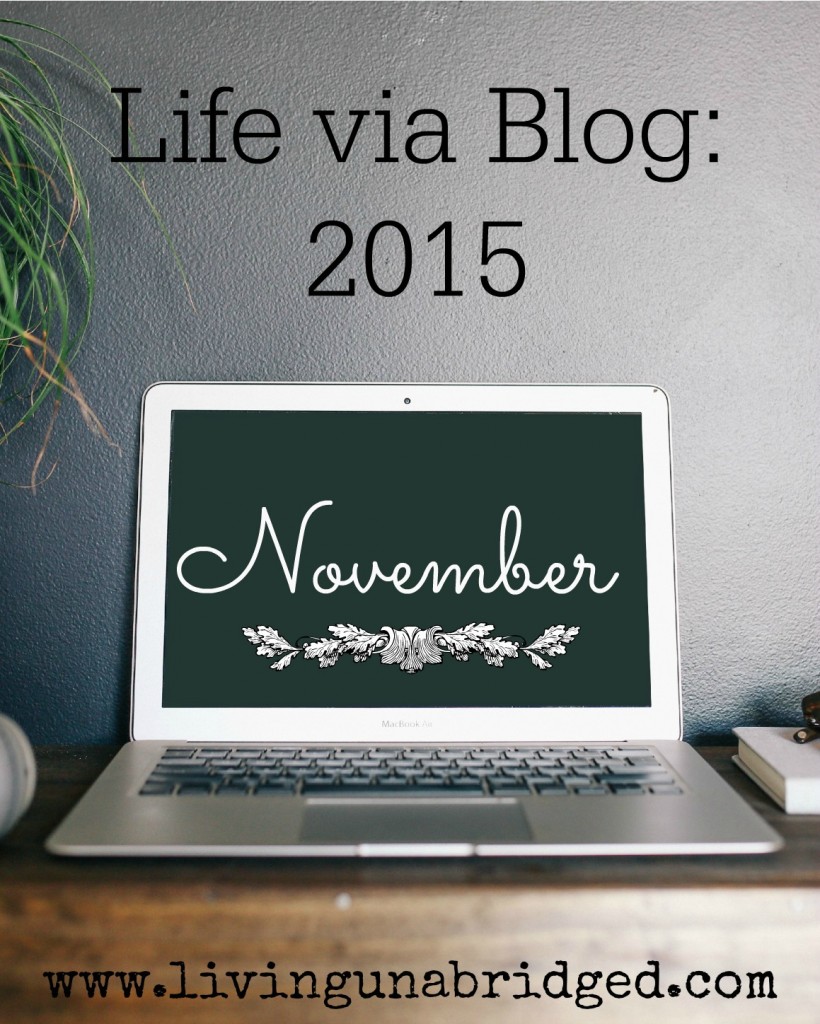 What We've Done
Our whole family helped pack shoeboxes for Operation Christmas Child. OK, the iBoy and his little brother weren't all that much help, but it was a good activity for the other kids.
Philip and I kicked off our holiday season by attending the first night of the Getty's Joy: An Irish Christmas tour. Friends gave us tickets and we got to have a great date night (with our littlest man tagging along) with friends.
We ate a hole-in-the-wall Irish pub before the concert so it really felt like an experience. (Pubs are really not used to people coming in for the food, but I have to say the Lamb Stew was pretty good.) That part kind of reminded me of our trip to the UK, especially our Scotland experience where we were completely worn out and the only place open in this one village was a pub where the woman running the place basically saved my life. (OK, she brought us water, food, spoke kindly to us and then ordered us a taxi to take us to the place we were staying that night. But we were completely worn out and distraught when she did all this so it felt pretty life saving.)
One Saturday we had not one but two birthday parties to attend. The kids thought this was great, but the parents were pretty worn out by the end of the day. Thank goodness for coffee. (And cake and ice cream.)
We squeezed in a visit to a local museum and train display with my mom, my nephew, and niece before we traveled for Thanksgiving. We got to see lots of friends and family on this trip. Then we drove back home just in time for one of my grandfather's family reunions.
And, just in case you're wondering how this works with a family our size, we had two daughters go to the eye doctor (on different days), with one having to go back an extra time, and another daughter went to the orthodontist. Right now December has one orthodontist appointment and one pediatrician appointment scheduled, but who can really say what will pop up? With six kids, it's always something.
What We've Been Watching
My verdict: didn't love it. Didn't like the love interest for Adaline (he always seemed stalker-ish to me. And anyway, I would have prefered to see and hear more of that guy playing the young Harrison Ford.)I felt like this movie played its gimmick card a bit too often instead of focusing on constructing a good story.
Philip and I Redbox-ed Marvel's The Avengers: Age Of Ultron
. I thought it was pretty good. Dislikes: So many characters means less time to spend with any of them and I don't like breaking up the band (so it seems I may hate the new Captain America movie).
We picked up Inside Out
at the library. This is a new family favorite and also has the distinction of being the only movie the kids saw in the theater this year. (I'd say it was almost worth the $ to take the whole family. That's high praise when you consider how much it takes our family to go to the movies.)
We watched Tomorrowland
before deciding if the kids could see it. After watching we decided against it. It's fairly boring but there are some violent, disturbing scenes and some scattered curse words. Honestly, the lack of magic in the storytelling and the straight up boredom we both felt watching it is the primary reason we didn't show it to them.
Philip suggested Indiana Jones and the Raiders of the Lost Ark
on Thanksgiving. Turns out, we probably should have waited. There were several gross moments in this I hadn't remembered and the girls were fairly indignant about them. ("National Treasure
is a way better movie, Dad.")
My brother-in-law loaned us Jurassic World
. As dinosaur movies go (cough), it was fun.
Other than those movies, we've been watching a lot of Great British Menu and we saw several episodes of Home Fires Season 1
What's Been on the Blog
Words on Wednesday posts:
Reviews:
The most popular post this month was actually a post from last year: 4 Things Children Don't Need. I think it resonates this time of year. It's funny, I never thought when I wrote it that it would do so well. But I'm thankful it's been inspiring to others and do check the comments too, because there are some great ones.
An attempt at Family Pictures
On Thanksgiving Day we took the kids to the park to take some pictures. It turned out to be a lot sunnier and windier than we expected, which caused some problems, but still…cute kids in somewhat cooperative moods mean you take what you can get.
(Those of you will eagle eyes will notice that one daughter had a wardrobe change. That's because her single picture was taken the next day. And the light was better then and she was in a posing mood. I'll have to share more of those later.)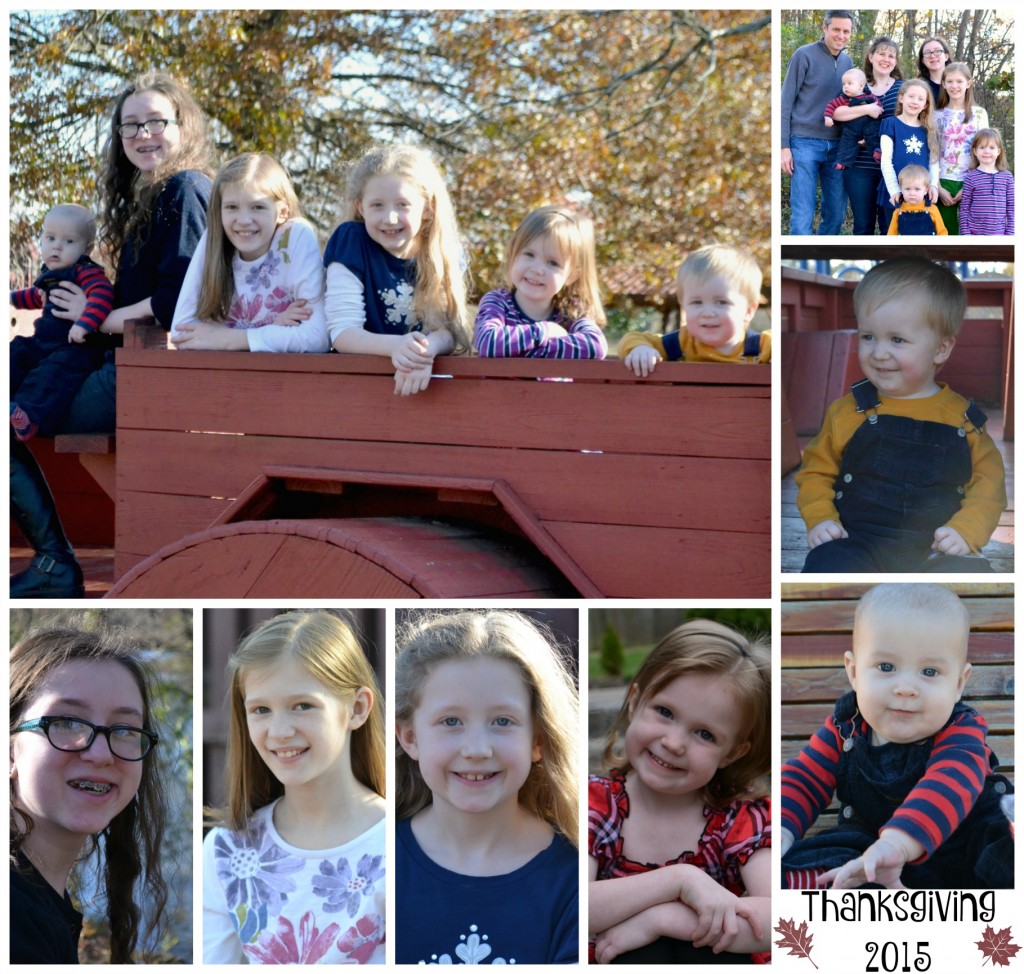 What did you do, see, or watch in November?


Posts may contain affiliate links. See my disclosure policy if you have questions about this. If no images appear on this post, you may need to disable an ad blocker on your browser. If you enjoyed this post, please consider sharing it on your favorite social media sites.