In 2014 I finished 123 books (76 fiction, 47 nonfiction).

12 Booklists from 2014
(This lists are my attempts to catalog my favorites – and a few that I really didn't like. Along with quick reviews of some.)
Booklist #1: Reviewed Books – 10.
These are books I reviewed because the publisher sent me a review copy.
Booklist #2 -Mysteries published in 2014:
Booklist #3 – Fiction published in 2014:


Booklist #4 – Nonfiction published in 2014
Booklist #5 – Books I'd been meaning to read for a long time:
The Complete Storiesof Flannery O'Connor. This was enough to confirm several things to me: 1)I'm still not, and likely will not ever be, a fan of "Southern Gothic". 2)O'Connor had a gift, even though I feel like a lot of what she wrote goes right over my head.
Weight of Glory and Other Addressesby C.S. Lewis. Superb. Highly recommended.
Booklist #6 – Interesting Memoirs:
Booklist #7 – Books About Education or Homeschooling:
Booklist #8 – Notable Fiction Not Published in 2014:
Booklist #9 – Fascinating Nonfiction Not Published in 2014:
Booklist #10 – Most Disappointing:
American Mirror: The Life and Art of Norman Rockwell. Nonfiction by Deborah Solomon. Provided no new information or insight and the author seemed equal parts befuddled and annoyed by her subject.
Allegiant. Fiction by Veronica Roth. I didn't throw this conclusion to the Divergent series across the room, but only because I didn't want to wake up any of my sleeping children.
The Ocean at the End of the Lane by Neil Gaiman. I didn't really hate this one, but my reaction was "meh".
Booklist #11 – Number of Mysteries finished by these authors (47 in all):
Ngaio Marsh – 1. I may have read all the Inspector Alleyn mysteries now. If so, that's a sad milestone. I've thoroughly enjoyed the series.
Catriona McPherson – 1
Margery Allingham – 5. Allingham comes off more dated than Christie or Marsh, but she still writes a rousing tale.
Charles Todd – 1. I've stuck with this series through thick and thin. The release for 2014 was stronger than the previous year's.
Elizabeth Peters – 7. While none of these were as good as the Amelia Peabody series, they're still jolly good fun ranging from intriguing (The Murders of Richard III) to farcical (Legend in Green Velvet)
Josephine Tey – 1
M.C. Beaton -1
Anne Perry – 1
C.S. Harris – 1
A.A. Milne – 1
Dorothy Sayers – 7. The Master. Sayers turned series mysteries into an art form.
Robert Galbraith – 2. Too long, incredibly violent and profane, yet strangely old fashioned in style.
M.R.C. Kasasian – 1. Intriguing but definitely grosser than my usual mystery fare.
Jill Paton Walsh – 1
Alex Grecian – 1
Catherine Aird – 1
Agatha Christie – 8. I am in awe of how she churned these out. Some are brilliant and others are just entertaining, but the output alone is impressive.
John Lawton – 1
Sophie Hannah – 1.The Monogram Murdersis a decent mystery but it is not Poirot.
Nicola Upson – 2
Elizabeth Speller – 2
Booklist #12 – Best Book / Movie Combos:
North and Southby Elizabeth Gaskell. In honor of the 10th anniversary of the miniseries release I re-read the book (this time on my Kindle) and my husband re-watched the series with me. I can't express how much I love the source and the adaptation. Just so very perfect.
Other adaptations we enjoyed: Miss Marple and Poirot. I went on quite a Christie reading binge near the end of the year and we also started watching through the Poirot series. (We'd seen several but we hadn't seen many of the older episodes)
I watched the movie adaptation of Les Miserables for the first time (I did read the unabridged book a few years back) and I reviewed 52 Little Lessons from Les Miserables.
What were your favorite books of 2014?


To find other 2014 reading lists (100+) be sure to check out Semicolonblog.
Resources for Readers: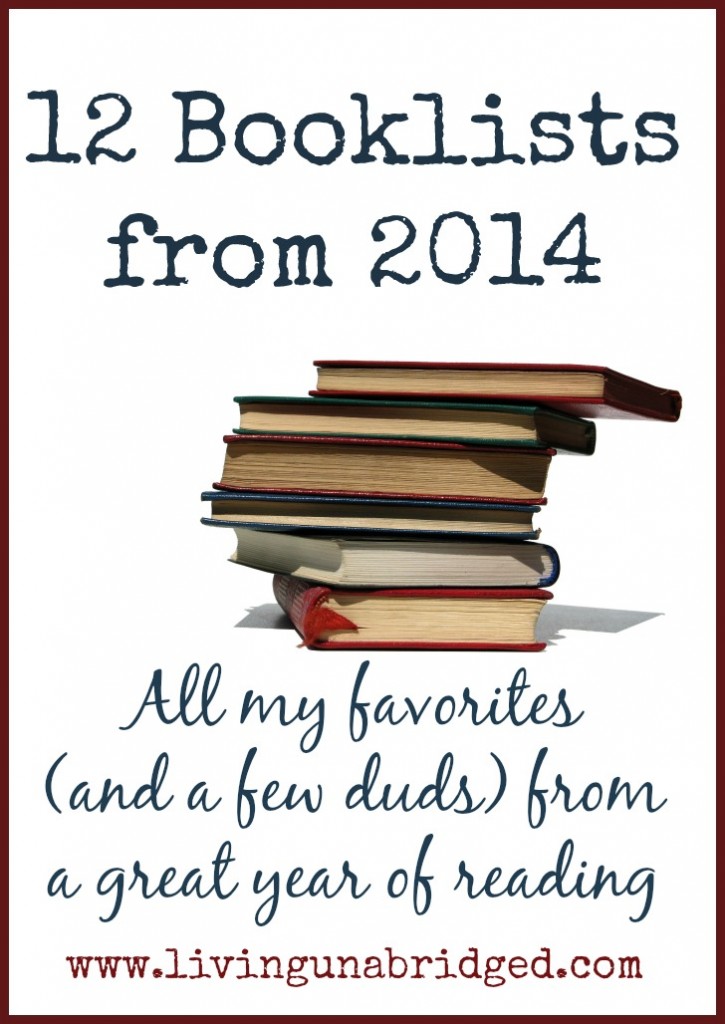 Posts may contain affiliate links. See my disclosure policy if you have questions about this. If no images appear on this post, you may need to disable an ad blocker on your browser. If you enjoyed this post, please consider sharing it on your favorite social media sites.