Our resident game designer (AKA my husband) lobbied to include this game in our series, so today I'm turning things over to him: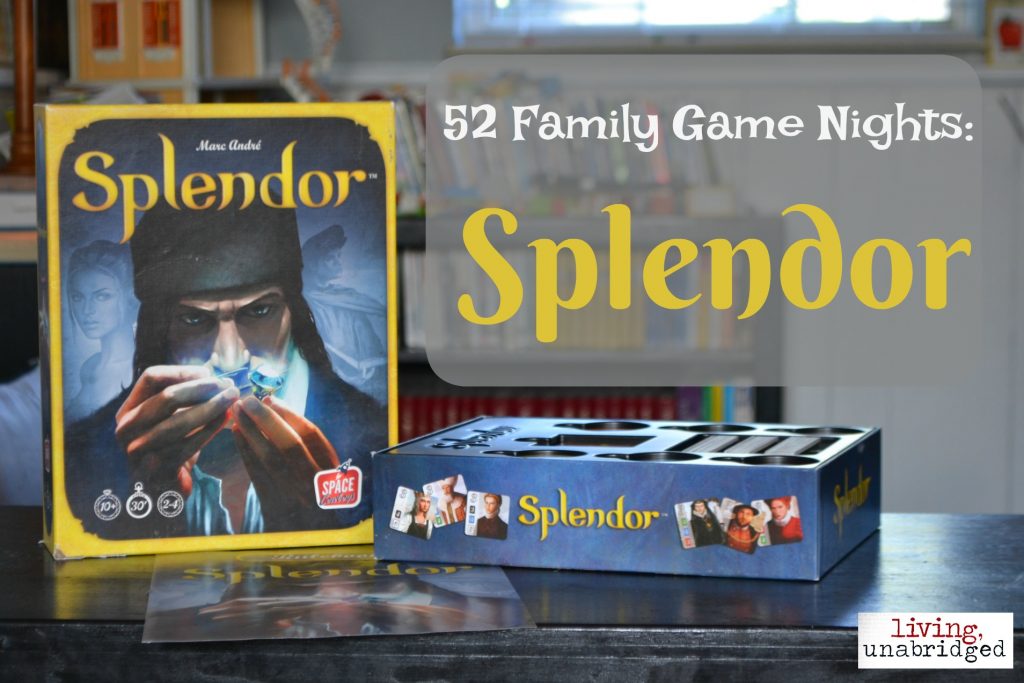 Family Game Night #31: Splendor
Rarely does a game prove so fun that players immediately go buy a copy. Yet that has been my experience with Splendor. My dad, my brother, and several friends from church have all reacted this way. Somehow this game manages to pack a high number of satisfying moments into a relatively small package.
How to Play Splendor
Players are jewel merchants trying to select and refine jewels and present them to wealthy benefactors. OK, that's what you are supposed to get from the box and the art.
Really, players are collecting poker chips of various colors to buy cards to get even more chips to buy even more cards. This continues until someone reaches 15 points and wins the game.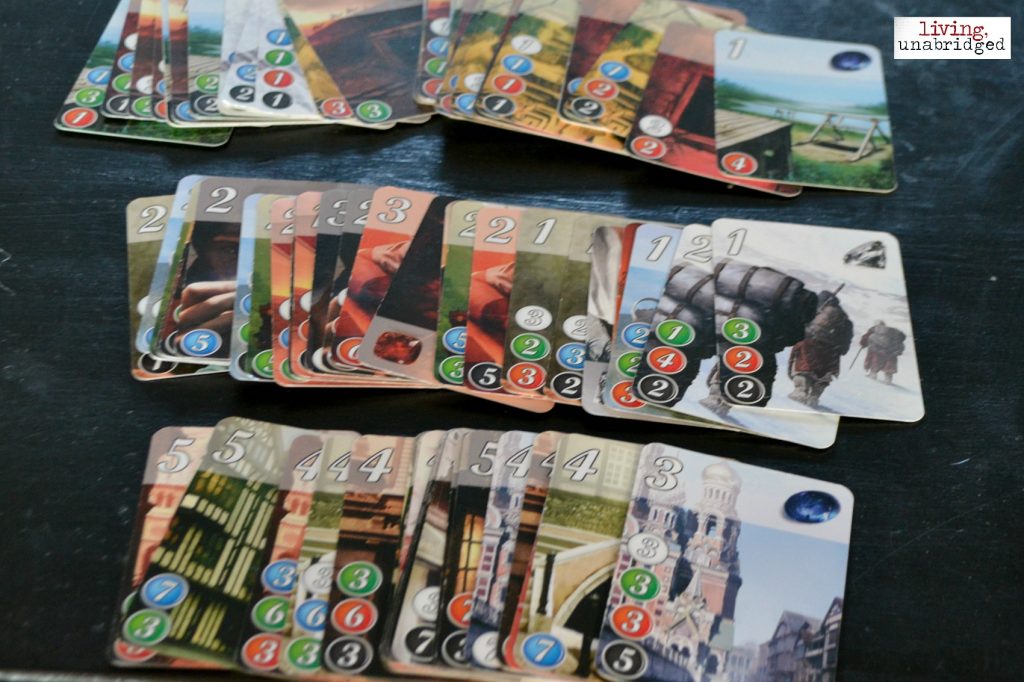 Cards come in three stages: easy, medium, and hard. The higher the stage, the more expensive it is, but the more points it's worth. Each card you buy gives you a discount on future card purchases, and these stay with you for the whole game.
In this way you can build an engine to gain increasingly expensive cards for fewer and fewer actual chips. This acceleration, combined with the race element and quick turns, gives Splendor its excitement.
Splendor takes about five minutes to explain. It's clear what you are to do on a turn:
collect 3 chips of different colors, 2 chips of the same color, or 1 gold chip (wild) and take a card to buy later, OR
spend chips to buy a card (using any discounts from previous cards)
There are also a number of wealthy benefactors at the top of the play area. If you collect enough matching cards, they give you points for free.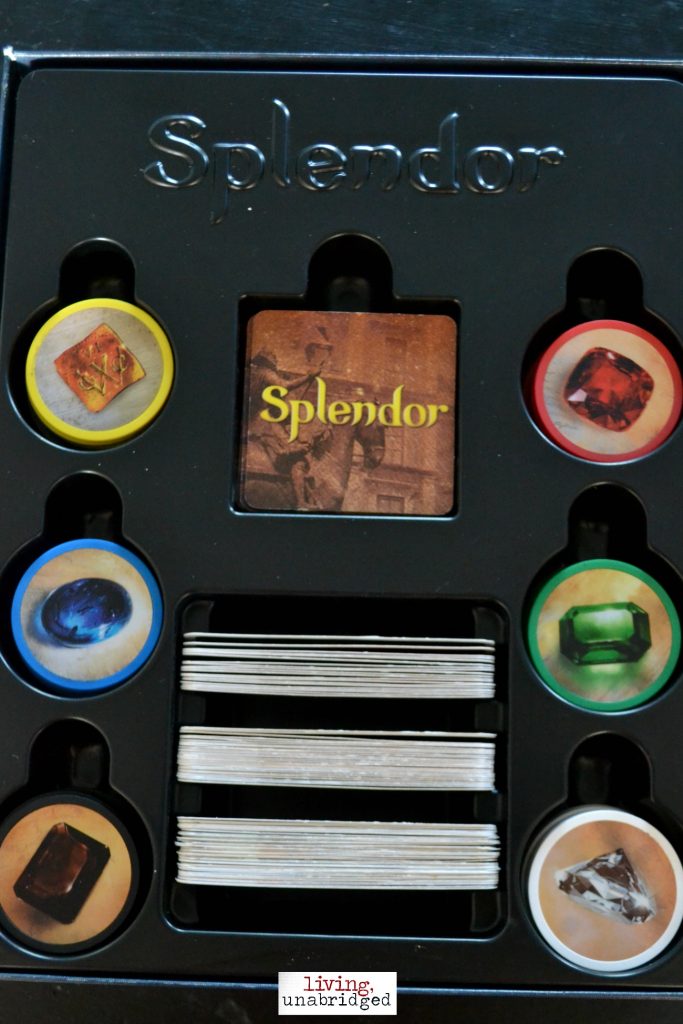 Winning Splendor
The game ends when a player reaches 15. However, each player must get an equal number of turns, so other players may get one more turn to beat your 15 points (depending on turn order).
All in all, this game takes about 30 minutes to play.
Summary of Splendor
Number of Players: 2-4
Recommended Ages: 10+ (So says the box. We include younger kids.)
Reading Required: No.

Splendor works well with gamers of all experience levels and with children. The game requires no reading and only very basic math. More experienced players will probably beat less-experienced players, but not always. There is some luck involved as well as skill.
The art is quite striking and the chips themselves are of an excellent quality. Splendor is not expensive (currently less than $30 on Amazon, but it goes on sale fairly regularly) and provides hours of fun.

Recently, an expansion set was released, adding a few more twists and turns to the game.
If you are looking for a quick family game with staying power, Splendor is a good bet.
(Side note: there's an online version too, just in case someone in the family falls in love with the game and needs more playing time!)


Posts may contain affiliate links. See my disclosure policy if you have questions about this. If no images appear on this post, you may need to disable an ad blocker on your browser. If you enjoyed this post, please consider sharing it on your favorite social media sites.