Today was our first day back to homeschool co-op after our winter break. We deliberated a long time before joining a co-op. There are several options near us, but we decided on the one we knew the most about. It also helped that it was more affordable than some of the other options. But those aren't the only reasons we've enjoyed our first year of co-op.
In honor of our first day back, I'm sharing some reasons why – even though I'm introverted and would generally rather stay home – I'm loving our co-op: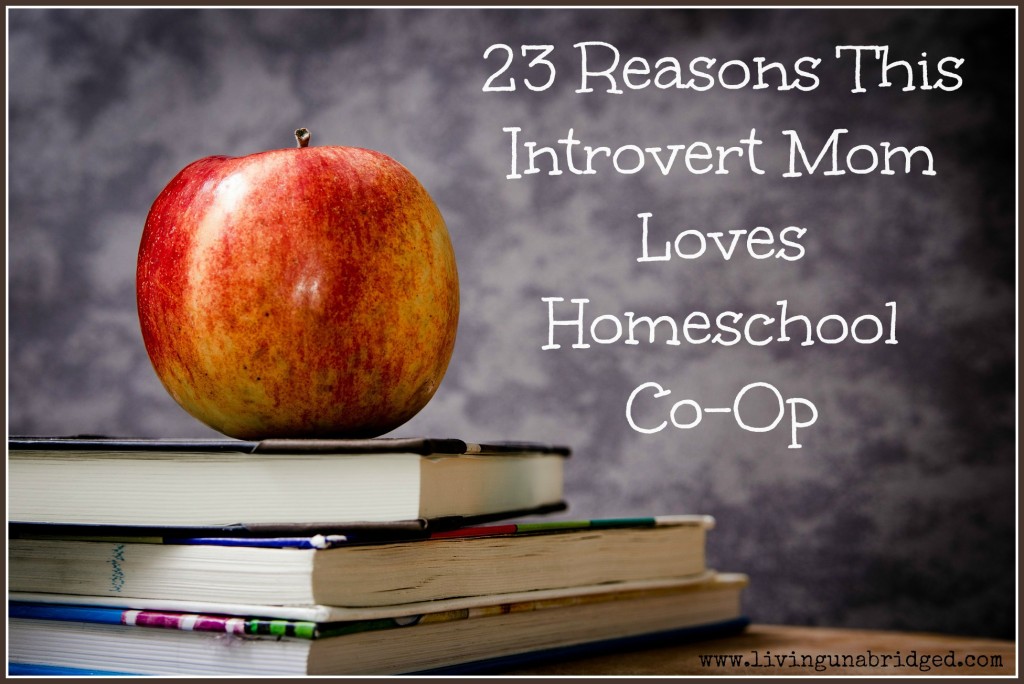 1. It helps meet the need of my less introverted children to be out and about with other people.
2. I can sign my kids up so they do things like elaborate art projects or messy science projects there instead of forcing myself to do them at home. (I do not love doing science experiments and I can't imagine teaching any art techniques.)
3. I get to talk with a bunch of other women who understand my life and the peculiarities of being a (large-ish) homeschool family. Even though I'm an introvert, I already know I have something in common with every other woman there.
4. I get to see and discuss curriculum and textbooks with people who have already tried them. And I get to meet other people who love the same products I love.
5. My kids can experience gym class or other physically active classes (Taekwondo, Ballet, other sports). Our family doesn't place too high a priority on athletics, but I do want our kids to be physically active.
6. It's an easy (if oversimplified) answer to the "What about socialization?" question. ("We have a once a week homeschool co-op," is generally a sufficient answer for most people unfamiliar with homeschooling.)
7. My older girls are learning about homework and time management in a fairly low key way. We still do their primary academic subjects at home, but the enrichment classes they take at co-op are helping them to learn about homework and deadlines without the fear of failure hanging over them too badly.
8. We get to eat pizza for lunch once a month that I don't have to cook.
9. It has introduced me to homeschool moms who are further down the path than I am and can answer questions. And I find out that certain challenges are not just my kids, and yes, every homeschool mom has looked longingly at the yellow school bus driving by on a given day.
10.My children love the novelty of carrying backpacks (with optional matching pencil cases) and packing lunches.
11.The classes are still small enough for individualized attention in most cases. Even larger classes are well supervised. Bathrooms are monitored. There hasn't been a single bullying incident all year, even though our co-op has kids from newborn to 18 present.
12.It gives us a reason to get moving on Monday mornings. My children wake up cheerfully on Monday morning. This, in itself, is a small miracle.
13.My children can make friends with kids who don't think homeschooling is weird or abnormal.
14.My kids get to see (or even be in) a school play.
15.My kids get to have school pictures taken and be in a yearbook. (Also: they get to experience spirit days, like "Pajama Day" or "Crazy Socks Day")
16.It makes me aware of other things going on in our local homeschool community. The website and Facebook group keep me connected to our area's larger homeschool community and other resources.
17.It forces me to be more organized and prepared for the other four days of school at home.
18.Our co-op gives us donated bagels and bread from Panera. (And the occasional cinnamon roll or danish. Score!)
19.My children have to persevere even when a class isn't as fun as they thought it would be. They have to learn about other people's teaching styles and appropriate ways to take turns, get attention, ask questions, etc.
20.It's only one day as opposed to five days of chaos. (Getting everyone ready and out of the house, with lunches; dealing with grouchy after school attitudes; putting people to bed earlier so they'll wake up ready to go).
21.It accommodates all styles: eclectic, unschooling, classical, traditional textbooks, and more. No particular method dominates. Our co-op doesn't insist on any particular method at home. Each co-op class is also slightly different, depending on the person teaching it. Some have very hands-on style and some like a group discussion.
22.My older children will be able to participate in biology or chemistry labs. (This is one thing I most regret about my own homeschool experience. I took a biology course but I never got to dissect anything.)
23.My kids have already learned the joy of a true snow day. (Although they were actually a bit sad to miss out on co-op.)
Co-op this year has been an all around good experience for our family and the kids are already talking about what classes they might want to take next year. My husband and I are thinking about what we might teach as co-op classes.
Our family will grow this summer over break, and things might get a bit more complicated, but I think it's safe to say that our crew will be back at co-op this fall.
Are you part of a homeschool co-op?
What do you love (or not love) about it?
P.S. If you're looking for more homeschool inspiration, I have several Pinterest boards for that. Here's one:


Linking up with: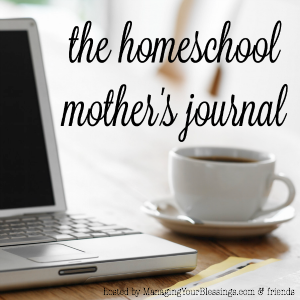 Homeschooling Resources:

Posts may contain affiliate links. See my disclosure policy if you have questions about this. If no images appear on this post, you may need to disable an ad blocker on your browser. If you enjoyed this post, please consider sharing it on your favorite social media sites.