This game got a LOT of play over our Thanksgiving Holiday so we're sharing it with you as our last game night suggestion of 2017.
Family Game Night #34: Word Slam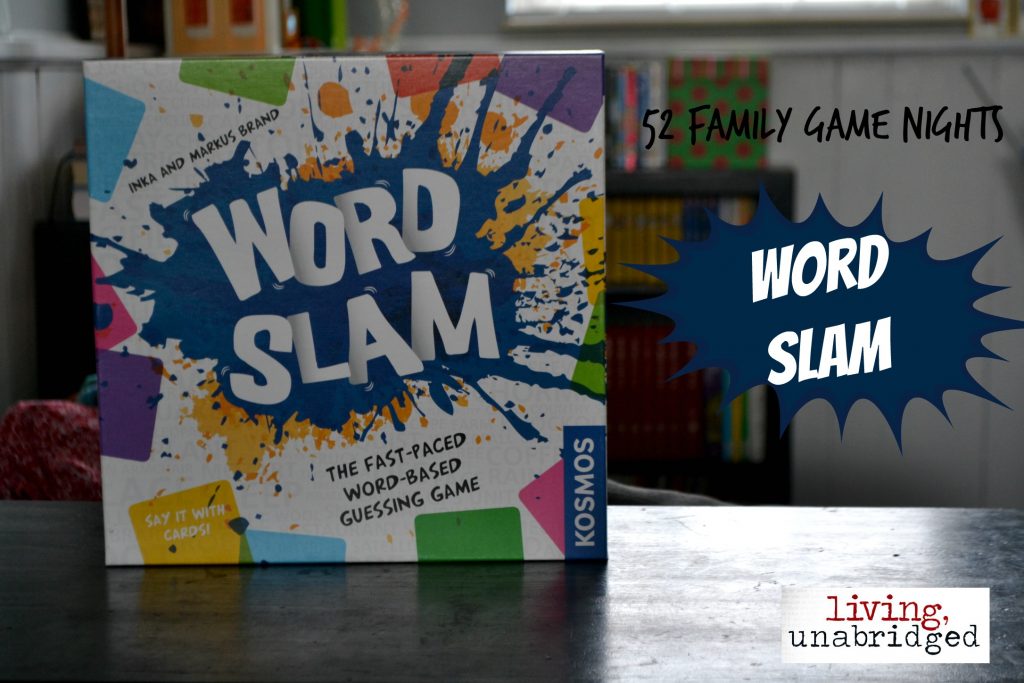 Charades…With Words
Charades has been around for a long time, so it's surprising that a simple twist to this old game can make for a runaway party game success. That's just what we see with Word Slam.
Released just this year (2017), Word Slam is basically Charades with cards.
So, instead of acting out clues for your teammates to guess (something you are not allowed to do), you will be placing cards with various words onto a card holder.
These cards come in several flavors (parts of speech) such as nouns, verbs, adjectives, and prepositions.
There are also numbers, colors, types of materials, and even directions.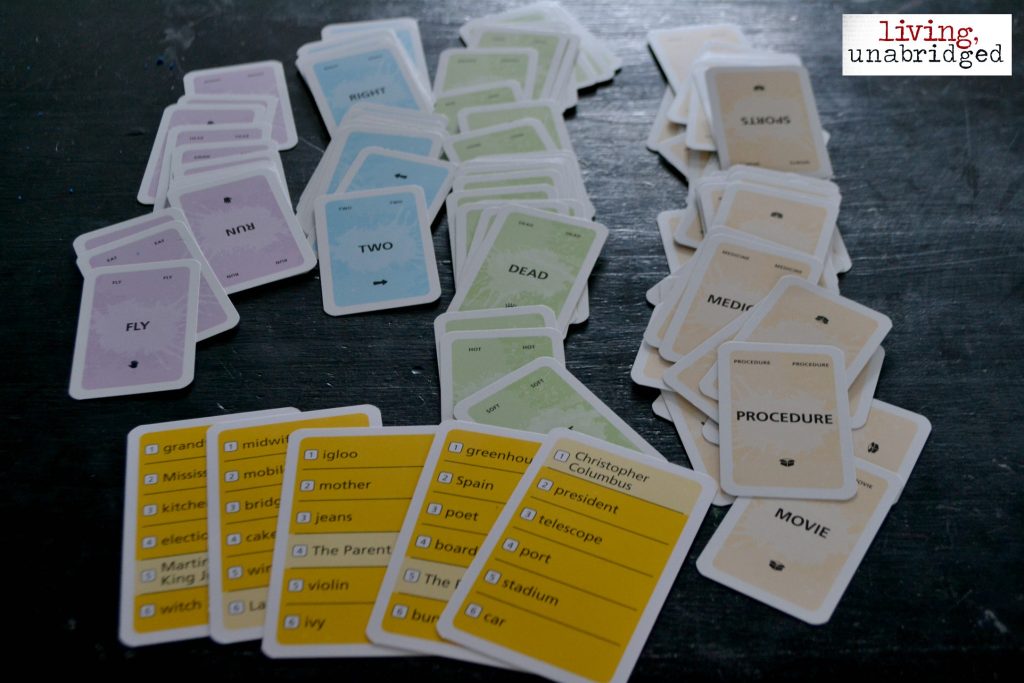 Playing Word Slam
For example, you might have the word banana. You could then use the yellow, plant, and eat cards to help your teammates figure out the target word.
Clue givers may use as many of the 100 cards as they can fit on the card holder.
You may gesture to the words on the holder, but you are not allowed to act anything out or say anything.
The other big twist?
The other team is across the table trying to guess the very same word from their clue-giver.
Once you start guessing lemons and corn, your opponents will get some helpful hints. If fact, it can be difficult to avoid saying the word cards on your holder.
Someone will invariably ask, "What's another yellow fruit or vegetable?" This really gives your opponents an edge, but it makes for a funny moment and a fun game.
The first team to say the answer wins a point. Two new players become the clue-givers for the next round.
Winning Word Slam and Other Variations
The answer cards come in easy (snowman), medium (grapefruit), and hard (photosynthesis). Each answer card has six target words on it.
At the start of a round, the two clue-givers roll a die and confirm that they both know the word (and want to use it).
If they don't like it, they can roll again or just pick one together.
Each card includes one pop culture reference word or phrase. The rules recommend you don't use these unless playing with people of a similar age (something we almost never end up doing).
The rules also give a recommendation for how many answer cards to use depending on the number of players, but this is more of a suggestion than a rule.
When all the words have been guessed, the team with the most points wins.
A Word Game Anyone Can Play
We have played this game many times at various family functions and social events. It's a hit with young and old alike.
You really need to be a reader to play, but even non-readers can stand around and make guesses based on all the other guesses. This game can accommodate a big group of people, but it's best with 4-10 players.
Summary of Word Slam
Number of Players: Works best with 4-10
Recommended Ages: The box says 12+, but we've played with children as young as 5
Reading Required: Yes, for those giving clues. No, for those guessing.


In addition to being quite fun, Word Slam is also a great bargain when you consider how many times you can play it. It's widely available, especially on the internet.
Pick up this game before you hit the road this holiday season and make your get togethers memorable!


And don't miss Wordsy, if you love word games!


Posts may contain affiliate links. See my disclosure policy if you have questions about this. If no images appear on this post, you may need to disable an ad blocker on your browser. If you enjoyed this post, please consider sharing it on your favorite social media sites.